By Christian Hamaker
The romantic comedy, once a staple of Hollywood studio fare, has been on life support for years. What used to be the province of major stars like Julia Roberts, Tom Hanks and Meg Ryan long ago fell out of favor as franchises became Hollywood's coin of the realm.
Could it be that international stars are key to the genre's comeback? Last year's The Big Sick, starring and co-written by Pakistani-American Kumail Nanjiani, was hailed as a comeback for the beleaguered rom-com, and now Crazy Rich Asians—the first major studio film to feature a primarily Asian-American and Asian cast since The Joy Luck Club 25 years ago—solidifies the revival. It's one of the year's most charming films—formulaic, but a formula now so infrequent that it feels fresh again.
All that, and a religious angle, too.
Rachel Chu (Constance Wu) is nervous. Her boyfriend, the very eligible bachelor Nick Young (Henry Golding), has invited her to attend the wedding in Singapore of his best friend, Colin (Chris Pang). It's going to be the country's "event of the century," in the words of one character. But being on Nick's arm means Rachel, a down-to-earth economics professor raised by a single mom who emigrated from China, will have to deal with her boyfriend's gossipy, rumor-spreading fans. She'll also spend time with college friend Peik Lin (Awkwafina) and her colorful father (Ken Jeong), as well as with Oliver (Nico Santos), self-described as the "rainbow sheep" of Nick's family.
Most important, she'll need to win the approval of Nick's mom, Eleanor, who we first see as she leads a Bible study. Learning that Nick will be bringing his girlfriend to Singapore, one of the study members pauses after reading aloud from Ephesians 6:4 to exclaim, "I do hope she's a good Christian girl!"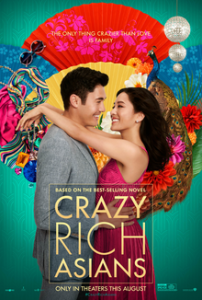 But religion isn't the primary obstacle to Eleanor's acceptance of Rachel. Nick's family, like others we meet in Singapore, is fixated on notions of class. One sheepish character's utterance to his significant other, "Everyone knows you wear the moneypants in this family," is representative of broader cultural biases, and the differences between "old money" and "new money" in the country will be something Rachel has to acknowledge as she discovers the extent of Nick's wealth.
But the changes within Singapore are nothing next to the changes in those who leave the country for other opportunities, at least not according to Eleanor. "When children are away from home they forget who they are," she says. Even as Nick's thoughts turn toward engagement with Rachel, Eleanor's disapproval of those who don't "put family first" and her aversion to those who aren't "our own kind of people" make it clear to Rachel that she'll never pass muster in Eleanor's eyes.
The pleasure of Crazy Rich Asians isn't just in watching Nick and Rachel try to overcome these obstacles to a long-term commitment, but in feeling the story hit its beats with confidence and effectiveness. Crazy Rich Asians is never deep—rom-coms rarely are, though in this case, a bit more acknowledgement of Eleanor's faith would have been appreciated—but it's very hard not to enjoy. Not only are the leads appealing, but the supporting performances, particularly from Awkwafina and Santos, are the sort of breakout roles that don't come along often—so strong that they threaten to upstage everyone else. However, the film's romantic payoff—including an opulent wedding ceremony, the likes of which I can't remember seeing before—plays strongly enough to ensure no one will forget Wu and Golding as the romantic leads.
Part of the pleasure of Crazy Rich Asians is knowing you're watching a group of actors you'll likely be seeing more of on the big screen. But even if we don't, they've given us a rare summer concoction that lets us laugh and, yes, cry (a little)—and there's nothing crazy about that.
Crazy Rich Asians is rated PG-13 for suggestive content and language.