By Christian Hamaker
At first, Lee Chang-Dong's Burning, based on the short story Barn Burning by Haruki Murakami, focuses on Jongsu (Yoo Ah-In), a recent graduate in Seoul with a degree in creative writing and a passion for the writings of William Faulkner. One thing Jongsu doesn't have is a career path.
Part of Jongsu's troubles are rooted in his upbringing. His mother long ago left the family, in part due to his father's temper. That temper has landed Jongsu's father in prison on charges of assault, necessitating Jongsu's return to his father's farm in nearby Paju, where Jongsu takes care of the meager livestock.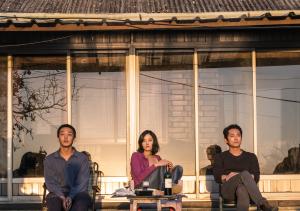 When Haemi (Jeon Jong-seo)—a woman who knew Jongsu when they were both much younger—recognizes him while at work and invites him for a drink, he accepts. The two quickly fall into a sexual relationship, but Haemi's sights are less set on building a relationship with Jongsu than they are on traveling to Africa, where she hopes to satisfy what she dubs her "Great Hunger" (as close to an explicit spiritual concept as Burning gets).
Jongsu's hunger is for Haemi—he agrees to care for her cat while she's away, though he never sees the cat when he's in Haemi's apartment—so he's shocked when he picks her up at the airport upon her return to Korea, only to discover that she's brought with her a male friend, Ben (Steven Yeun). Ben has the confidence and material wealth that Jongsu lacks, although the source of the latter is mysterious.
That's not the first surprise in
Burning
. What appears to be a story about a love triangle soon shifts. Haemi vanishes from the story, which turns its focus to Jongsu and Ben. After sharing a joint, Jongsu reveals to Ben that his father suffers from an anger disorder. Returning the confidence, Ben reveals a disorder of his own: He enjoys burning down greenhouses and has come to Seoul to find another greenhouse to burn. As for the source of his compulsion, Ben rambles about notions of right and wrong, says he believes in the "morals of nature" and suggests the greenhouses are waiting for him to burn them down. To call Ben a sociopath is almost too kind.
Following Ben's revelation, the film shifts again, more heavily exhibiting elements of a thriller. Worried that Ben might follow through, Jongsu uses his daily runs to map out where the local greenhouses are. But instead of preventing Ben from burning down a greenhouse, Jongsu finds himself drawn to the possibility of burning them down himself. Will he follow through? Has he inherited his father's rage? And what has become of Haemi? Did Ben play a role in her disappearance?
From there the trajectory of Burning becomes more ominous, leading to a disturbing finale that feels both shocking and, somehow, inevitable. Lee (Poetry, Secret Sunshine) has made a fascinating film about human nature that requires some patience on the viewer's part, especially during its first hour. But the second-hour payoff is both surprising and haunting. Like the images and memories that Jongsu can't shake, you may find yourself thinking of Burning long after you've seen it—a consequence of strong filmmaking and slow-burn storytelling at its strongest.