By Christian Hamaker
I had been looking forward to Suspiria. A reimagining of Dario Argento's 1977 giallo classic, the new take from director Luca Guadagnino (Call Me by Your Name, A Bigger Splash) promised to be visually interesting at the least. Theologically, the story of witches who, in the remake, run a dance studio, had the potential to be provocative without being celebratory—a warning against the pull of evil and misuse of natural gifts and talents. It also serves up a meaty role for Tilda Swinton, the star of Guadagnino's I Am Love and A Bigger Splash, as the woman who runs the dance studio.
Unfortunately, Suspiria turned out to be unpredictable in the worst way. It's an overlong, mostly dull film that delivers an extended, gory finale. If Grand Guignol is your idea of a horror-film payoff, you may leave the theater with some measure of satisfaction. But even fans of the grotesque will have to bide their time through most of Suspiria, which doesn't build tension so much as bog down.
Susie Bannion (Dakota Johnson) shows up in 1977 at the Helena Markos Dance Company to audition for the troupe. Her tryout—a physical performance reminiscent of Pina Bausch, one of the great choreographers of that era—captures the eye of Madame Blanc (Swinton), who names Bannion the troupe's new lead dancer. (Bannion's Mennonite upbringing is mentioned briefly—a way to contrast the sensuality of her life as a dancer—but a deeper treatment of the role of faith in her life would have been nice.)
I'm no choreographer, but one of the early problems I had with Suspiria was Johnson's dancing. While physical and commanding at first, her ability never rises to greatness to this untrained eye—at least not in the way Bausch's dances did, as depicted in the brilliant Wim Wenders documentary Pina (see that instead of Suspiria). But in the film's early stages, and from a limited perspective on modern dance such as my own, it's not too hard to accept on faith that Johnson's presence might captivate Madame Blanc. It's all merely a setup for what's to come, and that's where the story's problems become more evident.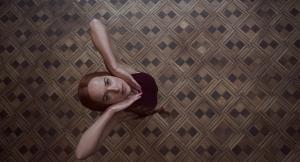 The troupe's previous top dancer, Olga (Elena Fokina), breaks down upon losing the top slot among the troupe. She flees, accusing troupe leaders of being witches. We then are introduced to a psychotherapist, Dr. Josef Klemperer (Swinton again), who studies diary entries from a patient who once danced at the studio. Klemperer eventually enlists another dancer, Sara (Mia Goth), to uncover the truth about the dance company.
Split into six acts with an epilogue, the divisions in Suspiria feel less like tension-building markers than like arbitrary structural divisions. The film simply doesn't generate any momentum until episode 6, when Guadagnino unleashes the body horror he's mostly hinted at (an explicit early sequence is a notable exception). The final act brings plenty of bloodshed and bone cracking—gruesome sights (and sounds) that are repulsive but also a needed—dare I say welcome?—change from the drab film that's preceded the finale.
Even if body horror is your thing, don't take the preceding sentence as a recommendation. Rather, it's simply an acknowledgement that when Suspiria goes over the top, it does so with a zest that Guadagnino's remake lacks for far too long. But does that make any of Suspiria meaningful? I can't see how, nor do I think a few gross-out moments make sitting through such a protracted, ugly tale worthwhile.
Suspiria had the potential to do what good horror movies do: challenge us to consider why they're effective, regardless of the background and perspective any given viewer might bring to the movie. Instead, the new Suspiria is, for much of its running time, a rather drab affair on a visual level, with characters that are ciphers rather than people we genuinely care about. Guadagnino may eventually serve up a plentiful helping of gore, but it's too much, too late. More than all the blood and broken limbs, it's the viewer's spirit that ends up broken.