No one has seen a unicorn in a long, long time. This includes the titular "Last Unicorn" (who does not have a name) of Peter Beagle's The Last Unicorn (told you it was "titular").
On hearing some passers-by mention that no one has seen a unicorn in ages, and that they may never have even existed at all, the Unicorn decides to search for others like her. Along the way, she meets Schmendrick the Magician (not a very competent magician, at first) and Molly Grue, who assist her in a journey that will end with a showdown with King Haggard and his Red Bull, who together have captured all of the other unicorns and imprisoned them in the sea.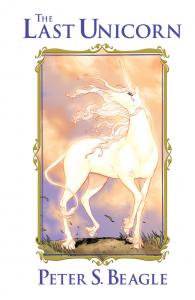 Witches, prophecies, harpies, curses, transformations, and all other manner of fairy story tropes and devices make their appearance in The Last Unicorn. But at the end of the day, this book is more than just a standard fairy story. It is a classic and should be appreciated as such. (It was also made into a fantastic movie, but that's for a different review.)
As with any classic (especially fairy classics, if we agree with Tolkien), there is a lot here for Christians to chew on. The Red Bull and his unwillingness to face a direct challenge. King Haggard's utter misery as he stews in the life of his own making. But I found the Unicorn's transformation into the Lady Amalthea to be the most interesting. As in many fairy stories, the longer the Unicorn kept the shape and appearance of a human being, the more human she became. Eventually, she began to forget that she had ever been a unicorn at all and fell increasingly in love with the Prince. The life of a human–even as good a life as a human can have–began to replace the blessings of immortality.
We too run the risk of letting the blessings of a good life (and certainly we in America are blessed) both blind us to the dangers we face (internal and external) and make us forget the promises of eternal life. Which isn't to say that these blessing aren't real, or that these dangers are always immediately looming over our heads such that we should never be able to think of anything else. Just that we must keep everything in proper proportion. We ought to remember that the blessings of a good life are temporary, common grace gifts given indiscriminately to the world, and are no antidote to the dangers that are coming our way as a result of our own sin. Only the ultimate blessing of the cross, given without price and without connection to our place in the world, can save us from the danger of the world and restore us to our rightful place in creation. The good news is, the atonement accomplished on the cross is no mythical unicorn, but rather a real, historical event that saves all who would repent and believe.
The Last Unicorn, like all good fantasy stories, enables us to see that saving event through different eyes, and we are the better for it.
Highly recommended.
Dr. Coyle Neal is co-host of the City of Man Podcast and an Associate Professor of Political Science at Southwest Baptist University in Bolivar, MO