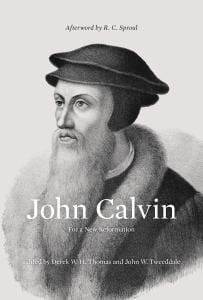 There are few figures in the history of Christianity who are quite so polarizing as John Calvin. Not that that Calvin's writings are always that divisive–many of Calvin's defenders and detractors defend and detract without ever having cracked a commentary or the Institutes. The collection of essays John Calvin for a New Reformation largely works around such debates, by digging down deep into Calvin's own writings and ideas and functionally ignoring the rancor and pettiness that often comes from such debates and instead merely explores what Calvin has to offer.
Which is to say that this is a book worth reading. Like any edited volume with multiple authors, some essays are stronger than others. But all of them are interesting and deal with topics relevant to the current situation of the church.
The wisdom to be gained from this book, in so far as it ought to be deemed true and solid Wisdom, consists almost entirely of two parts: the knowledge of Calvin's doctrine and of Calvin the person. (A little inside humor for those who know Calvin's work. Very little.) The first seven chapters deal with Calvin's biography–particularly his work as a pastor and his involvement in the social and political life of Geneva. Overall, these chapters are interesting and well-written, with all the limitations we'd expect from a work so friendly to Calvin. Not that his flaws or problems in his biography are glossed over. It's just that we don't know a whole lot about Calvin's personal life in any case. Still, more attention could have been given to events like the Servetus affair (because Lord knows Calvin's detractors are going to bring that up).
The second part of the volume is made up of 13 chapters exploring Calvin's doctrine. This section is wide-ranging, but follows the loose pattern of the Institutes (as much as there is a pattern to the Institutes, at any rate) beginning with God and man and walking through Creation, Redemption, and Eschatology. Given the debates in Christianity in the last decade, especially over Christology and gender roles, a healthy dose of Calvin is certainly much needed these days.
I suppose if anything is missing from the book, it would be a chapter on John Calvin's political views. That might just be me as a Political Scientist wanting more of my own field, so feel free to disregard this as simply selfish. That said, despite my general theological agreement with Calvin and his Puritan descendants, I'm always disappointed when I read their political theory. So maybe it's better that Calvin's politics didn't make the volume in any substantive way.
Fortunately, what was included is an excellent introduction to Calvin. And consequently I am happy to recommend this volume to anyone looking for a good overview of Calvin's life and thought.
Dr. Coyle Neal is co-host of the City of Man Podcast and an Associate Professor of Political Science at Southwest Baptist University in Bolivar, MO