As I've said before on this blog, Crossway's ongoing "Theologians on the Christian Life" series is excellent. This excellence continues in Tim Chester's new book Stott on the Christian Life: Between Two Worlds.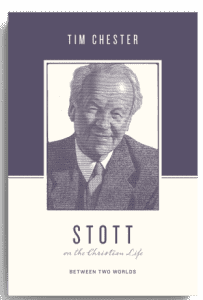 The odds are that if you are an Evangelical and were born before the 21st century began, you've at least heard of John Stott. While he never quite had the same prominence of a Billy Graham or a C.S. Lewis, his work fell somewhere between those two individuals. That is, he was concerned with explaining the Gospel in a way that is accessible to the non-believer, as in his masterpiece The Cross of Christ, and in holding the line of orthodox theology faithfully against the encroachments of the world. For example, in defending the atonement Stott writes:
"The concept of substitution may be said, then, to lie at the heart of both sin and salvation. For the essence of sin is man substituting himself for God, while the essence of salvation is God substituting himself for man. Man asserts himself against God and puts himself where only God deserves to be; God sacrifices himself for man and puts himself where only man deserves to be. Man claims prerogatives which belong to God alone; God accepts penalties which belong to man alone." (Quoted, pg 102)
But more than that, Stott was interested in seeing the church built up in holiness. That is the focus of Stott on the Christian Life. Including chapters on preaching, culture, evangelism, charity, the church, and the centrality of the Gospel in our lives, this book is a wonderful introduction to those younger believers who may not have been exposed to Stott and a useful refresher for those of us who have benefited from his writings already.
Short review shorter: Stott on the Christian Life should be on your bookshelf, along with the other books in this series and along with books by Stott himself.
Highly recommended.
Dr. Coyle Neal is co-host of the City of Man Podcast and an Associate Professor of Political Science at Southwest Baptist University in Bolivar, MO