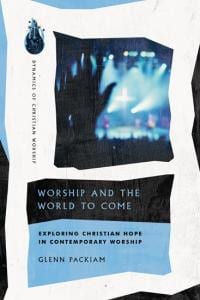 What do you hope for? How are those hopes based on the words and promises God makes in His Word? Are those Scriptural hopes properly reflected in and shaped by the songs we sing on Sunday? These are the kinds of questions Dr. Glenn Packiam Worship and the World to Come: Exploring Christian Hope in Contemporary Worship.
In this book (which, if I remember correctly, is also his dissertation), Packiam argues that Christians ought to be specific about our hope. Namely, we look forward not just to an abstractly better future, but specifically to a recreated world where our physical bodies will be resurrected. As a structure for this argument, Packiam gives a survey of different metrics of hope drawn from a variety of disciplines; provides a quick overview of eschatology; and does a survey of how two specific churches practically incorporate hope into their church music. He specifically analyzes the content of songs that the congregants and worship leaders at each church had identified as sources of hope, and engages with surveys taken of each congregation on their experience and theology of hope.
This isn't the place to deal with Packiam's methodology, though as a political scientist I certainly have thoughts about it. Here, I'll just say that you need to remember this is a dissertation when reading.
More relevant here, there is something missing from Packiam's approach. He is certainly right that Christians ought to hope in the world to come. He is also right that our hope is found not in an abstract ideal 'up there,' but rather in the bodily return of Christ, the establishment of a new heavens and earth in which we will live in resurrected and perfected bodies. (He's wrong about the relative value of most contemporary worship music, but that's likewise a discussion for another day. Like this day.)
But if we stop here, even if we correct our church music so that it more clearly reflects these truths, we've still failed to arrive at news that should provide us with hope. The return of the King, the judgment of His enemies, and the restoration of the proper order isn't good news so long as we're one of His enemies. And make no mistake, anyone who has not repented of their sins and trusted in Christ as their Savior is one of His enemies and will be judged. The promise of resurrection and a new heavens/new earth is only good news if our resurrection is to the glory of enjoying God's presence forever. If it is resurrection to judgment, then we've heard no good news at all.
But when we hear that Christ is coming as people whose sins were paid for on the cross and who have been reconciled to God through His shed blood, then we've heard good news and have legitimate cause for hope. All of this, from our sin to the just judgment that God will execute against rebels to the substitutionary atonement worked on Calvary, all of this needs to be in our music too, and should all be part of our hope. It may be that too little attention has been paid to the coming resurrection and the promise of the new heavens and the new earth in recent Evangelical theology, but we need to be careful not to overcorrect and neglect the very core of the Gospel that makes God's promises about the future good news for us.
Dr. Coyle Neal is host of the City of Man Podcast and an Associate Professor of Political Science at Southwest Baptist University in Bolivar, MO