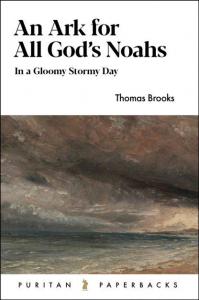 The Puritans were awesome. Not in every way, of course. Their political theology was… not great. But as pastors and theologians they are (so far) unmatched in the history of the church. This is one reason we should all be grateful for the hard work of The Banner of Truth in bringing their works back into print. The most recent effort of which is the publication of the 50th book in the "Puritan Paperback" series, Thomas Brooks' An Ark for all God's Noahs in a gloomy stormy day.
What is this "ark" that "God's Noahs" need "in a gloomy stormy day"? It is the truth that "the Lord is the saints' portion." (4) That is, when storms come in life, what we most need is to remember that God has given Himself to us in Christ. By paying for our sin on the cross as the great substitutionary atonement, we have been reconciled to God and can now lay claim to Him as our "portion." This is superior to all the good and evil the world can ever throw at us.
"A sight of God will satisfy a gracious soul more than all worldly contentments and enjoyments, yea, one sight of God will satisfy a saint more than all the glory of heaven will do. God is the glory of heaven. Heaven alone is not sufficient to content a gracious soul, but God alone is sufficient to content and satisfy a gracious soul. God only is that satisfying good, that is able to fill, quiet, content, and satisfy an immortal soul." (48)
But what kind of portion is God? Just to give a sampling of Brooks' analysis:
First, God is a present portion. He is a portion in hand, he is a portion in possession.
Second, as God is a present portion, so God is an immense portion, he is a vast large portion, he is the greatest portion of all portions.
Fourthly… the Lord is a most absolute, needful, and necessary portion. The want of an earthly portion may trouble me, but the want of God for my portion will damn me.
Sixthly… [God] is a glorious, a happy, and a blessed portion. He is so in Himself, and he makes them so too who enjoy him for their portion.
Ninthly… God is a safe portion, a secure portion. He is a portion that none can rob or wrong you of; he is a portion that none can touch or take from you: he is a portion that none can cheat or spoil you of. God is such a portion, that no friend, no foe, no man, no enemy, no devil can ever rob a Christian of. (7-61)
And, well, I could fill this review just by giving great quotes from this book. Because it's a great book and it's absolutely worth your time and effort.
Highly recommended.
Dr. Coyle Neal is co-host of the City of Man Podcast an Amazon Associate (which is sometimes linked in this blog), and an Associate Professor of Political Science at Southwest Baptist University in Bolivar, MO