For the past few years, the Country Music Association has run a Christmas television special. (Available for streaming on Hulu and various other platforms, or you can just listen to the music from the special through Amazon or on one of these lists.) This special is an interesting reflection on the state of Country music in America–and the state of Country music in America is something that Christians should keep half an eye on even if some of us don't care for Country music. It is the cultural form targeted at rural America–really it's the only such form that immediately springs to mind (aside from the artistry behind lift kits for trucks, I suppose). Given the connection between rural America and the church, trends in the culture need to be tracked and understood. I think the same is probably true for music targeted at urban centers, but since I don't know much about that kind of music I'm really not the person to comment on it. Country music, by contrast…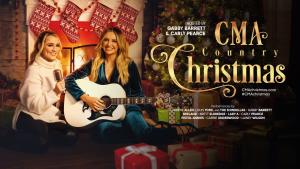 The CMA Christmas special is an especially interesting place to dip into what's going on in Country music, as the content of the music does not have to be specifically Country. Traditional Christmas music (or non traditional Christmas music) is fair game, leaving any identification with the genre to factors other than content, including things like set design, instrumentation, costuming, which performers are invited, and other fairly obvious aspects of the event.
A few observations then, from the show:
This year, the show was hosted by relative newcomers on the scene Gabby Barrett and Carly Pearce. Given that Pearce won female entertainer of the year and Barrett's songs have spent much of the last two years at the top of the Country charts, this was probably a wise move by the CMA.

Utterly absent from the show were any of the "classic" Country performers. The oldest act in the room was Lady A (if you don't know who that is, they used to be called "Lady Antebellum" until 2020 killed their name) who got their start around 2007. If we count Miranda Lambert (who technically started her career after being in the finals on Nashville Star in 2003) performing with the Pistol Annies, then it goes back a few more years. This is much like the CMA awards a couple of weeks ago, where the oldest people there (or at least the oldest people highlighted) were Alan Jackson and Trisha Yearwood, both of whom presented rather than performed. Miranda Lambert was also the "senior" performer at that event. Reba McEntire, Garth Brooks, Tanya Tucker, Willie Nelson, Loretta Lynn, Dolly Parton, George Strait, or any of the other older acts were nowhere to be seen. I suppose this might have been a budget issue, but I think it's more likely to have been an intentional choice on the part of the organizers.
If you've not kept up with trends in Country music, the mix of styles and genres will be surprising. Jimmie Allen's performance will especially stand out as he intentionally mixes the visualization and stylization of hip hop with Country. Interestingly, this kind of brings Country music back to its roots in one sense–it's been a while sense mainstream Country performers wore Nudie Suits. But then at the CMA Jimmie Allen wore this:

Image: The Tennessean

Compare Allen to Porter Wagoner in a Nudie suit:

Image: Wikipedia

I don't necessarily care one way or another about the resurgence of the Nudie suit, but I do appreciate the intentional echoes and reflections of the old by those who are trying to do their best in contemporary Country music.

The Christmas music itself was a mix of new (Pistol Annies performing "Snow Globe"), classic (Carly Pearce performing "O Holy Night") and garbage ("The Christmas Song", however well sung by Breland–and it was well sung–it's still a terrible song and you should feel bad if you like it). All of it was very well performed, and appropriately surrounded by cheesy pseudo-dialogue.
All this to say, the CMA Country Christmas is a perfectly respectable use of your time, especially if you're wanting to see a little bit of what is going on in Nashville these days.
Dr. Coyle Neal is co-host of the City of Man Podcast an Amazon Associate (which is linked in this blog), and an Associate Professor of Political Science at Southwest Baptist University in Bolivar, MO