In the past few years we've seen a small flood of books discussing the local church. The most recent addition to this flood is Edward W. Klink's The Local Church: What it is and why it matters for every Christian. This short little book is an excellent overview of what's at stake when we're thinking about the local church.
Klink covers the local church in six chapters:
"What isn't the church?"
"What is the church?"
"Why does the church exist?"
"How does the church function?"
"What is the connection between a Christian and a church?
"Twenty common questions about the local church."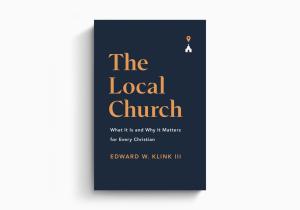 These are all very helpful chapters and I encourage you to read this book, especially if you've never thought about the local church before. For example, chapter 1, Klink walks through some common misconceptions of the church. It isn't a group of friends getting coffee, a metaphor, a voluntary society, or merely a human project. What is the church? You'll have to read chapter 2 to get into the weeds there.
But why write such a book? What is the point of The Local Church? Klink explains:
"The goal of this book is to provide a biblical restatement of what God wants to say about his church and its role in the life of Christians and the world today. It is a pastoral statement claiming that any separation between the Christian an the local church is not simply unbiblical but detrimental to the life of every Christian and to the message and work of Christianity in the world." (157)
This is especially important for modern Americans. We have always had an anti-institutionalist streak in us as a people, running right alongside our rugged individualism. Through on top of this the further isolation our gadgets foster, and we're dangerously close to being a people who don't know how to speak to other human beings in the real, physical world. And yet, as human beings we are social creatures, and as Christians we are called to live in a close community where we know others well and are known by them. This is the fundamental way God has ordained for our spiritual maturity and our growth in holiness, and we are at risk of throttling it before we even have much of a chance to get started.
The Local Church offers the beginning of a corrective to this problem in short, accessible terms that clearly draw on Scriptural principles. While it may not be the place to end, Klink's book is a great place to start thinking about our obligations to each other as those who have been redeemed by the blood of the Lamb.
Dr. Coyle Neal is co-host of the City of Man Podcast an Amazon Associate (which is linked in this blog), and an Associate Professor of Political Science at Southwest Baptist University in Bolivar, MO