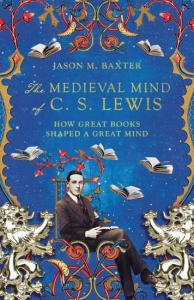 For more than seventy years, Christians of all stripes have loved C.S. Lewis. His writings have been especially influential on those of us in the Evangelical world. And yet, those of us in the Evangelical world often know little (or even nothing at all) about the world Lewis himself most admired and aspired to live by: the Middle Ages. A good step towards correcting our ignorance is reading Jason Baxter's new book The Medieval Mind of C.S. Lewis: How Great Books Shaped a Great Mind.
Obviously there has been a lot written on C.S. Lewis in the past two decades (at least some of which have been reviewed on this blog). This work is somewhat unique (though certainly aligned with the works of Michael Ward) in that it focuses not just on Lewis, but on the Medieval writers whose thought shaped Lewis' ideas about the world. Of course, writing about the Middle Ages also means writing about the modern world in order to highlight both the contrast between the two and how Lewis creatively reimagined the order and ideas of the one in the context of the other.
This book, as I noted above, is especially going to be useful to Evangelicals who are (often) otherwise unfamiliar with the Middle Ages. That's not to say this book is a good guide to the Middle Ages per se–it's a good guide to Lewis. Much of the theology so objectionable from the Middle Ages (as, for example, the codification of Transubstantiation at the Fourth Lateran Council or the blending of church and state in the Investiture Controversy) is ignored in this boo. And that's entirely appropriate, as most of what Protestants object to from the Middle Ages is ignored by  Lewis. The lesser point here is to take this as an excellent book about Lewis, but not a representative book about the Middle Ages.
The bigger point here is that this is a good book about Lewis that you will be well served to have on your shelf and under your belt.
Dr. Coyle Neal is co-host of the City of Man Podcast an Amazon Associate (which is linked in this blog), and an Associate Professor of Political Science at Southwest Baptist University in Bolivar, MO