Given that we live in an age of easy access to publishing platforms, and given that Christian publishers are apparently increasingly going for quantity rather than quality these days (with notable exceptions like Banner of Truth), there are a lot of adequate, okay, good-enough-for-filler Christian books for children available. So when one come out that is exceptionally good, it's worth taking note of. So take note of The King and the Dragon, written by James W. Shrimpton and illustrated by Helena Perez Garcia.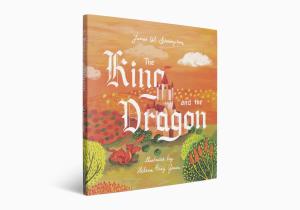 I'm probably not the person to comment about the poetic aspects of the book. As best I can tell, the rhyme scheme is solid (the meter could use some work, but that's the world we live in). Likewise I think the illustrations are simple and not overbearing while lining up well with the text. But again, I'm not much of an art critic.
More importantly, unlike a good number of even Christian children's books, the Gospel is clear and central in the text. For example:
"The Knight face the Dragon, the Knight looked quite weak.
He seemed to be beaten: the ending seemed bleak.
He gave up his life, and he gave his last breath
To crush the foul Dragon and save us from death.
He died in our place–what a terrible sight.
He died–lost the fight–
No, that can't be right!"
And the poem goes on to tell of the Resurrection and the victory over the Dragon, sin, and death, and the call for all of us to repent and believe and live new lives according to God's Word in hope for the return of the King to make all things new. This is about as straight-forward and clear as you can be, and exactly what more children's books need to have.
Highly recommended.
Dr. Coyle Neal is co-host of the City of Man Podcast an Amazon Associate (which is linked in this blog), and an Associate Professor of Political Science at Southwest Baptist University in Bolivar, MO