Scientology Religious Freedom Awards: published courtesy of the Scientology religion website
The 6th annual Religious Freedom Awards at the National Church of Scientology of Spain acknowledged three stellar advocates of religious freedom.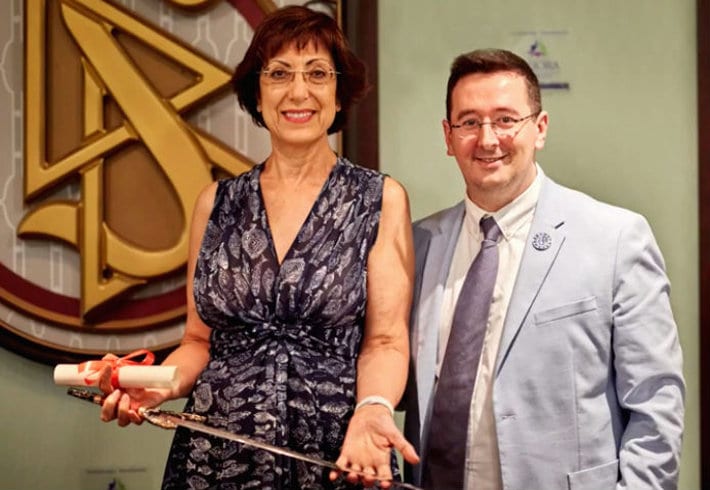 Mr. Miguel Angel Aguilar Sánchez, coordinator of the Barcelona Prosecutor's Office on Hate Crimes and Discrimination
Mr. Marcos González Sánchez, Founder of the Methodological Institute of Ecclesiastical State Law and professor at the Autonomous University of Madrid
Ms. Adoración Castro Jover, professor of Ecclesiastical State Law at the University of the Basque Country, the public university of the Basque Autonomous Community.
Awardees were presented with a replica of Tizona—the sword of the legendary Spanish hero Rodrigo Díaz de Vivar, El Cid. Long a symbol of the honor and dignity of the knight who defends light against darkness, the sword represents the virtues of common sense, strength, moderation, and justice.
The National Church of Scientology of Spain presents religious freedom awards each year to individuals or institutions whose work has moved society forward in accomplishing freedom of religion or belief for all, in keeping with the Creed of the Church of Scientology, that "all men have inalienable rights to their own religious practices and their performance."
From its beginnings, the Church of Scientology has recognized that freedom of religion is a fundamental human right. In a world where conflicts are often traceable to intolerance of others' religious beliefs and practices, the Church has, for more than 50 years, made the preservation of religious liberty an overriding concern.
The Church publishes this blog to help create a better understanding of the freedom of religion and belief and provide news on religious freedom and issues affecting this freedom around the world.
For more information visit the Scientology website or Scientology Network.