Scientology Volunteer Ministers helped save lives. That was the message of the Tshwane Metro Police Department (TMPD). And that's why the TMPD recently awarded the volunteers with a very special presentation.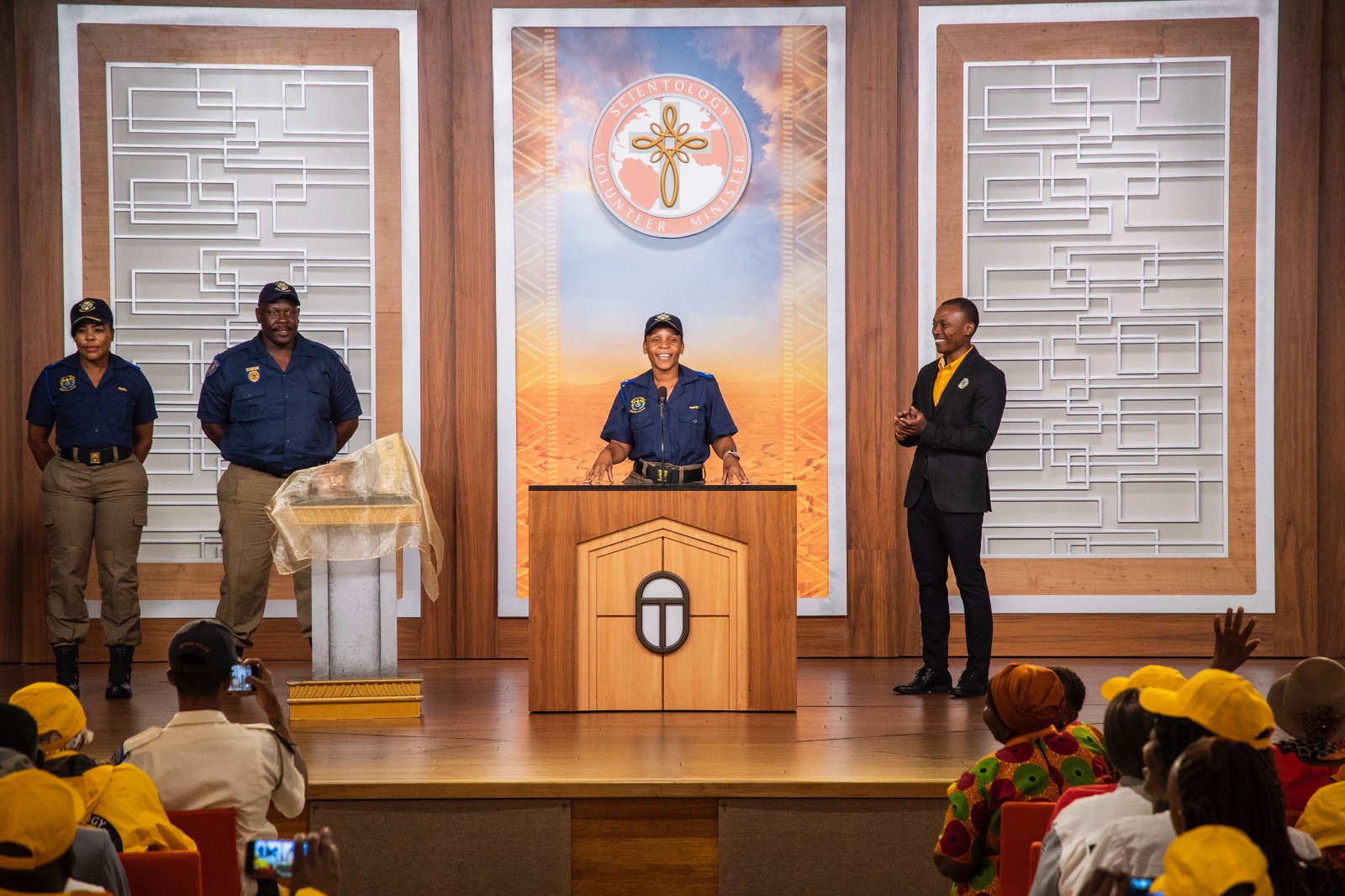 800 days of lockdown
Through more than 800 days of lockdown, Scientology Volunteer Ministers helped save lives. First, they made sure public spaces were COVID free. Next, they educated people on how to stay well. Then they trained others on the Scientology Tools for Life so they too can help.
First phase
During the lockdown, their priority was sanitization.
To date, they have sanitized over 70,000 buildings across the country. And this included:
homeless shelters
clinics
hospitals
and orphanages
Many of these were resources run by the Department of Social Development.
Award presented at Castle Kyalami
The office of the police chief presented a special award. This was held at Castle Kyalami. Some 400 people attended.
A mounted, bronzed Tshwane Metro Police Department cap bears this inscription:  "Awarded to L. Ron Hubbard and the Scientology Volunteer Ministers.
"As the Tshwane Metro Police Department, we are charged with the protection of the people of Tshwane and the enforcement of the laws that protect their freedom.
"We have seen colleagues, friends, and families lose their lives to an invisible enemy.
"Had it not been for the Scientology Volunteer Ministers, responding selflessly during this time, that loss would have been amplified and the pandemic would have claimed more lives.
"You have become the protectors of the frontline worker and the citizens of Tshwane.
"We bestow upon you and your Founder, Mr. L. Ron Hubbard, this official TMPD cap to honor your resilience and humanitarianism. And we name Mr. L. Ron Hubbard an honorary Officer of the Tshwane Metro Police Department.
"We are privileged to call you our partners and we thank you for your service."
This was signed by Tshwane Metro Police Chief Lieutenant-General Johanna Nkomo.
Scientology Volunteer Minister helped save lives
The police chose their cap for the award because it is a symbol of the ideals of the department. It represents honor, dedication and trust. And it was these qualities they saw in the Scientology volunteers. The police were particularly grateful to those who helped them directly. Throughout the pandemic, Volunteer Ministers sanitized police department buildings and cars. And this ensured the police were safe and able to serve the community.
Dedication and assistance
"You have been incredible partners," said the officer making the presentation. "And this award is a representation of your hard work and partnership. We are very grateful to you. And I am glad that we can give you this token."
12,000 trained
Once the lockdown was over, the Scientology Volunteer Ministers shifted their focus.
They have trained over 12,000 people on life skills. In fact, these are the very skills they used in their own volunteer work. And these skills are what they credit for their ability to help.
Those completing the courses gain practical tools. They can use them to help others. And to better control their lives.
Scientology ecclesiastical leader Mr. David Miscavige dedicated Kyalami Castle
The headquarters of this movement for help is Castle Kyalami. The castle serves as a home for the community. It is a nexus for all who share the goal of bettering the lives of individuals and strengthening communities. And it serves those in the region, nation and all of Africa. Mr. David Miscavige, ecclesiastical leader of the Scientology religion, dedicated Kyalami Castle on New Year's Day 2019. And it reaffirmed the commitment of Mr. Hubbard that "from Southern Africa will spring the next great civilization on this planet."