Scientology Volunteer Ministers Honored on World Tsunami Day
Scientology Volunteer Ministers know well the importance of World Tsunami Awareness Day. The day was designated by the United Nations to be marked each year on 5 November. Volunteer Ministers responded to the South Asia tsunami in 2005 and to the Japanese tsunami in 2011. Those Volunteer Ministers will never forget the devastation.
Scientology Volunteer Ministers South Asia Tsunami Response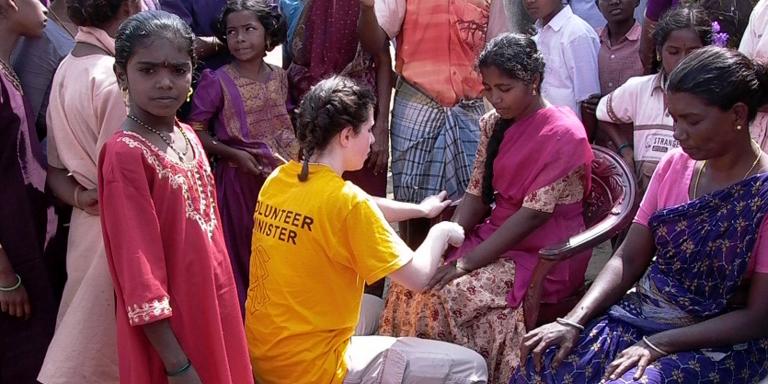 More than 600 Volunteer Ministers responded within a week of the South Asia tsunami. The earthquake and tsunami hit on December 26, 2004.
Whole towns were destroyed; islands disappeared.
Immediately, 600 Volunteer Ministers from 28 nations mobilized from as near as Australia and as far as the United Kingdom, Scandinavia, the United States and Latin America, bringing physical and spiritual aid to tsunami victims and rescue workers.
Volunteer Ministers provided a wide range of materials and services most needed by the emergency workers and officials. Deployed to hospitals to assist overloaded medical teams, Volunteer Ministers aided over 300,000 individuals. But they also trained everyone possible on Volunteer Minister technology. They used Scientology assists, procedures to help another overcome emotional upset, stress or trauma. They can also help alleviate pain from illness or injury. Doctors, nurses, Muslim clerics and Buddhist monks were among the 50,000 who learned these procedures. In turn, they brought help to tens of thousands more.
Hundreds of Scientology Volunteer Ministers Responded to the Japan Tsunami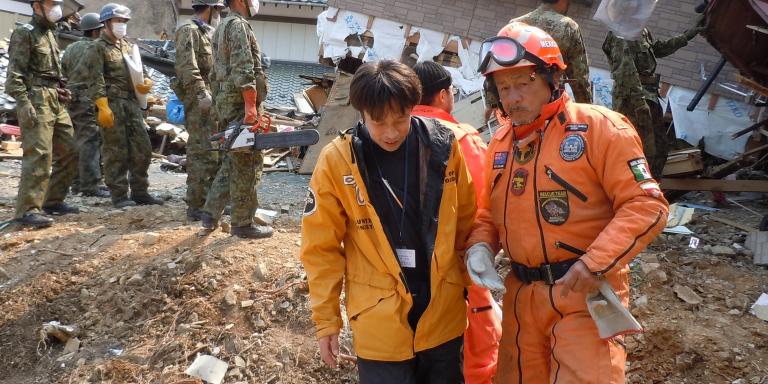 Hundreds of Scientology Volunteer Ministers served in Japan in the wake of the magnitude 9 earthquake and 10-meter tsunami. Japanese Volunteer Ministers deployed immediately to assist victims and rescue workers in the stricken region, directing survivors to shelters and providing food, water and medical supplies.
Trained and experienced Scientology Volunteer Ministers (VMs) and rescue specialists arrived from around the world. They joined forces with the Japanese volunteers to provide relief throughout the region. Among those were 17 members of the Mexican "Los Topos" team, highly trained search and rescue specialists who partner with the Volunteer Ministers and are trained on VM technology. Volunteer Minister teams also came from Australia, Canada, Mexico, Taiwan, Spain, Britain and the United States. They coordinated their actions with disaster response authorities and other volunteer organizations. They established and staffed shelters, collected needed goods, drove supply trucks from Tokyo and set up emergency supply distribution lines.
In a city where elderly residents were stranded in their homes by floodwaters and impassable roads, Volunteer Ministers organized a fleet of bicycles loaded with supplies to bring vital provisions.
Volunteer Ministers also gave spiritual aid in the form of assists to tens of thousands, relieving them of the physical and emotional distress brought about by the earthquake and tsunami.
While there, they trained 1,500 volunteers from other relief organizations, community groups and schools in Volunteer Minister techniques.
L. Ron Hubbard Founded the Scientology Volunteer Ministers Program
The Church of Scientology Volunteer Ministers program is a religious social service created in the mid-1970s by Scientology Founder L. Ron Hubbard. It constitutes one of the world's largest independent relief forces. A Volunteer Minister's mandate is to be "a person who helps his fellow man on a volunteer basis by restoring purpose, truth and spiritual values to the lives of others."
David Miscavige Inspired Expansion of Volunteer Ministers Internationally
Scientology ecclesiastical leader Mr. David Miscavige has inspired an enormous expansion of the program—a broad-based movement of individuals from all walks of life who dedicate themselves to delivering on-site assistance to communities around the world in times of need. Today, it comprises an independent relief organization with over 200,000 Volunteer Ministers on call internationally.