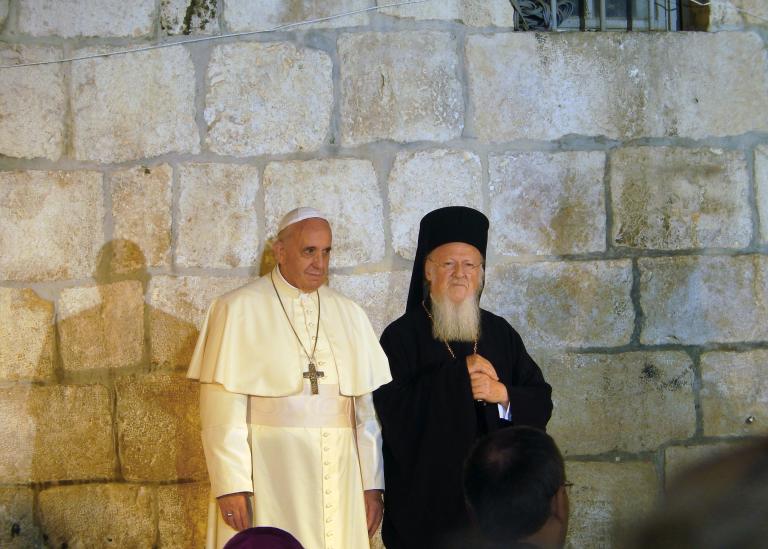 Pope Francis Derangement Syndrome, among some on the right, has reached full-scale, raw and tuneless, no-holds-barred, cloud-cuckoo-land, blasted and screaming nuttery. How do I know this? Watch how Maureen Mullarkey begins her recent column at The Federalist. After charging Rachel Lu with "timidity" for this article telling the pope's critics on the right to stop the "invective" already, you'll be used by the left to promote their own agenda, Mullarkey writes this offensive garbage.
Max and Moishe [she starts by retelling an "old Jewish joke"] are being escorted to the execution chamber in a Nazi prison. In a sudden gesture of defiance, Max raises his arm and gives the guards his middle finger. Horrified, Moishe pulls his arm down and blurts, "Please, Max, don't make waves."

Just so all the reflexive excuses for Pope Francis' dismaying behavior and increasingly obvious ideological bent.
Oh, I see. So if you're a Catholic who defends the pope, you're just like a Jew who, not wanting to make waves, goes quietly to the gas chambers. I see. Well, it did not take long for the editorial staff at First Things, after Mullarkey published this piece of venom, to issue this embarrassed retraction. One wonders whether The Federalist will be far behind. If not, I sure hope they don't lose a bunch of readers. Just saying.
Here's Mullarkey's title: "Pope Francis is a Leftist and Must Be Called Out." Now, think about that. She doesn't say that Francis is a heretic. She doesn't say that he is not Catholic. What she says is that he's a "leftist."
In other words—think about this—her critique of Francis is a political one. Mullarkey's orthodoxy is not Catholicism, but conservatism. Think about that.
She faults the pope because's he's not GOP enough. He doesn't get enough ticks on the party platform. Think about that.
Here's a paragraph in her screed.
Under the tutelage of a pope who ascribes to himself an omnicompetency in geopolitical and scientific matters, the Catholic Church is at risk of a death walk of its own.
Of course, the Church has never spoken of these matters, or given the faithful guidance in them, before.
The pope is not giving himself some "omnicompetence" here, or arrogating to himself a right to speak on topics that the Church has not spoken on many, many, many times before. It's just that what Francis is saying (and also how it's being falsely seized on and skewed by an ignorant and one-minded liberal press) grates on Mullarkey's conservative commitments, which to her must come first.
If a pope talking about such things puts the Church on a "death walk," then it would have fallen off the plank long ago. Mullarkey and her cohorts on the right need to stop it with the hyperbolic panic attacks. In her case, she's in such a nervous fret about it all—I mean, the very idea that the pope might have things to teach us that transcend the GOP platform!—she is even willing to insult faithful Catholics who defend their Holy Father as docile Jews being herded into ovens.
I say shame on her, and shame on The Federalist if they let this stand without a firm retraction.
Never, not once, in all her post, does Mullarkey suggest a single way in which the pope is out of step with Catholic teaching. Not once. What she does instead is fault him for some presumed environmental stance that she considers "Marxist."
Thus she is willing to call the pope a "leftist"—not a heretic, mind you, but a "leftist," which is the real outrage to Mullarkey—on the basis of (1) guilt by association, i.e., a photo op with the wrong people; (2) an encylical that has not been written yet; (3) the existence, on earth, of hashtags; (4) wild speculation, fear, and hysteria. All this is irresponsible and sloppy. It may be commentary, but it's yellow commentary.
So rather than do the sensible thing that rational people do: wait for a document to actually come out, see what it says, try to understand it, and only then speak, Mullarkey decides to create unhinged panic in advance and stir up a right-wing schism against Pope Francis. Oh, I know: She calls it "loyal opposition." Really?
When she compares faithful Catholics who defend the pope to docile Jews—the day before Holocaust Remembrance Day?
When she says that the pope's priorities "impinge on democratic freedoms and the sanctity of the individual"?
When she accuses the pope of backhanded, back-door collusion with radical Marxists?
When she calls the pope "presumptuous"?
When she says that the pope "drives ahead with a demagogic program"?
All on the basis of a photo, a private meeting, and an unwritten encyclical about which we only know the topic?
That's "loyal opposition"? If that's loyalty, I sure want to know what mutiny is. "Loyal opposition" is just words in the face of all this.
Brother Brother Brother
I sure hope Rachel Lu is right that rumors of a right-wing war against Pope Francis are thin on evidence. But talk of these things out in the open often has the tendency to lead to self-fulfilling prophecies. Quite a few on the political right—including the so-called "Catholic right"—have been grumbling against Pope Francis from the beginning; and my sense of things is that the rhetoric is reaching a greater and greater pitch. That is just what I have observed from two years of writing about it. I have heard people, in some quarters, say that it is not a question if a schism will happen, but when. To speak a thing is to make it possible.
I've read that kind of nonsense, and heard kind of talk, from Catholics whose writing I used to admire.
Now, a schism could take many forms. It could consist of a person here, a person there, then a group, joining up with the SSPX or, worse, some sedevacantist outfit. I really doubt it would be anything more serious than that. But the fact that people are talking openly of such a thing—entertaining the idea—suggests that there is a serious problem among Catholics on the political right, whether they want to admit it or not, whether or not there is a formal schism.
There is also the merely individual schism—of personal vitriol and obstinacy toward the pope and whatever teachings of the Church you happen not to like. It's more damnable when you incite and enflame others to follow you into it.
And the problem is not "loyal opposition." Because it's not loyal. The problem is open rebellion, contempt, and a childish refusal to listen to what your father tells you and make an effort to understand him. The problem is making your political commitments a higher priority than your faith. Not all conservatives do thus: In the Church there is neither right nor left.
Mullarkey says that it is the pope who has an obvious ideological agenda, but she has it backward. It is a classic case of projection. Remember: she doesn't fault the pope for being out of step with Catholicism, she faults him for being out of step with conservatism. The one who has a problem with ideology is Mullarkey.
But what you do, if you are a Catholic, is you listen to Peter. You listen to Peter's actual words, not what gets bandied about in the press. You seek to understand. You seek to be taught. You say: What does this man have to teach me? Where he most challenges you, perturbs you, drives you up the wall—listen to me, that is the very thing you need to hear. If you cannot see it, cannot get it, the problem is not with Peter.
Rachel Lu is right about this: If you continue this mad campaign against Francis, your words will end up being used by secular leftists to promote their own agenda for the culture and the Church. And when that happens, you will have no room to whine about it.
If you are a Catholic, you don't ever, ever, shut your ears to Peter. Unity is in Peter. And schism—whether in fact or only by way of personal obstinacy—is damnable. When schisms happen, even if only in your heart, they take a long time to heal.
***
Update. Mark Shea also opines here.
***
If you like the content on this blog, your generous gift to the author helps to keep it active. I remember all my supporters in my Mass intentions each week.