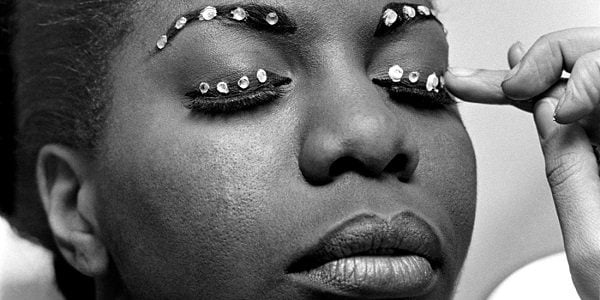 You raise my taxes, freeze my wages

And send my son to Vietnam

You give me second class houses

You give me second class schools

Do you think all colored folks

Are just second class fools?

– Nina Simone, "Backlash Blues"
The more things change, the more they stay the same.  Substitute "Iraq and Afghanistan" for "Vietnam," and "African-American" for "colored," and you have a song that is just as true today as it was when released in 1967.
As I watched Liz Garbus' biographical documentary of the unparalleled performer and activist Nina Simone, I wondered what her subject would've said and sung about recent events in Baltimore, Ferguson, and New York City, were she still alive.  No doubt her anger and creativity would've fueled more music, on a par with "Why? (The King of Love Is Dead)," the lament written and performed immediately following Martin Luther King's assassination.
I'm pleased to report that director Liz Garbus has made a film entirely worthy of Simone's artistic genius, impassioned protest, and personal torment.  Despite some back and forth chronology, What Happened, Miss Simone? stays coherent and engrossing throughout its duration.
"What happened?" is a pertinent question for a film about Nina Simone.  Garbus' documentary opens with a 1976 performance in which Simone appears odd, almost catatonic.  Back up 8 years, and Simone is electrifying, dynamic, and charismatic on stage.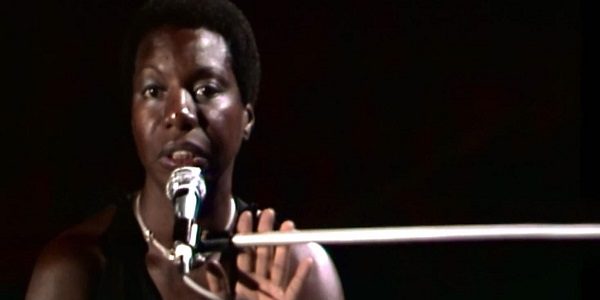 We'll understand Simone's decline eventually, but first we learn about her beginnings.  Born in 1933, quite literally on the wrong side of the tracks in segregated North Carolina, Simone quickly learned of the power of music by attending the revival meetings led by her preacher mother.  While still a young child, her musical talent was recognized by a couple of local white ladies who gave her piano lessons and fed her aspirations for greatness.
Hoping to become America's first black classical pianist, Simone's dream was killed when a prestigious Philadelphia music school rejected her application due to the color of her skin (a slap in the face that stung for the rest of her life).  Under pressure to support her family financially, Simone secretly started playing piano and singing in dismal Atlantic City bars to pay the bills.
In What Happened, Miss Simone?, we watch her rise to international fame, thanks in part to a dazzling concert at the Newport Jazz Festival in 1960.  We see Simone perform her first hit, the Gershwin's "I Loves You, Porgy," at Hugh Hefner's Playboy Penthouse.
Then in 1963, the bombing of a Birmingham church catalyzed Simone's transformation into a brash civil rights activist.  Quickly, Simone's social circle – in the words of her daughter – became a "who's who of black America."  Simone performed during the march on Selma, despite telling Martin Luther King emphatically that she's not nonviolent herself.  Simone and her family become next-door neighbors with Malcolm X and his family.
Simone's public persona was fearless and even aggressive.  At one point in the film, we watch her shame a University of Massachusetts audience because their school of 18,000 has only 300 black students.  (Right afterwards, she launches into an ovation-inducing rendition of "To Be Young, Gifted and Black.")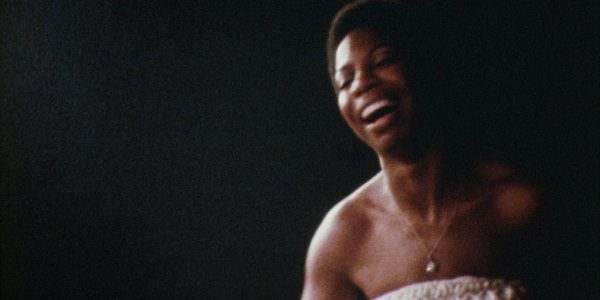 Simone's domestic reality was altogether different.  Following short-lived early bliss with husband/manager Andy Stroud, he turned out to be extremely jealous, threatening, and violent.  Garbus meticulously chronicles this with excerpts from Simone's soul-baring handwritten letters, as well as interviews with Simone's daughter, ex-husband, and longtime friends.
Such interviews, as well as archival interviews with Simone herself, form the narrative glue of What Happened, Miss Simone?  Happily, Garbus is also generous with performance footage.  I myself only discovered Simone's music several months ago and was immediately captivated by her vocal chops, ranging from seductive baritone to heart-squeezing tremolo to growly snarl.  This film's footage shows that Simone unsurprisingly conveyed even more power when on stage, with songs that ran the gamut of blues, gospel, jazz, soul, and funk.  Simone's classical piano lessons left a permanent imprint, too, as she'd throw in an occasional Bachian fugue for good measure.
Garbus and her crew are wizards of editing.  The film's music is that of Simone herself, effectively inserted into relevant pieces of the story.  Her chain gang "Work Song" accompanies Garbus' telling of Simone's exhausting, demoralizing work schedule at the height of her fame.  Video of a performance of "Backlash Blues" is interspersed with footage of civil rights protesters being hosed down by local police.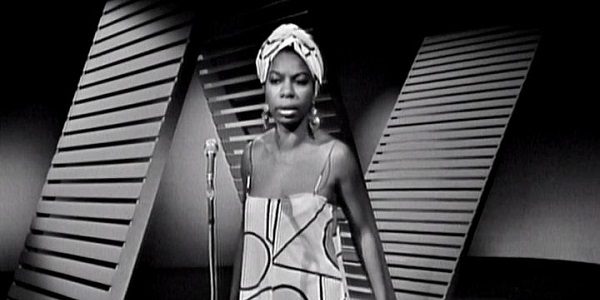 This past year has seen a number of films that are either musician's biographies (featuring the likes of Brian Wilson, Kurt Cobain, Amy Winehouse, and Glen Campbell) or civil rights narratives (Selma and The Black Panthers: Vanguard of the Revolution).  What Happened, Miss Simone? easily resides at the top with the best of these releases.  For instance, where The Black Panthers was overly detached, Garbus' film stays deeply personal and emotional.  Where Selma was stylistically awkward and dragged in places, What Happened, Miss Simone? maintains a strong momentum for its entirety.
This is easily one of the year's best films.  Its still-relevant activist theme only makes it even more timely and important.
4.5 out of 5 stars
(Parents' guide:  What Happened, Miss Simone? has not been rated by the MPAA.  Parents should be aware that it contains some violent civil rights footage, discussion of domestic abuse, candid but fairly tame talk of sex, and infrequent strong language.)