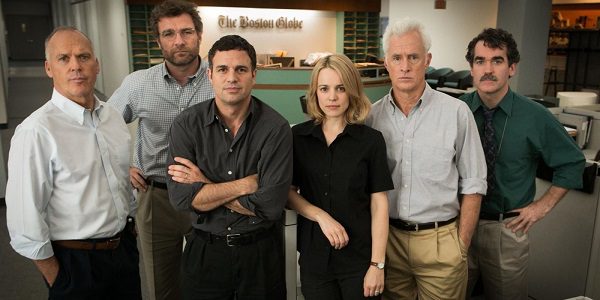 "If it takes a village to raise a child, it takes a village to abuse one." Sure to be one of Spotlight's most remembered lines, this is how an attorney representing the victims describes the collusion of Boston power players to suppress the clerical abuse scandal. For decades, the Roman Catholic hierarchy, powerful lawyers, judges, the police, and the journalistic establishment all ensured that the epidemic of child molestation within the Church stayed off the public's radar.
These are the layers of resistance that a Boston Globe investigative journalistic team will have to cut through, in order to bring this scandal to light. Director Thomas McCarthy's newest "based on a true story" film dramatizes these efforts with a tale that is excellent on every level.
The Boston Globe's Spotlight team is an elite group of reporters, normally given months to dig deeply into a story before publishing the results of their efforts. As the movie Spotlight opens in 2001, this team is casting about for a new issue to cover. At the same time, a new editor (Marty Baron, played with dry aloofness by Liev Schreiber) arrives at the Globe and quickly prompts Spotlight to focus its energies upon Father John Geoghan, a local priest who was shuffled across six parishes during his career, leaving at least 80 molested children in his predatory wake.
Spotlight dramatizes this team's labors with flair, as the journalists fan out across Massachusetts, interviewing many a priest, victim, lawyer, psychotherapist, and judge. At the same time, they fight to have legal documents unsealed, and in at least one case, press to have some documents restored to their files that Church officials had removed with impunity.
McCarthy's film covers a lot of informational ground as well. Along with the journalists we're given lots of statistics: only 50% of priests keep their vow of celibacy; an estimated 6% of U.S. priests have sexually violated minors. Through the reporters' interactions with victims, we learn of the typical pattern of clergy predation, going after poor kids from broken families. We're informed about the psychological reality of spiritual injury, how these kids start by feeling privileged to receive attention from God's representative on earth, but later come to feel soiled and betrayed, with many turning to drugs, alcohol, or suicide as an escape.*
For a movie that contains so much information-heavy dialogue, Spotlight moves along briskly. McCarthy directs kinetically, allowing his drama to unfurl across a variety of locales with a mixture of montage and following shots that maintain the audience's attention.
McCarthy is also well-served by a uniformly excellent cast. Mark Ruffalo, Rachel McAdams, and Michael Keaton are the main reporters; while Stanley Tucci and Billy Crudup are the attorneys who get the most screen time. I'm hard-pressed to name a standout performance, since they're all at their best here, though Stanley Tucci's abrasive Mitchell Garabedian utters the powerful line that opened this review.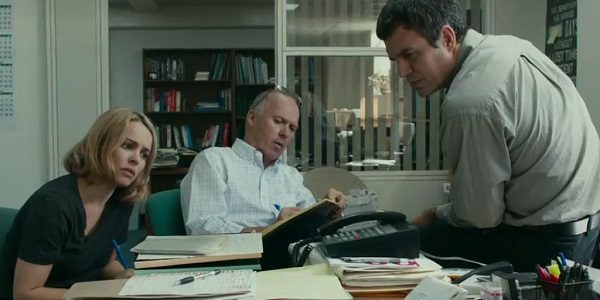 Since Spotlight is largely about the hard work and on-the-job perseverance of these characters, we don't see much of their home lives. What we do learn is that single-minded diligence exacts a toll in terms of personal intimacy, and that for Ruffalo's and McAdam's characters, digging up so much ugly ecclesiastical dirt has a faith-eroding effect.
I expect this film will get plenty of ink on year-end "Best of 2015" lists, and will earn at least a few Oscar nominations. For my part, I can't think of a film that has so effectively and believably dramatized journalistic labor since Robert Redford and Dustin Hoffman pounded the pavement in Watergate-era Washington, D.C., in All the President's Men.
I expect, too, that the faithful will mount their usual defenses. Bill Donohue and the Catholic League will frothily denounce the creators of Spotlight and blame the victims of abuse, just as he did in reaction to 2013's excellent Philomena.
Rank and file Roman Catholics will no doubt trot out the tired, ineffective "few bad apples" analogy. But just as Liev Schreiber's editor in Spotlight urged his reporters to turn their focus away from individual priests and onto systemic policy, I would challenge believers to face the incontrovertible evidence that it was Vatican policy, with at least two popes' full knowledge, that allowed countless children to be violated over the course of decades.
To return to Stanley Tucci's "it takes a village" comment, it's hard enough to crack a story when that village is a city the size of Boston. It's even harder to effect change when that village is a megalopolis comprised of 1.2 billion faithful. Nonetheless, I hope Spotlight will prompt many believers to question their allegiance to an abuse-perpetuating hierarchy, not to mention their belief in a benevolent God who permitted the psychological wreckage of so many innocents.
4.5 out of 5 stars
(Parents' corner: Spotlight has been rated R for its language and sexual references. I recommend viewing of this movie by those 15 and above.)
*A personal note: I trained and then worked for 10 years in New England at a psychiatric facility that had one of the few U.S. programs specializing in treating "impaired clergy." One of this program's patients figured prominently in the early days of the breaking scandal (this is now public knowledge, so I'm breaching no confidentialities here). Though I never worked in this specialized program, I was on the hospital's executive committee, and what I learned from one of the program's leaders meshes exactly with the information shared in Spotlight.