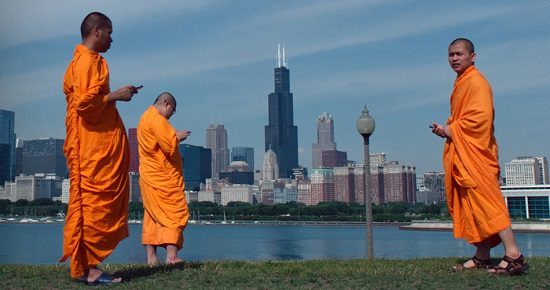 Werner Herzog has made a career of studying boundaries and those who try to break through them. Across 43 films, Herzog has considered those who love to fly (The White Diamond), those who strive to build kingdoms in the jungle (Aguirre, The Wrath of God), and those who live and work in Antarctica (Encounters at the End of the World). He's given us a close study of a man who sought to deny his humanity and bond with Alaskan wildlife (Grizzly Man). More recently, he breathtakingly introduced us to the first humans who left behind a record of artistic achievement (Cave of Forgotten Dreams).
For his latest film, Lo and Behold, Reveries of the Connected World, Herzog leaps to the more recent past, then contemplates humanity's computerized future. The main title is a clever play on the first message sent via internet. Partway through a login message originating at UCLA, the computer crashed, so only the "lo" portion of the email was sent.
The film's subtitle, Reveries of the Connected World, tells us the form of Herzog's documentary. Its ten chapters, with headings like "The Glory of the Net" and "The Dark Side," aim to be more meditative than conclusive.
Werner Herzog is a man who seems to enjoy cultivating an impression of a life skirting the boundary between creative genius and madness. Unsurprisingly, then, the choice of subject matter for each chapter falls short of predictable. In looking at the virtues of the net, Herzog doesn't tell us of the power of the worldwide web to effect political change. Instead, we're given a story of a crowdsourced videogame that has furthered cancer research.
For the dark side, we don't hear about teen cyberbullying. Rather, Herzog takes us to a signal-free community in West Virginia that's become a retreat for those suffering from a rare hypersensitivity disorder, people for whom the connected world is literally tormenting them physically.
The chapters of Lo and Behold are a typical Herzog mix of the oddball playful and the dead serious. We meet Carnegie Mellon computer scientists who are fabricating soccer playing robots, which the engineers soon expect will be able to outplay a World Cup champion team.
Physicist Lawrence Krauss discourses on the deadly peril of a turbocharged solar flare, the type that comes along every 450 years or so. Were such a flare to occur in the near future, the resulting digital blackout could trigger worldwide famine, given our dependency on computerized food routing systems.
Lo and Behold signals Herzog's new use of high-profile interview subjects, admixed with folks who aren't household names. Besides Krauss, the director also speaks with Elon Musk (founder of SpaceX) and Kevin Mitnick (designated the world's most famous hacker).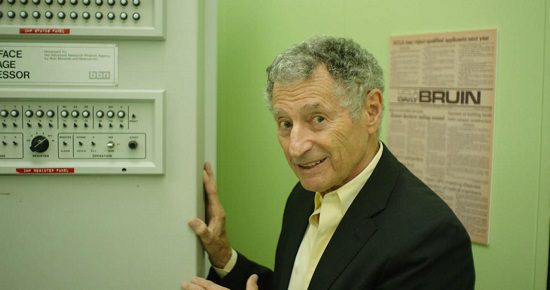 Herzog's latest film lacks the visual panache of his greatest achievements. In his 54 year career, the director has wowed us with the 3D splendor of 30,000 year old cave paintings, video of strange creatures living under Antarctic ice, and unforgettable images of Klaus Kinski floating down the Amazon on a monkey-infested raft.
Nothing in Lo and Behold can compare visually to such work. Still, there is plenty to admire in this documentary's exploration of the fastest technical expansion in human history. Most provocative of all is Lo and Behold's contemplation of the moral ambiguities of artificial sentience, a state that computers may have already achieved. At such moments, I'm glad to discern that Herzog remains an excellent communicator of his contagious fascination with the boundaries of humanity.
4 out of 5 stars
(Parents' guide: Besides some very brief strong language and a verbal description of a violent accident, Lo and Behold, Reveries of the Connected World has nothing to offend younger ears and eyes.)