Day 2 at the Full Frame Documentary Film Festival revolved around three films dealing with human/nonhuman animal relations.
Unlocking the Cage, directed by Chris Hegedus and D.A. Pennebaker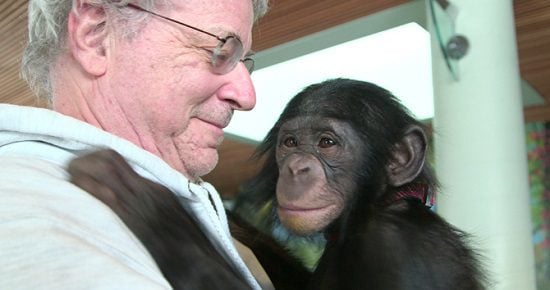 "When we weren't looking, we moved into the mainstream."
Partway through the documentary Unlocking the Cage, attorney Steven Wise notices by way of polls and news articles that his advocacy of nonhuman civil rights has gained wider acceptance both nationally and worldwide. The work that he's been doing for more than 30 years, since a life-altering encounter with Peter Singer's seminal book Animal Liberation, has moved beyond the radical fringe.
Wise is lucky to have veteran documentarians telling the story of this progress. Singly and together, co-directors Chris Hegedus and D.A. Pennebaker have been making movies for decades, including the Bill Clinton election documentary The War Room and the Bob Dylan tour film Dont Look Back.
For Unlocking the Cage, Hegedus and Pennebaker have chosen a straightforward yet effective narrative route. Their profile of Steven Wise is primarily a chronological one, following him as he prepares to argue before the New York Supreme Court for the personhood of chimpanzees.
Along the way, we learn about Wise's rationales for becoming an animal rights attorney. In starting a career of protecting dogs and cats from slaughter, he put into practice the belief that animals, casually brutalized in intolerably vast numbers, need human voices to speak for them. (As a poster on his wall attests, which other lawyers can truthfully assert that 100% of their clients are innocent?)
Now, in focusing his energy upon the wellbeing of primates, elephants, and cetaceans, he's acting upon 50 years of biological research showing that these groups possess a high level of cognitive complexity. This complexity manifests itself in animal culture, self-consciousness, autonomy, and empathy.
Unlocking the Cage shows us each step of Wise's legal prep process, in a fine example of the "person at work" documentary subtype. We follow Wise as he traverses New York, looking for captive chimpanzees who can function as plaintiffs in his animal personhood case. In his quest, we see heart-wrenching instances of animal confinement and cruelty, in roadside zoos and corporate research labs. To their credit, Hegedus and Pennebaker don't overdo this aspect of their film, but it's still painful to behold the suffering of sentient creatures even in small doses.
On a cheerier note, Wise also visits primate sanctuaries to scout out potential new homes for his plaintiffs, as well as to gather affidavits from primatologists to back his legal assertions with scientific data. Here I was amazed to see the sophistication of chimpanzee communication with their human protectors.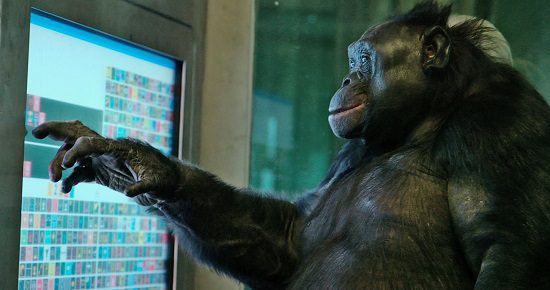 Later parts of Unlocking the Cage show Wise rehearsing during mock trials and finally arguing his case before New York Supreme Court judges. Most readers are no doubt aware that the U.S. Supreme Court expanded the legal definition of personhood to corporations, thanks to Citizens United. Wise not only refers to this precedent, but draws upon a long civil rights history that expanded legal protection to former slaves, women, and children.
Throughout its 90 minutes, Unlocking the Cage is an intellectually demanding film. Viewers not only learn about legal definitions of personhood, but also about the significance and limitations of writs of habeas corpus. The film does a solid job explaining these concepts, but it requires the watchers' constant attention to follow the sophisticated arguments made by all sides.
During the directors' Q&A that followed the screening of this film, Hegedus and Pennebaker related that they were both "radicalized" in their view of animal rights during the time they followed Wise and his legal team. I hope this will be the experience of many viewers, too.
Like Wise, my attitude towards nonhuman animals was altered by an encounter with Peter Singer's words. As I've stated in other reviews of animal-themed films like Virunga, White God, Blackfish, and Grizzly Man, I feel that inattention to nonhuman/human relations is one of the major shortcomings of the contemporary freethought movement. I'm proud that many secular humanists see the inextricable link of atheism to social justice for poor and minority groups. But to hearken back to Wise's quote that opened this review, I still wonder whether freethinkers will enter the increasingly mainstream embrace of animal rights or remain behind the curve.
Kedi, directed by Ceyda Torun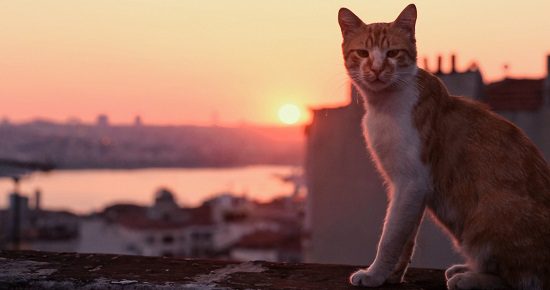 This documentary out of Turkey is a far lighter consideration of human/nonhuman interactions. The city of Istanbul has been dubbed "Catstantinople" by some wags who've taken notice of its residents' affection for its huge stray cat population.
Kedi gives us a charming look at the lives of several of these strays and their human minders. Shopkeepers, artists, and fishermen tell how their lives have been changed for the better by feeding and stroking the felines that cross their path. These folks speak affectionately of the cats' individual personalities, whether a domineering alpha male psychopath or a gentleman who doesn't deign to beg for scraps.
Director Ceyda Torun managed impressive feats of filming, in following these cats at ground level on their rounds. Mixing this footage with that of the humans going about their daily lives, as well as aerial shots of Istanbul, and the end result is a love letter to a beautiful city and its beautiful inhabitants.
Kedi did feel about 10-15 minutes too long, though. Some of the musings and views start to feel redundant after a while and would've been better left on the cutting room floor. Still, this is an enjoyable film that any animal lover won't regret tracking down.
Territory, directed by Eleanor Mortimer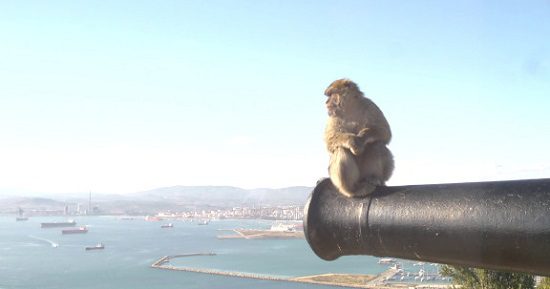 On the other hand, no one could accuse Territory of overstaying its welcome. In its lean 17 minutes, we're given a quick introduction to the battle between macaque monkeys and humans occurring in the British territory of Gibraltar.
Territory, aside from a pair of intertitles, is free of narration. Only after a few minutes of observing the monkeys (the only free-ranging primates in Europe) do we discern that the human residents of Gibraltar see them as a nuisance. Ordinary people shoo the macaques off their patios, and government employees roam the city with blowguns (firing harmless pellets) to try and drive them away from inhabited areas.
Director Eleanor Mortimer handles the human/macaque battle delicately, even humorously. In one hilarious juxtaposition, a tourist is pointing her bulky camera upward at a macaque, while a city employee right next to her is aiming her blowgun in the exact same angle and direction.
Mortimer doesn't explain the antipathy that humans feel towards the macaques, but that's okay. Instead, she's given us a brief visual essay on what happens when human and nonhuman interests collide. The humans begrudge the animal intrusion upon their "territory," while of course the macaques don't comprehend the meaning of the cranes that erect building upon building to chip away at open spaces.
Unlocking the Cage and Territory: 4 out of 5 stars
Kedi: 3.5 out of 5 stars
(Parents' guide: Unlocking the Cage has a few brief scenes of animal brutality that could overwhelm younger viewers. Territory has a cuss word or two, while there's nothing in Kedi to scandalize viewers of any age.)