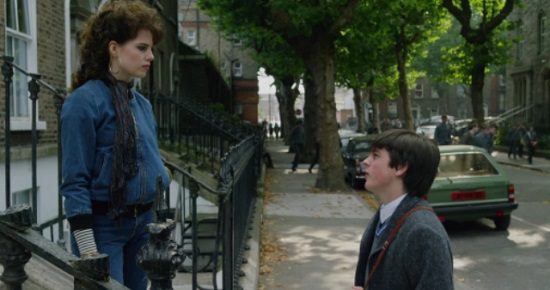 At this point, I'll hurry to see anything that John Carney writes and directs. 2007's Once was a low-key, winning look at love between two buskers on the streets of Dublin. Even better, 2013's Begin Again has become movie comfort food for me. Its charming story – featuring Keira Knightley and Mark Ruffalo as two musicians facing hard times in NYC and finding deliverance through a joint musical project – never fails to buoy up my spirits.
One of the main characters in his latest film Sing Street makes the utterance that "love is happy/sad." With films that skimp on neither exultation nor heartache, Carney proposes that life in general is happy/sad, even if optimistic diligence carries the day.
Set in 1985 Dublin, Sing Street opens with 15 year old Conor Lalor strumming his guitar in his bedroom, as his parents argue loudly beyond his closed door. A television news program playing downstairs makes it plain that times are hard throughout Ireland, with adults emigrating en masse to find employment on the British mainland.
Conor's parents stop shouting long enough to inform him that, in their current underemployed state, they can no longer afford to send him to his current school. Instead, he'll be transferring to a Catholic school (the Synge Street Christian Brothers School, which Carney attended in actuality) in a more rundown section of town.
Carney nicely juxtaposes Conor's fresh-faced innocence against the roughness of his new school, its students, and its faculty. He walks into the schoolyard to a background of spitting and head-butting toughs, while the headmaster watches silently from a window above. Instead of a welcome from the headmaster, Brother Baxter humiliates Conor when he can't afford the black shoes mandated by the dress code, forcing him to slosh through puddles in sock feet. And then there's Barry, the brawny bully who shadows Conor.
Lest all of this sound too dark, it doesn't stay that way for long. Conor quickly espies a pretty young teen on the steps of the girls' home across from Synge Street's entrance. Immediately smitten with Raphina, who dreams of being a model, Conor decides to form a band to impress her.
Conor's efforts are a hilarious showcase of adolescent audacity and uncertainty. A diminutive redhead named Darren, an aspiring entrepreneur who carries around cardboard business cards, introduces Conor to Eamon. The latter wears the ubiquitous big glasses of the 1980s and has an odd rabbit fixation, but knows music and songwriting. Bassist Eamon and lead singer Conor form the heart of their new band Sing Street, as they recruit the rest of the musicians they'll need. Soon enough, they have their first single ready, with a music video for Raphina to star in.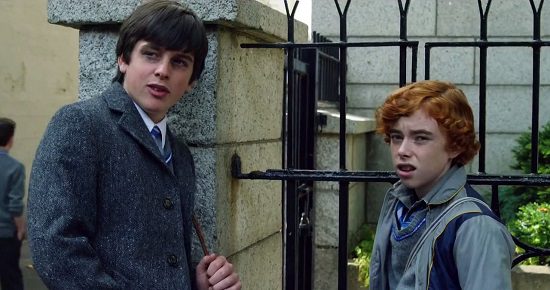 Carney uses the band's efforts to illustrate perfectly the teenaged striving to find an identity that feels authentic. Sing Street's first music video is a rip-off of Duran Duran's "Rio." A later song pilfers the bass line of Hall and Oates' "Maneater." One day, Conor walks into school looking like a Simon Le Bon clone; a few weeks later, he's got spiky hair à la Depeche Mode.
The Irish cast of Sing Street will be mostly unfamiliar to viewers on this side of the Atlantic. (Only Aiden Gillen, playing Conor's father and now famous as Littlefinger on Game of Thrones, was recognizable to me.) But Carney has rounded up a terrific group of actors.
Newcomer Ferdia Walsh-Peelo is perfect as Conor, conveying an entirely believable mix of the tentative, brash, and vulnerable. And it certainly helps that he has a very listenable singing voice.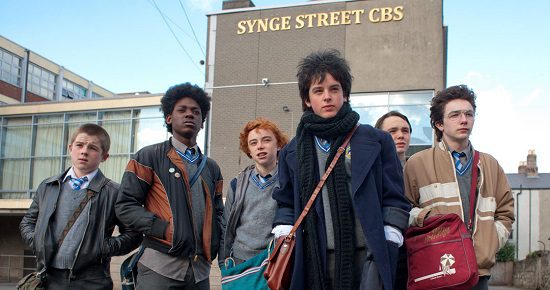 With Sing Street, Carney once more shows his skill in crafting multidimensional sympathetic characters. As in Begin Again, where Keira Knightley's cheating partner is revealed to be more immature than malicious, even the characters behaving badly in Sing Street are more lost than mean. Conor's parents are neglectful, but it's quite evident they're overwhelmed by their own unhappiness and intense money worries.
The only unambiguously villainous character is Brother Baxter. To judge by Carney's statements about this character's real-life inspiration, it's entirely understandable that there would be no soft edges to Brother Baxter from Conor's point of view. The headmaster is a fitting stand-in for Ireland's 1980s power structures, where the Church had a chokehold on politics (divorce was still illegal) and its representatives could still abuse children with impunity.
On a happier note, Carney is equally gifted at writing splendid dialogue for his characters. After Conor sees Raphina drive off with a romantic rival blaring Genesis on his car radio, he turns to his older brother Brendan for comfort. Brendan consoles him with the wise words that "no woman can truly love a man who listens to Phil Collins."
As with his two previous music-themed movies, Carney's songs (which he co-wrote) pleasingly carry Sing Street's story along, too. Besides "The Riddle of the Model," which Conor casually tells Raphina is about "another model I know," a later song communicates the band's philosophy with words that urge, "This is your life / Drive it like you stole it."
In the window of time that Sing Street reveals, the Lalor family has more than its share of pain, with stressed-out parents, a directionless big brother, and Conor's own ups and downs of first love. Despite its refusal to shy away from the darker aspects of life, Carney's outlook is ultimately optimistic. His characters reveal the possibilities for finding a way out of grim situations. With Carney's claim that he's done with music-themed films for now, I look forward to where he will take us next.
4 out of 5 stars
(Parents' guide: Sing Street is rated PG-13, primarily for its occasional strong language, some bullying violence, and drug use. I could see where its themes of family strife could be upsetting for youngsters experiencing similar hardship, but otherwise I think this film is suitable for those 13 and over.)