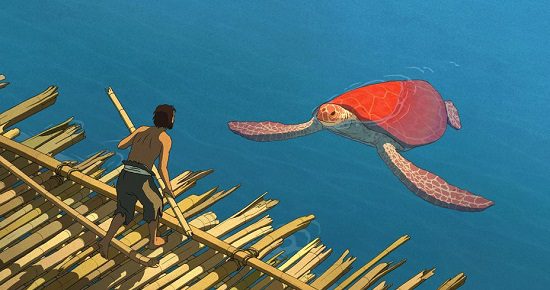 Changes are afoot at Studio Ghibli, Japan's pioneering and much beloved anime studio.  With the retirement (apparently real this time) of its co-founder Hayao Miyazaki, there were fears that the studio might stop creating new films.
Happily, this has not been the case.  But with The Red Turtle, Ghibli has travelled abroad, completing its first co-produced and non-Japanese film.
Crafted in France under Dutch director Michael Dudok de Wit, The Red Turtle feels and looks both similar to and different from previous Ghibli works.  Thematically, it continues the message of living in harmony with nature, found in so many great films by Miyazaki and his founding partner/director Isao Takahata, works of sublime beauty and integrity like Spirited Away, Princess Mononoke, and Pom Poko.
Stylistically, The Red Turtle is quite different, however.  Gone are the typical bulbous-eyed children of anime visual art, replaced by simpler line drawings (the humans in The Red Turtle reminded me most of Herge's characters in his "Tintin" books).  Gone, too, are the luxurious colors of Miyazaki, replaced by a more bleached palate.
The simple storyline of The Red Turtle is enhanced by Dudok de Wit's choice to make his film entirely dialogue-free (unless you count an occasional "hey!" as dialogue).  The film opens with an unnamed man battered by stormy seas as he clings to his small overturned sailboat.  His boat is smashed on the rocks of a deserted island, but the man survives unharmed.
Courtesy of the film's soundtrack, we're startled along with the man at each strange sound, whether the barking of a seal or the advent of a rainstorm.  We quickly learn that the man is resourceful, finding fruit and freshwater that will sustain him, while he builds a bamboo raft to flee the island.
His escape attempts are foiled by the giant turtle of the film's title, who batters and demolishes his raft.  What he first takes to be aggression is soon enough discovered to be affection, as the turtle transforms into a red-haired woman smitten with the man.
The bulk of The Red Turtle is occupied with the life on the island created by the man and woman.  Unlike Adam and Eve, the purpose of this primal pair is not to subdue the plant and animal life of the island, but instead to use what they need and leave the island more flourishing than they found it.
The result is a gentle film with charmingly depicted animal life, especially the prolific little crabs and graceful sea turtles.  However, in part due to the absence of dialogue, I never felt immensely attached to the characters, and the quality of the visual artistry didn't wow me like the best Ghibli films.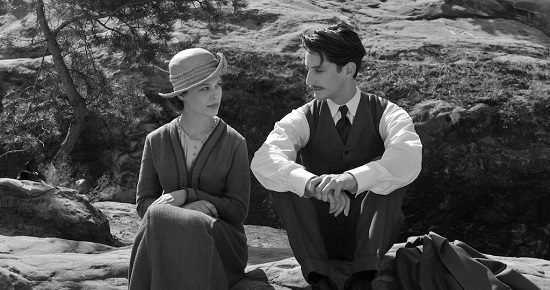 Comparing a Ghibli film to a work by Francois Ozon is not even apples and oranges, but more like apples and nematodes.  But such are the pairings that a film festival schedule brings.  From my admittedly limited experience with this French director, he seems to excel in crafting works of suspense that mingle sexual tension with the threat of danger.
His latest movie
Frantz
opens in the German town of Quedlinburg, one year after the First World War has ended.  Young Anna maintains a demure surface, but is intensely grieving the death of her fiancé Frantz Hoffmeister, killed in the concluding weeks of the war.  Treated as a daughter by Frantz's grieving parents, she lays white flowers on her fiancé's grave daily.
On one of these visits, she's shocked to learn that an unknown Frenchman has started visiting Frantz's grave, too.  In short order, he introduces himself to Dr. and Mrs. Hoffmeister as Adrien, a friend of Frantz's from his prewar studies in Paris.
Adrien quickly endears himself to Anna and the Hoffmeisters, as his stories of Frantz give their existences a new vitality.  His memories of their fiancé/son in happier times enliven their faces and actions, as he tells of their trips to the Louvre together.  They relate to his postwar suffering, too; formerly a professional violinist, he's been unable to play since his time in the trenches.
Of course, nothing remains simple, as a local citizen who is courting Anna resents the presence of a Frenchman in their town so soon after the war.  His jealousy and nationalism pose a threat to Adrien, but still more significantly, there's a lingering unease that Adrien may not be telling the full story of his connection to Frantz.
Ozon tells this story with passion and flair.  His characters wear their emotions on their sleeves:  Doctor Hoffmeister is so overwhelmed by feelings that he can't stay at the table to hear their visitor's reminiscences; Adrien breaks down while playing Frantz's violin.
Ozon is a master at steering the audience's emotions, too.  When Adrien closes Frantz's violin case, it carries the weight of closing his coffin anew.
Even more brilliant is Ozon's manipulation of color.  Most of Frantz is shot in black and white, but for happier flashbacks, or even when cheery memories seep into the present, Ozon transitions to color.
Although a reversal of the film style cliché of using black and white for distant memories, it works superbly.  (And interestingly, it cinematically illustrates what sufferers of PTSD have shared with me in my psychiatric practice.  More than one traumatized individual has disclosed that their violent experiences have sapped them of the ability to see the world in color.)
The actors in Frantz all excel at communicating their tormented emotional states.  Ernst Stotzner and Marie Gruber are entirely convincing as the bereft parents of Frantz.  As their son's contemporaries, Pierre Niney (as Adrien) and Paula Beer (as Anna) convey both their bereaved fragility and a budding hope that there's a life to be had beyond wartime.
In yesterday's comments on Kiyoshi Kurosawa's film Daguerrotype, I described it as a failed effort to channel Hitchcock's style and themes.  In contrast, Ozon strikes me as a more successful heir to the British-American master of suspense.
Held up against Daguerrotype, Ozon is far more capable of building complex characters and believable tension.  With Hitchcock, the psychosexual themes were always lurking, if sublimated by his personal inhibitions and the Motion Picture Production Code.  Ozon is far freer in making those themes overt, even if he doesn't possess Hitch's prodigious talent.  But then again, who does?
Both films:  3.5 out of 5 stars
(Parents' guide:  The Red Turtle is rated PG for some thematic elements and peril.  Frantz is currently unrated, but I'll hazard a guess that it will earn either a PG-13 or R rating for those same "thematic elements" and some brief violence.)