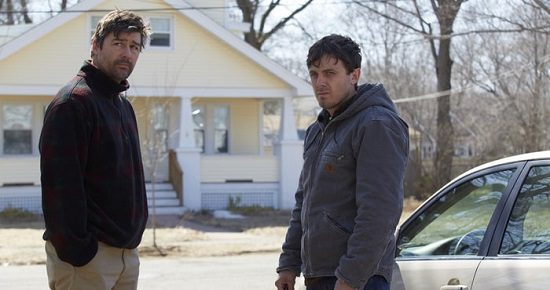 A dozen films, with only one bad egg in the mix. That's not a bad week at a film festival, which concluded with two very different movies set in New England.
American writer/director Kenneth Lonergan can hardly be described as prolific, directing three movies in 16 years. Each, however, has been a well-crafted drama with complex, believable characters. His 2011 film, Margaret, was a profound look at a young woman coping with guilt and responsibility following her role in an accidental violent death.
Lonergan's newest effort, Manchester by the Sea, is brave enough to ponder similarly weighty matters, and is mostly successful in doing so. The film opens with Lee Chandler (Casey Affleck) living alone in Boston, working as a rude but proficient handyman. One of his typical workdays is interrupted by a phone call summoning him to a hospital north of the city, where his brother Joe (Kyle Chandler) has just died from a heart attack.
Joe has long known his life would be curtailed by heart disease, and as a concerned single dad, has foreseen the likelihood that he would die before his son Patrick reached adulthood. Unbeknownst to his brother, Joe in his will has named Lee as his son's guardian.
Through a series of judiciously timed flashbacks, we learn about the tangled lives of Lee, Joe, and Patrick. Joe stayed behind in their hometown of Manchester and ran a fishing boat, while Lee fled to Boston from his ruined marriage to Randi (Michelle Williams, excellent as always).
Despite ending up in different parts of New England, we see that the two brothers had a tight bond, where Joe in the past has saved Lee from extraordinarily painful circumstances. Now that it is Lee's turn to lend an admittedly major hand and raise his teenaged nephew Patrick, Lee feels too emotionally enfeebled to meet this challenge.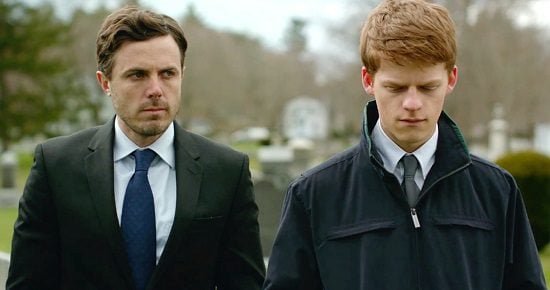 Again, the flashbacks feed us just enough information at just the right time to furnish context for Lee's tenuous, pained mental state. We discover why, for instance, when Lee shows up in Manchester, he's ominously referred to as "the Lee Chandler."
I won't furnish any further specifics, only to state that Lonergan set himself a formidable task in telling this story. Set against the heavy subject matter of grief and trauma is a family that copes with adversity with smartass humor. My wife and I both shed some tears during Manchester by the Sea, but there are laughs aplenty as well. Sometimes the tone felt a tad too jaunty, but for the most part Lonergan manages a fine balance.
And what splendid acting by the three male leads! I would bear no regret if any of them won an Oscar next year. Casey may be the lesser known of the Affleck brothers, but in my estimation he's far more capable of nuance and ambiguity than Ben (witness his superb performance as Robert Ford in The Assassination of Jesse James). Here, in the role of Lee, he plays a man who feels deeply, but submerges his pain under alcohol and brusque aloofness, showing a believable fidgetiness when emotion escapes to the surface.
Kyle Chandler will probably always be best remembered as the coach in Friday Night Lights, but with this film, he continues a string of robust movie roles as the more reliable big brother. Lucas Hedges as Patrick convinces as a kid comically doing adolescent things (dating two classmates simultaneously, playing in a terrible rock band), through which anger and sadness occasionally poke through.
Sometimes the musical choices were too on the nose, like using "Let the Good Times Roll" for the end of a crappy workday. But others, such as a women's chorus as the camera floats over the ocean, are quite effective. Even Albinoni's trite "Adagio" succeeds in complementing a crucial flashback.
If you're looking for a moving, psychologically rich film experience, Manchester by the Sea would be an excellent choice. If you're seeking something touching and smile-inducing, then I'd recommend The B-Side: Elsa Dorfman's Portrait Photography instead.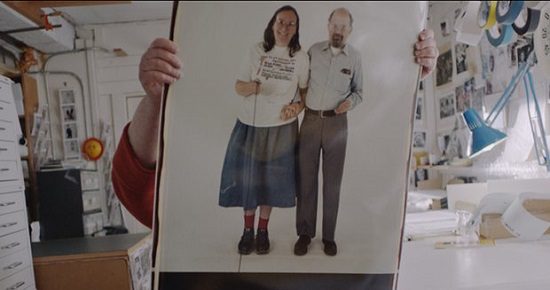 Prior to this documentary, I wouldn't have tagged Errol Morris as a man to tell a heartwarming story. With films like The Thin Blue Line, The Fog of War, and Tabloid, I more readily associate him with penetrating investigation, wielding a scalpel to slice through the self-deceptions of U.S. Defense Secretaries and ineffective police forces.
Perhaps the key difference is his intimate personal connection to the subject of his latest film. In speaking of Elsa Dorfman during the Q&A following the screening, Morris related that they've been neighbors and friends in Cambridge for 25 years, with Elsa photographing human and canine members of Morris' family on 30 to 40 occasions.
Morris also described Dorfman as a local legend deserving of wider recognition. Although she didn't pick up a camera until she was 28, Dorfman spent the next 50 years shooting detailed portraits of herself, her family, the famous, and the unknown.
Curiously, her choice of media is large format Polaroids, using one of five cameras worldwide capable of creating 20 x 24 prints (and later, 40 x 80). At times, Dorfman would journey around Cambridge, selling photos out of a shopping cart (borrowed, not stolen, she charmingly asserts). Later, she would take portraits of families and individuals in her studio. Always taking two pictures, she let her subjects choose the one they wanted, and she would keep the reject, lovingly referred to as a "B-side."
Dorfman is a delightful interview subject, coming across a grandmotherly figure who happened to be close friends with Allan Ginsberg and photographed greats like Bob Dylan, Robert Lowell, and W.H. Auden. She claims to have drawn her artistic philosophy from Ginsberg, embracing the beautiful particulars of everyday existence.
Interestingly, she rejects the notion that she captured anyone's essence on camera, only accepting credit for depicting the surfaces of life. (In viewing the numerous examples of her work that Morris shows in his documentary, including a somber self-portrait taken the day after her mother died, I'd respectfully disagree.) In speaking of criticisms that her pictures are too cheery, Dorfman chafes and pragmatically asserts that life is difficult enough without carrying around a visual reminder of its strain.
Morris uses his stylistic bag of tricks to illuminate Dorfman's career, with techniques that will be familiar to anyone who's seen his other documentaries: a mix of interviews (from which his voice is nearly completely edited out), time lapse video of Dorfman plying her craft, and images of her holding up her photographs. All of this is accompanied by a music reminiscent of Philip Glass, who completed scores for two of Morris' prior films, but in this case was composed by Paul Leonard-Morgan.
It saddened me that The B-Side was by far the most sparsely attended of the movies I viewed at this year's festival. To be sure, there is nothing here as flashy as former Defense Secretary Robert McNamara copping to behavior befitting a war criminal and admitting to fatal ignorance of his enemy's intentions, as Morris caught on film in his essential documentary The Fog of War. But this is a work worthy of a bigger audience. The end result of Morris' labor is analogous to the art of Dorfman herself, a delicate display of ephemeral beauty.
Both films: 4 out of 5 stars
(Parents' guide: Manchester by the Sea is appropriately rated R, in light of its subject matter, sexual content, and strong language. The B-Side is unrated, but contains brief salty language and photographic nudity.)