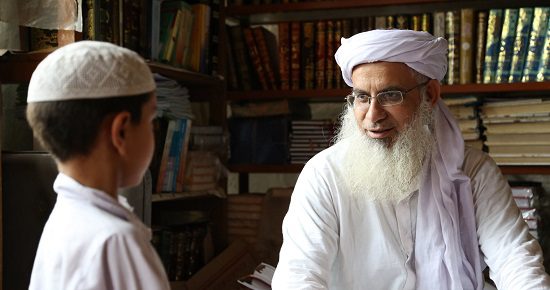 Among the Believers – an intimate look at the workings of Pakistan's Red Mosque, an indoctrination center for regional terrorists – is not an easy documentary to watch. You could even call it chilling.
But it's obviously a labor driven by passion. Emphasizing the labor part of this equation, the directors and crew followed their subjects around from 2009 to 2014, giving us a close-up and in-depth chronology that many documentaries lack. Explaining their passion, at least in part, each of the directors has witnessed the effects of Islamist terrorism, in New York on 9/11 and during the Mumbai terror attacks of 2008. So when a Pakistani village leader in the film asks "what kind of Islam tells [its followers] to attack their own country and children," one gets the sense this man is speaking for the directors, too.
Among the Believers reveals the ongoing significance of the Red Mosque. With 30 branches and 10,000 students scattered across the country, the organization is also able to muster massive street demonstrations in support of its ideology. Its countless graduate "martyrs" have contributed to the civil unrest that killed over 50,000 and displaced over one million in Pakistan from 2007 to 2014.
With no voice-overs and a minimum of text commentary, the documentary follows several key figures to illustrate its narrative. We see many days in the life of Maulana Aziz, the current Red Mosque leader. Benevolently doling out cash to locals in financial need, Aziz takes time out of his busy day to introduce us to students he's rescued from poverty.
He informs the camera of his Islam-spreading mission, whether through proselytizing or violence, and his efforts to force Pakistan to live under Sharia law. At one point he asserts that he'd "sacrifice a hundred sons for the sake of Allah." It turns out that this is no empty boast, as he names several family members who've died during the mosque's sporadic skirmishes with the Pakistani military.
Among the Believers also introduces us to the aforementioned village chief, who has used his own scant finances to build a secular school to educate young boys and girls. Not only are such students bodily threatened by the Red Mosque, but the chief encounters further resistance from elders who believe their youth are better served by acquiring heavenly credit at the mosque rather than earthly knowledge at the school.
The camera follows a pair of young students as well. One, a young male teen, is shown withering from shame when he fails a Quran memorization test. Another, a 12 year old girl named Zarina, recounts the beatings she suffered at the local Red Mosque madrassah before escaping it for good.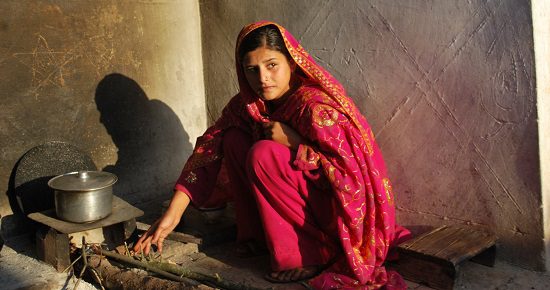 Zarina and her family put faces on the poverty endured by rural Pakistanis. Though she longs to remain at the village school, her family can scarcely afford to provide for her and her eight siblings. Her parents contemplate a marriage offer from the family of a young man, which would give them one less mouth to feed. Small wonder, then, that so many parents send their progeny to an institution that promises free room, board, and education, not to mention heavenly gains for the entire family.
As a formerly zealous Christian fundamentalist, Among the Believers sounded several familiar notes for me. When the dean of a Red Mosque school speaks of the importance of molding young spirits now, in order to shape them for the remainder of their lives, this sounds like the indoctrinating goals of every major religion. When Zarina remembers how mosque staff told her to forget about her parents, this reminds me of Jesus' words that anyone who doesn't hate his parents cannot be his disciple. And when the male teen states that he doesn't know the meaning of Quranic verses but is merely memorizing them, this reminds me of the shallow understanding of so many Americans who identify as Christian but would flail uselessly if trying to sustain a theological conversation.
Of course, most American fundamentalist Christians don't want to kill their opponents, even if they're willing to manipulate their local and national government into propagating their restrictive social mores and dogma. They've got the proselytizing urges of their Islamist compadres, if not the willingness to put their bloodlust into action.
There is something uniquely horrifying about Among the Believers, in a scene where the camera lingers upon a Red Mosque alphabet primer. Instead of "C is for cat," we see the Arabic equivalent of "C is for collision," illustrated with a rough drawing of an airplane crashing into the World Trade Center.
The one weakness of this otherwise excellent film is that I didn't come away comprehending why a group that openly advocates violence within the borders of Pakistan is nonetheless permitted to thrive. Indeed, they're so powerful that this film is currently banned in Pakistan, and some members of the film crew had to go into hiding because of death threats against them.
Still, much credit is due co-directors Mohammed Naqvi and Hemal Trivedi for their bravery and persistence in crafting this intimate and intelligent film. I hope the more moderate voices in their film carry the day in forming a peaceful and better educated nation.
3.5 out of 5 stars
(Parents' guide: This film is unrated, but has occasional images of war- and terrorism-related violence and death.)