Although I wasn't wowed by any new "serious fiction" in 2016, I found it to be a strong year in many other categories.  While I think the books named below will satisfy inquisitive humanists and secularists, you'll need to look elsewhere to scratch your anti-theist itch.  (Now that I've been out of the atheist closet for a few years, I don't feel an urgent compulsion to narrowly seek out books against religion any longer.)
Please feel free to share your most beloved books of 2016 in the comments section, but in the meantime, here are my choices:
Favorite Philosophy Book:  At the Existentialist Café: Freedom, Being, and Apricot Cocktails, by Sarah Bakewell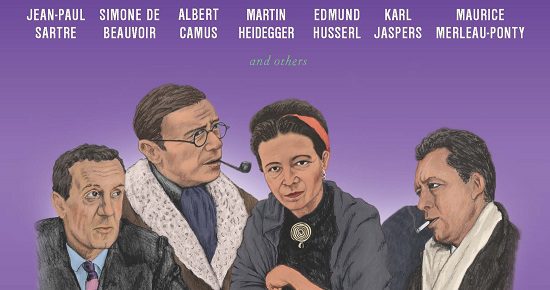 As she did so joyfully in How to Live, her 2010 book on the life and work of Michel de Montaigne, British author Sarah Bakewell again beautifully synthesizes biography and ideas.  While the focus in her newest book is primarily upon existentialism's main expositors Sartre, de Beauvoir, and Camus, Bakewell also introduces its progenitors, lesser luminaries, and successors.
Even more than Peter Watson's superb The Age of Atheists, Bakewell succeeds at putting the densest ideas (I'm looking at you, Wittgenstein) within reach.  Even the philosophers whose works I've read, such as Sartre and Camus, are put in the spotlight for a deeper appreciation.
Bakewell delights with her wit and storytelling, making At the Existentialist Café an intellectual page-turner.  She also knows when to add an apt quote, as when she cites the words of phenomenologist Maurice Merleau-Ponty:  "The philosopher is marked by the distinguishing trait that he possesses inseparably the taste for evidence and the feeling for ambiguity."  Bakewell adds that "this is the most attractive description of philosophy I've ever read."  It's not a bad way to live either.
Favorite Book on the Arts:  Keeping an Eye Open: Essays on Art, by Julian Barnes
I'm cheating a little bit here, since Barnes' book on 19th and 20th Century painters was actually published in late 2015.  But I think I can be forgiven, since no books covering film or television blew me away in 2016.
In Keeping an Eye Open, Barnes does for painters what Bakewell achieved with philosophers.  Along with generous and apt illustrations, Barnes illuminates with clear, novelistic prose the complicated lives and artistic milestones of greats like Delacroix, Courbet, Cezanne, Magritte, and Braque.
Favorite Sociology Books:  White Rage: The Unspoken Truth of Our Racial Divide, by Carol Anderson; and They Can't Kill Us All: Ferguson, Baltimore, and a New Era in America's Racial Justice Movement, by Wesley Lowery
Both of these are sobering looks at race relations in America, the first through the lens of history, the second through a year of reporting on the shooting of unarmed blacks in urban America.
Carol Anderson, in White Rage, reveals how white behavior and legislation from Reconstruction onwards have furthered the suppression of people of color.  Whether she's discussing the squelching of migration out of the South to better jobs and greater liberty, or the propagation of separate but unequal educational opportunities, the facts and conclusions presented by Anderson are overwhelmingly unassailable.
Anderson, professor of African American studies at Emory University, brings the reader up to date, too, by shedding light on present day mass incarceration that disproportionately affects people of color.  Jim Crow isn't dead yet, either, with Anderson showing how 9 of the 12 former Confederate states have proposed or adopted legislation to roll back the gains achieved with the Voting Rights Act of 1965.
For They Can't Kill Us All, journalist Wesley Lowery journeyed across America to meet with activists, law enforcement officials, and family members of unarmed black people killed by police.  The end result is a book that is impassioned but fair.  Lowery writes, "In city after city, I found…officers whose actions were at worst criminal and at best lacked racial sensitivity."  (For his efforts, he also got arrested and roughed up by cops in Ferguson.)
Lowery gives us heartbreaking (and hard to obtain) data of 1000 police shootings per year and one unarmed black person killed every ten days, with only a miniscule fraction of cops suffering any meaningful penalties for misconduct.  Lowery personalizes these figures by offering us surreal spectacles like the November 2012 Cleveland killing of Timothy Russell and Malissa Williams.  Despite being weaponless, they were slaughtered in a hail of 137 bullets.  Incredibly, no convictions followed, ostensibly because the judge could not determine which cops' bullets delivered the fatal wounds.
Jean-Paul Sartre, as cited in Bakewell's book, suggested we decide every situation by inquiring how it appears in "the eyes of the least favored."  Anderson's and Lowery's books give readers a chance to put this philosophy into practice.  I came away from these works a much stronger supporter of the Movement for Black Lives.
Favorite Autobiography:  Boy Erased: A Memoir, by Garrard Conley
It's hard to believe this is the author's first book, so immersive is his presentation.  Boy Erased wrenched my emotions with its tale of a closeted gay youth's unwilling outing in college.  As a result, Conley's fundamentalist preacher father threatens to disown him unless he participates in a residential "corrective therapy" program.
If you're hankering for an exhibit to confirm Christopher Hitchens' contention that religion poisons everything, you need look no further.  Yet there is redemption and hope scattered in the mostly grim pages of Boy Erased.
Favorite Light Fiction:  Staked, by Kevin Hearne
A year like 2016 (and the last three titles above) cries out for some escapism, and Kevin Hearne's "Iron Druid" series offers this in abundance.  Staked is Book Eight of a projected nine books, and it keeps Hearne's series going strong.
In a clever bit of religious relativism, the Iron Druid Chronicles posit a world in which all deities and supernatural beings are real.  Though the lead character Atticus O'Sullivan, a 2000 year old druid, primarily interacts with the Celtic pantheon, he also crosses paths with Jesus, Zeus, Odin, and many others in irreverent fashion.
In previous books, Atticus has faced off against villains like Loki and Bacchus, in stories that offer a satisfying mixture of adventure and humor.  The bulk of Staked involves a showdown with nefarious vampires (because, oh yeah, supernatural creatures like werewolves, skin-walkers, and ghouls are real, too).
Do yourself a favor and listen to Hearne's books, rather than read them.  Narrator Luke Daniels does a laugh-out-loud job of personalizing the many characters in this series.  Most fun of all is Atticus' talking wolfhound Oberon, a smart critter equally obsessed with French poodles, sausage, and 20th Century pop culture.
Favorite Travel Writing:  Far and Away: Reporting from the Brink of Change, by Andrew Solomon
It would be almost impossible to top Solomon's prior book, Far from the Tree, the most emotionally moving and psychologically rich work on parenthood that I've ever read.  Far and Away doesn't attain those heights, which is also unsurprising given the anthology nature of Solomon's latest, which gathers varied essays written over the space of 25 years.
Far and Away definitely merits your time, though.  In its eloquent introduction, Solomon writes that "travel is a set of corrective lenses that helps focus the planet's blurred reality."  This book is the next best thing to wearing those lenses in person, introducing the reader to varied experiences like thriving in the disappearing wilds of Mongolia or attempting to stay sane in Libya under Qaddafi's Kafkaesque bureaucracy.
None of the essays here could be called superficial, but some of the best ones introduce the reader to individuals that Solomon clearly got to know intimately:  depression counselors in rural Greenland, artists in China who cling ambivalently to Mao's legacy, mothers in Rwanda who survived genocide and now struggle to love their rape-engendered offspring.
Most of Solomon's essays contain a postscript, especially helpful for those written 10-20 years ago.  In this way, we're brought up to date on events in Afghanistan, visited in the heady, hopeful days immediately following the Taliban's downfall in 2001.  Likewise, we learn how the Russian Orthodox Church, persecuted in the Soviet era, now is Putin's puppet, with a corrupt head patriarch estimated to possess a personal fortune of $4 billion.