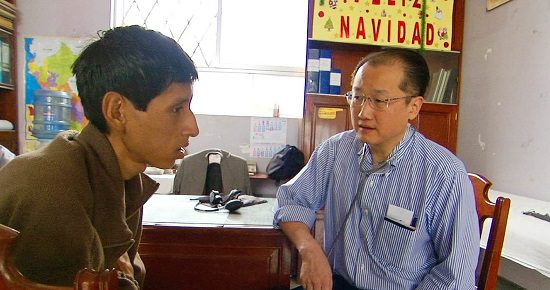 Toward the end of Bending the Arc, an invigorating new documentary about the worldwide organization Partners in Health (PIH), one of its co-founders Jim Yong Kim states that "optimism is a moral choice."  This hopeful 34 year history of PIH amply illustrates this contention and should revitalize many an activist.
I first became acquainted with PIH through Tracy Kidder's equally inspiring 2003 biography (Mountains Beyond Mountains) of another co-founder, Paul Farmer.  Like Kidder's book, Bending the Arc serves as a great introduction to the work and key players behind PIH, as well as filling in the intervening history for readers of Mountains Beyond Mountains.
Bending the Arc largely follows a chronological path, opening in 1983 with the meeting of two idealists in Haiti.  Ophelia Dahl was an 18 year old on an ophthalmology mercy mission; Paul Farmer was a 23 year old pre-med student helping out in a clinic.  Both saw a gaping need and committed to offering quality medical treatment to the destitute of Haiti's central plateau.
Farmer went to med school at Harvard, but incredibly would fly out of Boston on Thursdays with meds and supplies he'd pilfered from hospitals, provide care in Haiti for a couple of days, then return to classes on Monday.  His fellow student Jim Yong Kim joined the cause, as did a Haitian priest they befriended, Father Fritz Lafontant.
Through interviews with all of these figures, we see how they contended with and surmounted barriers that included a lack of supplies, impoverished patients who would walk or be carried for hours to their clinic, and a shabbily planned hydroelectric dam that disrupted livelihoods.
Over the course of several years, Farmer, Lafontant, Kim, and Dahl learn that a system of traveling community health workers was the most effective way to ensure treatment compliance for potentially lethal illnesses like tuberculosis.  Deploying this tactic resulted in survival rates that equal or surpass those of American treatment models.  (It also helps PIH eschew the "white savior" mode of some relief organizations, as 98% of PIH's 17,000 workers today are local folk.)
PIH's founders also had to battle international policy that condemned to death countless impoverished sick.  The World Bank's debt repayment demands meant that education and healthcare budgets in developing nations were gutted.  The World Health Organization (WHO) and the U.S. Agency for International Development (USAID) declared that treating AIDS and drug-resistant TB was a lost cause in places like Haiti, Peru, and Africa.
Through the time-honored process of collecting and publishing data, Farmer and his colleagues pushed back.  Even the destitute of Haiti touchingly and forcefully crafted a declaration, saying in part that "all humans are human.  We are indeed poor, but our poverty does not make us stupid."  (Across its duration,
Bending the Arc
makes a strong case for health care as a universal human right, while rejecting the cold-hearted rhetoric of poverty as a moral failing.)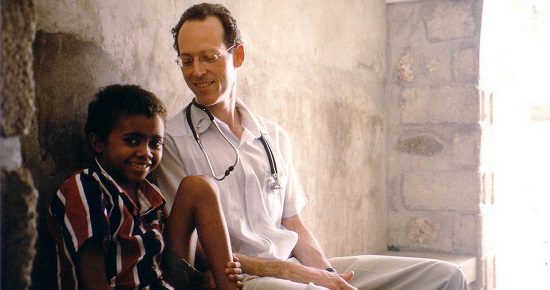 A lesser documentary, not to mention lesser individuals, would throw up their hands and posit agencies like USAID and the World Bank as implacable foes.  Bending the Arc shows a better way, how PIH made allies and converts in surprising places.  Moving forward into the 21st Century, PIH is still treating AIDS and TB, but has broadened into many other areas, such as treating and preventing cervical cancer (the biggest oncological killer of women in Africa).
Though PIH's leaders are undeniably heroes, Bending the Arc is not a blemish-free hagiography.  Farmer and Dahl candidly admit their initial naïveté in building a clinic.  They talk about where they screwed up, where their hesitancy and adherence to the standard Western medical model led to preventable deaths.
The directors of Bending the Arc, Kief Davidson and Pedro Kos, primarily use a traditional documentary format, mixing earlier video footage and current interviews to weave their tale.  Where they deviate a bit is in showing older footage to their protagonists, in order to elicit their present-day reactions.  This results in some of the film's most potent moments, as when they show Kim one of his early drug-resistant TB patients, someone the WHO would've written off as lost.  A jump cut to images of this same Peruvian man now thriving brought tears to Kim's eyes (and mine, too, truth be told).
As many readers probably know, the title of this film draws from the famous quote by 19th Century American abolitionist Theodore Parker, which Martin Luther King, Jr., later adapted so eloquently for the Civil Rights Movement.  Bending the Arc opens with Parker's words:  "I do not pretend to understand the moral universe, the arc is a long one…But from what I see I am sure it bends towards justice."  For humanists and activists today, who perceive the present social climate as a dark one, I have no doubt that Davidson and Kos' documentary will energize and offer hope.
4 out of 5 stars
(Parents' guide:  Bending the Arc is unrated.  It has some occasional strong language and shows some medical distress and suffering, but little else to deter younger viewers.)