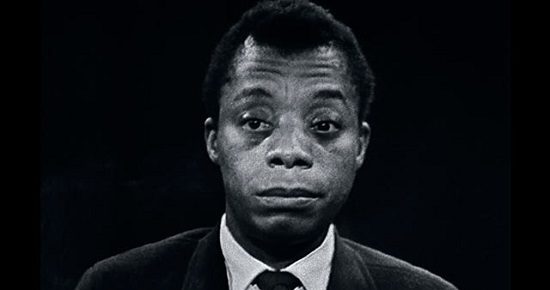 I'll open with the close.  I Am Not Your Negro is a five-star documentary, the first film I've rated this highly in nearly a year.  Director Raoul Peck has achieved perfection with a masterful blending of a screenplay by James Baldwin, footage old and new, and an eclectic soundtrack that underscores his film's ideas and contentions.  As a cinematic essay, it is an intellectual and emotional argument so persuasive, it just might alter your worldview.
I Am Not Your Negro is based upon an unfinished memoir by writer and activist James Baldwin (1924-1987).  Eight years before his death, he set out to chronicle his relationships with Medgar Evers, Malcolm X, and Martin Luther King, Jr.  Unfortunately for us, he put his manuscript aside after only 30 pages.
In his memoir and now in this film, Baldwin states, "The story of the Negro in America is the story of America.  It is not a pretty story."
Few people were better qualified to tell this story than Baldwin.  Born and raised in the Harlem ghetto, his paternal grandmother was a former slave.  As an adult, his friends and acquaintances included Sidney Poitier, Harry Belafonte, Nina Simone, and the three aforementioned civil rights leaders.
Just like Baldwin's finest completed essays – such as Notes of a Native Son and The Fire Next Time – I Am Not Your Negro is a dense, meandering combination of autobiography, American history, and prophetic exhortation.  His words (as narrated by an uncharacteristically subdued Samuel L. Jackson) tell of how he met Evers, Malcolm, and MLK.
For instance, Baldwin and Evers together investigated a race-motivated murder in the South.  Baldwin, however, downplayed his part in the Civil Rights Movement, describing himself as more spectator than participant.  A 1966 FBI dossier labelling Baldwin as dangerous suggests he was being overly modest, as do the snippets seen here of his eloquent televised debates and discussions of racism in America.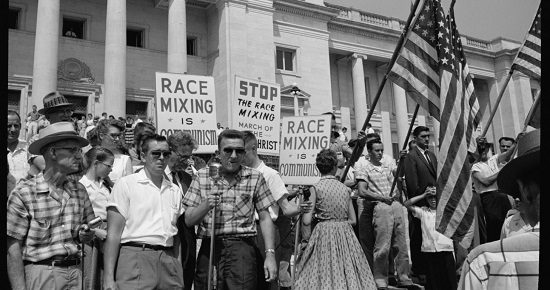 Baldwin did think himself an outsider, rejecting the paths chosen by Evers, Malcolm, and MLK.  Baldwin found Evers' NAACP too poisoned by class distinctions and Malcolm X's Islam too eager to label all white people as devils.  And Baldwin spurned MLK's Christianity:  despite his childhood in a Pentecostal home and a brief stint as a teenaged evangelist, Baldwin cast aside the church for failing to follow Jesus' command to love one another.
In bringing Baldwin's words to life, director Raoul Peck emulates his subject in using movies as a window into American culture and history.  Digging deeply into cinematic vaults, Peck deploys clips from a 1927 version of Uncle Tom's Cabin and several "cowboy and Indian" flicks to expose our nation's foundation of enslavement and genocide.  More subtly, Baldwin speaks of the wide-eyed stuttering cowards and Stepin Fetchits who deprived him of any onscreen African-Americans with whom he could identify.
Even later films starring his friend Sidney Poitier, like
Guess Who's Coming to Dinner
and
The Defiant Ones,
were sanitized for white audiences with an "infantile furtive sexuality" and a docile anger that inevitably turns conciliatory.  Baldwin rightly contends that if there had ever been a black character resembling a vengeful, gun-toting John Wayne, such a figure would've been seen as a dangerous maniac.
I Am Not Your Negro benefits from the superb editing of Alexandra Strauss, who perfectly interweaves movies, interviews, and 20th Century footage of the Civil Rights Movement and Baldwin's Harlem.  It would take a stonier heart than mine to remain unmoved by images of crowds walking past Malcolm X's open casket; nonviolent protesters set upon by police clubs and German shepherds; or the Little Rock Nine stoically entering an Arkansas high school against a pulsing background of threatening, shouting white people.
Doubtlessly, many will wonder if such visuals are still necessary in 2017.  This is where Peck and Strauss elevate I Am Not Your Negro to a pinnacle of power and timeliness, for they judiciously mix in present-day images of violence in Ferguson with photos of children slain by police in the past decade.  Peck shows us how far we have yet to go, to achieve MLK's dream.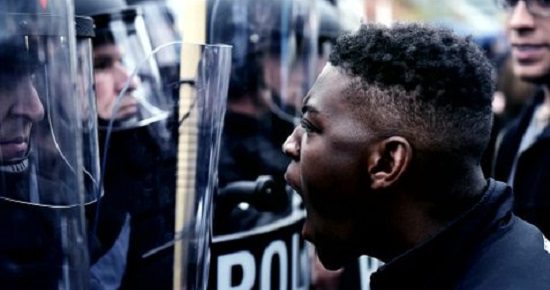 These images and Baldwin's words synergistically deliver a gut punch that left my wife and me speechless and in tears by the time Kendrick Lamar's The Blacker the Berry played over the end credits.  Baldwin preaches truth about an America where simplicity and immaturity (read:  willful ignorance and historical denial) are esteemed as virtues.  The inevitable outcome is an "emotional poverty so bottomless" and existences "so empty, so tame, so ugly."
Baldwin proclaimed that "nothing can be changed until it is faced."  Here's hoping that I Am Not Your Negro produces lasting change in American hearts.
5 out of 5 stars
(Parents' guide:  This documentary has been rated PG-13 for "disturbing violent images, thematic material, language and brief nudity."  I recommend its viewing by adults and thoughtful teens.)