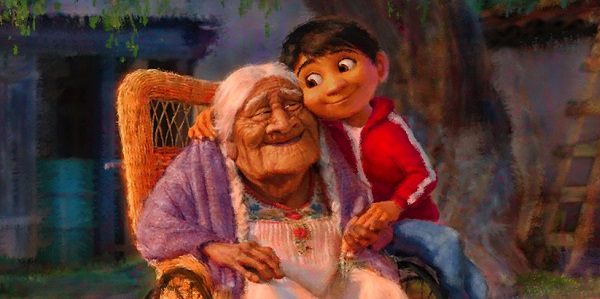 These past ten days have brought two very good family-friendly movies to the cineplex. Both might be too tense for the smallest fry (more about that later), but both are so well-crafted and touching that the adult chaperones won't be squirming in their seats.
Coco is the latest Pixar animated film, unfortunately timed for release when its creative head John Lasseter has joined the ranks of alleged sexual creeps in the upper echelons of politics and entertainment.
Coco also breaks with the Pixar tradition of setting the table with a charming short that whets the appetite for the feature film still to come. Instead, Pixar and Disney stupidly elected to begin with an excruciatingly long and charmless Frozen tie-in, remarkable only for its insipid songs and unfunny Olaf antics. With the allegations emerging from Pixar about its diversity-hostile environment, I'm left speculating that the muckety-mucks at the top of their food chain were afraid that the characters in Coco weren't white enough to draw in mainstream U.S. crowds and elected to go pale Nordic for its opening.
Thankfully, once it starts, Coco is an unabashed winner, its visual creativity up to Pixar's usual elevated standards. This is evident even in the prologue, told by way of two-dimensional Day of the Dead flags. Their central images set in motion, they briskly tell of five generations of the Rivera family, living in a Mexican village.
When the great-great-grandfather abandons his wife Imelda and young daughter Coco to follow his dreams of a musical career, never to be seen again, those left behind ban music from the home, pouring themselves into the family shoemaking business. Fast-forwarding to the present day, Coco is now the ancient great-grandmother to Miguel, the 12 year old hero of our story.
Miguel adores his extended family, happily doting on forgetful Coco for hours at a time. Unlike his relatives, however, he secretly nurtures a love for traditional Mexican music, with a hidden shrine to a local, long-deceased musician, Ernesto de la Cruz.
When he sneaks off to a Dia de los Muertos talent show, Miguel stumbles into a gateway to the Land of the Dead. Meeting several deceased family members, he attempts to obtain their blessing to follow his dream of becoming a musician. During his sojourn in the Land of the Dead, he's aided and hampered by encounters with Ernesto de la Cruz and a raggedy guide named Hector.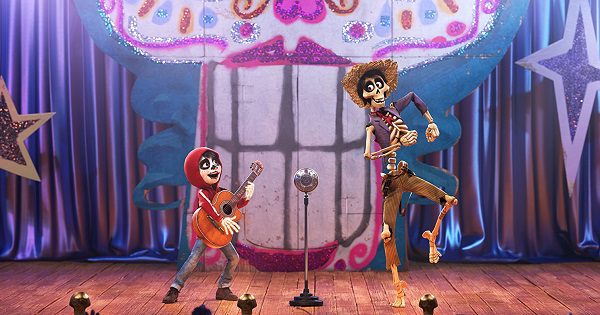 All of this unfolds winningly, with Benjamin Bratt and Gael Garcia Bernal voicing Ernesto and Hector with gusto. The makers of Coco have happened upon a major talent, too, in casting young Anthony Gonzalez as Miguel. Gonzalez imbues his character with courage, kindness, and enthusiasm. When he finally breaks into song – long delayed in another instance of Coco's fine pacing – it's clear that Gonzalez is just as gifted in carrying a strong, pleasing melody.
Indeed, the score's Mexican instrumentation, orchestrated by the prolific film composer Michael Giacchino, is an apt, charming accompaniment to the onscreen drama. Giacchino has already won an Oscar with his score for Pixar's Up; I expect he'll get an Oscar nod here as well.
Coco is also a visual feast, especially in its imagining of the Land of the Dead and its inhabitants. Skull motifs are inventively ubiquitous, whether on lampposts or windows. Its residents wear clothes over their skeletal bodies, their faces gaunt skulls. (This is where Coco might be overmuch for the youngest viewers, who might find these folks frightening, with their clattering bones that disassemble and reassemble.)
The animal sidekicks of Coco are lovingly rendered, too. Miguel is trailed both in the living and dead worlds by a stray dog named (get it?) Dante. With his lovable oafishness and tongue dangling out the side of his mouth, Dante offers welcome levity. Besides its humans, the Land of the Dead is populated by lavishly colored spirit guides, whose bodies mix features of earthly creatures: some frog here, some wildcat there, and wings for nearly all.
Whatever ethical failings there are behind the scenes at Pixar, their films can be counted upon to carry a thoughtful message, unobtrusively packaged. Despite its quasi-religious trappings (the Day of the Dead is a religious ritual, after all), this is handled non-dogmatically. The Land of the Dead symbolizes the importance of remembering those who have gone before us, since in Coco those who are completely forgotten by the living fade away. On the existence of an actual afterlife, Coco stays noncommittal: when Miguel asks Hector where the dead ultimately go, he replies that nobody knows.
Like Up before it, Coco is the exceptional animated film that posits reverence for our elders as essential to a full life. After all, its title character isn't young Miguel, but his great-grandmother.
Yet Coco balances this with counsel to the grownups watching. Instead of living our aspirations vicariously through our children and demanding that they follow in our literal shoes, we need to give our kids space and approval to live out their own dreams, with our unconditional blessing.
3.5 out of 5 stars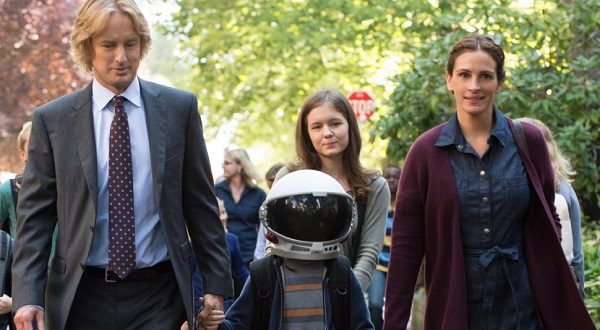 Originally, I wasn't going to write about Wonder, but this delicate flower of a film has lingered in my brain more than most movies. Based on the best-selling YA novel of the same name (which my kids tell me is excellent, too), Wonder shares the story of a fifth-grader named Auggie Pullman, and the family and friends surrounding him.
Auggie is not an ordinary boy. Born with a rare genetic condition that left his face extremely malformed, Auggie has required over twenty corrective surgeries during his short life. Even with these treatments, his face looks far from typical, with Auggie being so self-conscious that he often wears an astronaut helmet in public.
After years of home-schooling, his parents Isabel (Julia Roberts) and Nate (Owen Wilson) have decided it's time for Auggie to enter the academic mainstream. (Or, sort of the mainstream, as he attends a private Manhattan school.)
Wonder follows Auggie from Day One at school until the close of fifth grade. In what may be tough for some young viewers, it doesn't spare us from seeing his cruel teasing and shunning by classmates, which injure Auggie and his family deeply. Despite the distress this causes, the Pullman family tends to each other and perseveres together.
Wonder is refreshing for showing us a high-functioning family for a change. The parents aren't clueless dopes, only present for comic relief at their expense. Isabel and Nate occasionally clash and disagree, but they're a formidable parenting and marital duo, still very much in love with each other.
The film's structure has empathy built into it, containing narration from multiple points of view. In what feels psychologically authentic, we see how Auggie's older sister Via (Izabela Vidovic) has felt obliged to play moon in the family to Auggie's sun, with the emotional cost this has exacted.
Parts of Wonder are also observed through the eyes of Miranda (Via's best friend who has graduated to cooler high school peers) and Jack Will (a classmate of Auggie's, who might be a friend and might be a backstabbing mocker). To the film's immense credit, neither of these characters is demonized, but both are fleshed out with their own family struggles and inner turmoil.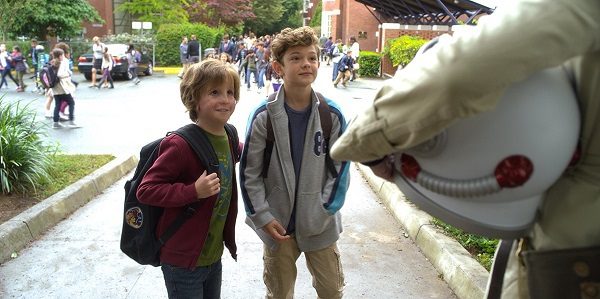 The acting in this film is across the board excellent. I'm not sure that I've seen either Julia Roberts or Owen Wilson perform better than they do here. Jacob Tremblay (terrific as the innocent, trapped narrator in Room) is just as good in Wonder. And Daveed Diggs, famous as Lafayette and Jefferson in that little musical Hamilton, has a nice supporting turn as one of Auggie's teachers.
In what has been an overwhelmingly disheartening year in America, Coco and Wonder offer needed respites from the relentless dread of current events. Both movies give a hopeful look at what humanity can do right, in a fashion that is neither maudlin nor phony. The audience clapped enthusiastically at the end of Wonder; I suspect you'll feel like applauding, too.
4 out of 5 stars