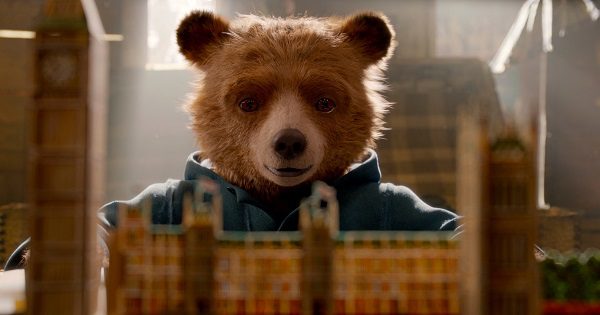 The world of Paul King's Paddington films, adapted from the children's book series by Michael Bond, is one of utopian magical realism. Although he is the only anthropomorphic animal in England, no one on the streets of London bats an eye at the titular talking bear as he politely tips his hat at passersby. Despite the peculiar whimsy of the computer animated Paddington, voiced with a childlike confidence by Ben Whishaw, Paddington 2 oozes with a glowing warmth and sense of humor that hits some of the same euphoric and joyous overtones of the best Pixar and Ghibli films.
There is a constant friction between the film's dripping sweetness and its action set pieces, which ratchet up enough tension to make the experience potentially overwhelming for certain children. My own son, who is 4, was not frightened by the more perilous scenes, but the choice to open with an action sequence does the film a disservice. I may be fatigued by the barrage of bombastic blockbuster movies that I've seen over the past few years, but I think one of the quieter moments of dry humor that make Paddington 2 one of the best comedies in recent memory would have been a better introduction into Paddington's world.
Physically, Paddington is perpetually a bear-shaped peg being stuffed into a human-shaped slot. His clumsiness in navigating the ins and outs of human society allows for elaborate sequences of physical comedy that are in constant juxtaposition to his impeccable social manners. This is a bear that may use a pair of electric toothbrushes to clean his ears, and has ruined personal property on numerous occasions with his tightly choreographed antics, but he is also a character that exudes such unrelenting kindness and humanity that he is universally loved by the entire neighborhood of Windsor Gardens, where he lives with the Brown family.
The Brown family sits in the center of the utopian joy of Paddington 2. Sally Hawkins' performance as Mary Brown, the sort of mother that makes one long for a childhood in this world, provides a foil to Hugh Bonneville's Mr. Brown, who needs constant coaxing to pull him out of his skepticism and desire to be left to himself. Mr. Brown serves as a stand-in for any skeptics in the audience, and his tendency to overcome his archetypal British stuffiness is an inevitability for those parents who may have been dragged along to another kid's movie which they suspect will be a chore. This film transcends the cliché of the children's movie with enough pop-culture references, or subtle innuendo, to keep the parents entertained. The universal appeal of creative physical comedy and the genuine good-naturedness of Paddington 2 ensure that both children and their parents will be laughing and smiling for all the same reasons.
One requires very little suspension of disbelief in response to the CGI bear because of the performances of Hawkins and Bonneville. It is simply impossible for me to see the smiling face of Sally Hawkins as she speaks to Paddington without my own face stretching into a goofy and teary-eyed grin. Despite lacking a physical presence in the world, Paddington is imbued with an emotional presence by the performances that surround him. It is not as though Paddington's animation is shoddy, but one can imagine the presence of a computer animated bear in an otherwise live action setting could prevent a complete immersion into a cinematic world. There is, however, no other cinematic world I would rather be a part of than Paddington's.
Nearly every frame of Paddington 2 oozes with a genuine affection and warmth of spirit. The color palette, consisting of warm oranges – recalling Paddington's beloved orange marmalade – and the glittering gold and brass of turn of the century machinery, rings with the cozy comfort of a recliner and book by fireside. Paddington takes that color palette with him as he is torn from the Brown family and imprisoned for a crime for which Hugh Grant's has-been actor turned villain has framed him. The sequences within the prison, bolstered by Brendan Gleeson's excellent comedic performance as the foreboding prison cook with a soft side, Knuckles McGinty, demonstrate Paddington's ability to bring manners and kindness to even the grimy parts of his Utopian London.
A word must be said about Hugh Grant's performance as Phoenix Buchanan, a genius actor whose monumental ego has landed him the role of a fur-suited mascot for a dog food company. There is the wicked glint in the eye of a snake-oil salesmen, the self-assured panache of a pretentious Shakespearean actor, and the joyful glee of a master of disguise plying his craft which is all wrapped up in Grant's portrayal that makes Phoenix Buchanan one of the most successful villains in a children's movie I have ever seen.
Paddington 2 is a rare example of a sequel outshining its predecessor. 2014's Paddington is a staple of my family's movie nights, but Hugh Grant's performance, and the development of Paddington's relationship with his utopian version of London, lift the joyous notes of the original to a euphoric level. For the parent fatigued by the horrible weight of our current political climate, the world of Paddington 2, with its color, diversity, and generosity of spirit, provides a vital respite.
4.5/5 Stars