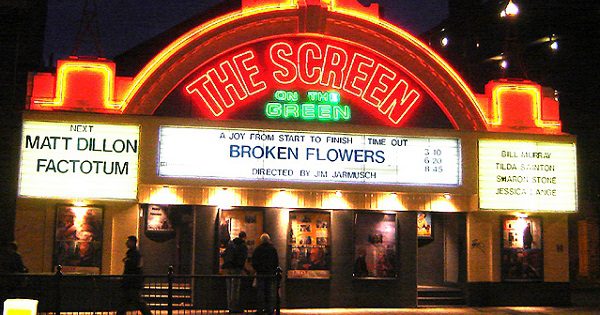 Serendipity is a beautiful thing.  One Sunday morning at a local coffeehouse, a friendly fellow noticed my "Seven Samurai" t-shirt (yes, I am that nerdy) and initiated a conversation about classic cinema.  Since that first chat a year or two ago, Sid and I have crossed paths nearly every Sunday, and we always manage to find several minutes to talk movies, politics, or other social concerns.
I've learned a lot from our conversations, as Sid challenges me with his insights, sometimes on aspects I missed in films I've already seen, sometimes blazing a trail to directors I don't know well.  When he showed me a selection of his film essays, admirable for their clarity and richness, I knew I wanted him to write for "Secular Cinephile."  Happily for all of us, he accepted my invitation to write a monthly review in this space.
I'll let Sid do the rest of the introducing: 
Some of my earliest memories are of movie theaters. Stepping into the theater in the afternoon, with my grandfather, entering other worlds, other lives. Movies always lingered with me long after the experience was over. The sensation of escape, of an experience outside of my own life, was heightened by the sun's setting while we were inside the theater. I would step out into the dark parking lot and feel that I had been away on a journey, and that years could have passed while I was sitting beside my grandfather, knees clutched to my chest, wide eyed and enthralled by the moving image. I am thrilled to share my experience of film with the Secular Cinephile audience.
I enjoy a wide range of films, from art house to genre, from documentary to animation. My list of favorites is perpetually mutating, but usually includes:
We Need to Talk About Kevin, Lynne Ramsay
Blue Velvet, David Lynch
Mad Max: Fury Road, George Miller
Solaris, Andrei Tarkovsky
Grizzly Man, Werner Herzog
The Seventh Seal, Ingmar Bergman
My Neighbor Totoro, Hayao Miyazaki
Pan's Labyrinth, Guillermo del Toro
Ikiru, Akira Kurosawa
Phenomena, Dario Argento
Boy, Taika Waititi
__________
Image credit:  Creative Commons Attribution – Share Alike 2.5 Generic License