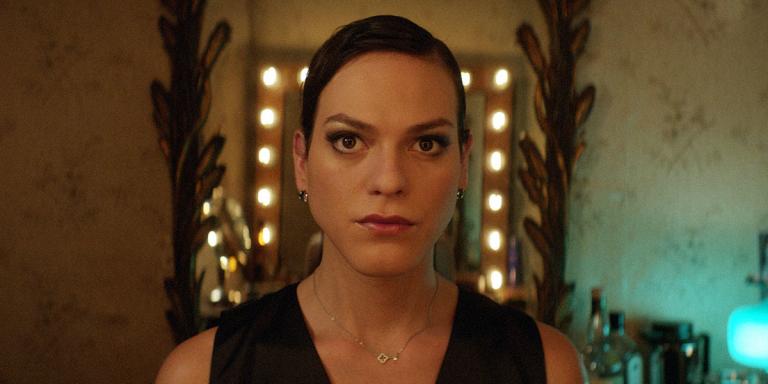 Chilean director Sebastian Lelio has been on my radar since 2013's Gloria.  Combined with the winsome talents of his lead actress Paulina Garcia, its story – of a middle class divorcée in Santiago seeking romance while staying healthily involved in her adult children's lives – completely won me over with its charm, intelligence, and empathy.
The opening of A Fantastic Woman promises similar pleasures.  It begins with a comparably aged man, Orlando, going through his workday before meeting up with his far younger partner, Marina.  They celebrate her birthday at a Chinese restaurant, then return to their shared apartment for some tender lovemaking.
But this is where Lelio's newest film quickly goes in an utterly different direction.  Later that same night, Orlando awakens in an altered mental state that signals a fatally ruptured brain aneurysm.  Because he fell down a staircase and struck his head in his confused condition, the police are summoned to the hospital for what should be a cursory investigation to rule out foul play.
Here we learn that Marina is a transgender woman, and from here onwards, the camera solely portrays her perspective of subsequent events.  A Fantastic Woman shows rather than pedantically tells of the countless indignities a trans person suffers in conservative Chilean society, and is the far stronger film for it.  The police investigation turns harassing and demeaning.  The gaze of the doctor at the hospital unsubtly scans Marina's figure from bust to legs.
Things only get worse when Orlando's family becomes involved.  His son Bruno is particularly vile, with hints of violence underneath his demands for Marina to vacate Orlando's apartment pronto.  His ex-wife and brother are scarcely better, with their hateful language and expectations that Marina won't show up for Orlando's funeral, so as not to embarrass their family.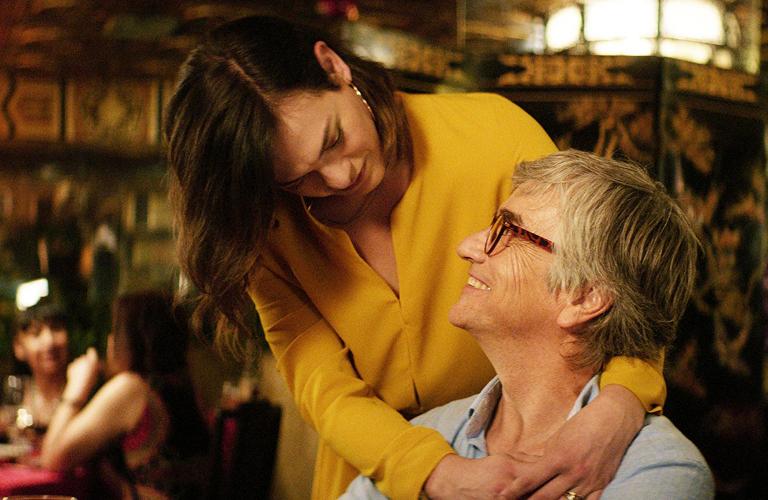 Like Gloria, much of the goodness of A Fantastic Woman comes from its honoring of an ordinary human being facing life's travails.  Marina exists in Santiago's lower middle class, making her living as a waitress, while enjoying her passion for music by singing at a downtown bar.
Of course, Marina's trans identity makes her somewhat exceptional, but Lelio nonetheless grounds this in the quotidian, by virtue of her non-glamorous job and by situating her in the ordinary streets, parks, and buildings of her city.
Given her centrality to nearly every scene, A Fantastic Woman succeeds or fails on the strengths of Daniela Vega's portrayal of Marina.  And despite this being only her second movie role, Vega certainly succeeds.
(She's not new to performing, by the way, as she's an accomplished singer and stage actor.  Originally, Lelio and his regular co-writer Gonzalo Maza brought Vega on board as a "trans life" consultant, before deciding to offer her the lead.)
As Marina, Vega imbues her character with stoicism, under which her exasperation with the thousand cuts inflicted by trans phobia only occasionally flickers visibly.  There's a plausible ambiguity to her silence, as it's never made clear whether this is due to her temperament, her realization that speaking out is dangerous, or unsettled feelings about her gender identity.  The latter is suggested by a deprecating comment she makes over her appearance, as well as her frequent gazes into mirrors and other reflecting surfaces that imply a need for self-affirmation.
Lelio has also chosen to completely ground his film in the present, so we never get any backstory to her transition, her relationship with Orlando, or the reasons behind the end of Orlando's marriage to Sonia.
The director does inject a little bit of magical imagery into A Fantastic Woman.  Most notably, Marina occasionally sees Orlando after he dies, sometimes gently chiding, but generally reassuring.  The film's overall naturalism is also pleasingly contradicted by Nani Garcia and Matthew Herbert's musical score, its lush romanticism lending Marina a heroic aura.
A Fantastic Woman was this year's Oscar winner for Best Foreign Language Film.  Though neither were nominated, I would've preferred for BPM or Makala to take the award, as I felt both were more exceptional meldings of style and storytelling.  Still, A Fantastic Woman is excellent moviemaking and deserves plaudits for its near-uniqueness in world cinema, of casting a trans actor to portray an ordinary trans human being.
4 out of 5 stars