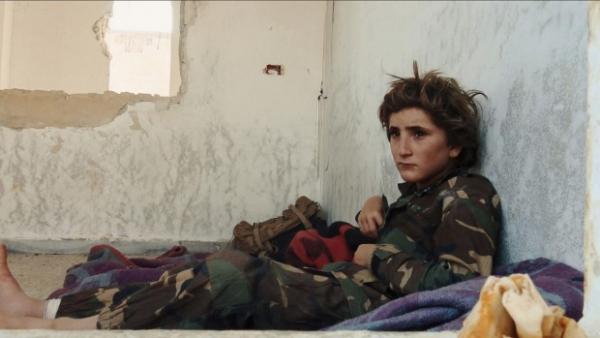 Day 2 at the Full Frame Documentary Film Festival began for me with the bravest film I've seen in recent memory.  To create Of Fathers and Sons, Syrian director Talal Derki – now living with his family in Berlin – returned to his homeland and posed as a war photographer and ISIS sympathizer.  This false identification gave him a free pass to dwell with a rank-and-file ISIS soldier for several months in northern Syria.
I don't think the fighter is ever named during the film, but in the opening scenes he proudly introduces his sons to Derki, all of whom are named for notorious jihadists like Osama bin Laden and Mohammed Atta.  Subsequently, Of Fathers and Sons divides its time between following the dad and his male progeny (we never see his wives or daughters, who are only mentioned in passing or shouted at off screen).
The camera follows the father, as he fires his sniper rifle at enemies, uses a metal detector to remove landmines, and observes the interrogation of captured foes.  Derki's voice is only heard to introduce and close the film, so the film passes judgment primarily by editing.  This leaves the viewer intensely uncomfortable, as we're typically meant to root for a film's protagonist.  Here, of course, despite the father's claims that everything he does is out of love for his planet and god, his choice of vocation is horrifying.
And then there are the children.  The consequences of indoctrination and immersion in daily violence are apparent from the opening minutes, as a son announces that they've beheaded a bird, just as his father once did to a man.  The audience and I were stunned into silence as these preadolescent kids fight brutally amongst themselves, throw rocks at girls going to school, and don ISIS ski masks.
The decimated landscape shows the destruction wrought by Assad, Russia, and the ISIS fighters.  Seeing a new generation of brainwashed child soldiers against this backdrop makes me despair for the future of Syria, while making clear our imperative to accept refugees from this brutalized land.  (4.5 out of 5 stars)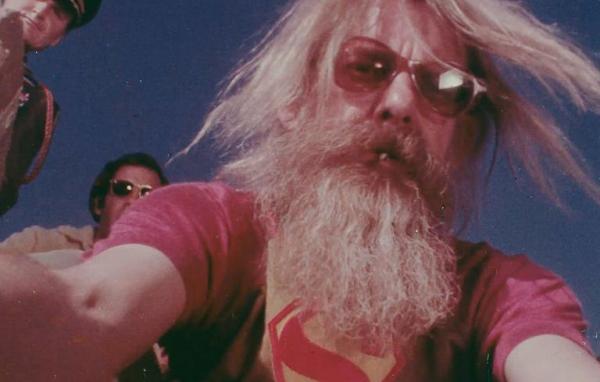 The next film offered a welcome retreat into the life and artistry of director Hal Ashby.  Although the debut feature by director Amy Scott, Hal is expertly edited to give a solid introduction to this seminal filmmaker of the '70s.  Intimates like fellow director Norman Jewison and his longtime cinematographer Haskell Wexler illuminate his personality, manic work habits, and worldview.
Scott's film mostly follows a chronological timeline, using well-chosen excerpts from his films to flesh out comments by interview subjects.  The suicide of Ashby's father certainly helps explain the morbid preoccupations and contrarian celebration of existence at the heart of Harold and Maude.  Ashby's serial infidelities make Warren Beatty's behavior in Shampoo seem autobiographical.
Of course, Ashby is a major counterculture figure, and his mistrust of authority (whether studio heads, Richard Nixon, or the military-industrial complex) comes through in The Last Detail and Coming Home.  And as the documentary rightly points out, the ascent to political power of an uber-rich celebrity idiot in Being There is downright prophetic.
Hal was a lot of fun to watch, and it gave me a hunger to revisit Ashby's great movies of the '70s.  Where it lacks – despite interviews with the likes of David O. Russell, Alexander Payne, and Adam McKay – is in offering deep insights into the lasting influence of Ashby on our present-day crop of satirical American directors.  (3.5 out of 5 stars)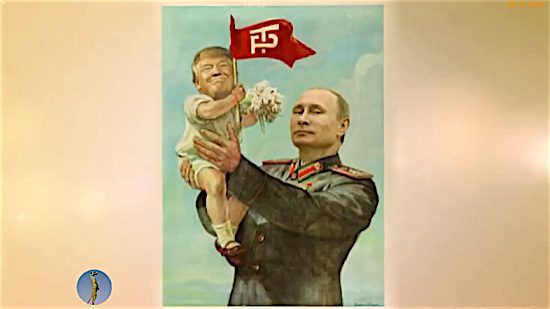 Our New President
, with its bizarro images and grotesque mix of hilarity and horror, made for a perfect late-night screening.  In my one conscious concession to movie critic cliché, I'll go ahead and say this now:  if you're going to see one documentary this year, this should be the one.
Telling the story of Donald Trump's election and the early days of his presidency via the Russian news media, Maxim Pozdorovkin's film takes me to a freak show world I couldn't have imagined.  And frankly, if I did the selection and editing work of Pozdorovkin and his team here, I think I would've needed to re-enter therapy.
The fixations and fabrications of Fox News are tame and sedate by comparison to those of the state-run Russian media.  The hatred of Hillary and Obama is jaw-dropping, as commentators declare that HRC is "retarded" and that Bill Clinton's White House was a cocaine-fueled haven for sex with underage girls.  At his first Oval Office meeting with the president-elect, Trump has the carriage of an English lord, while Obama spreads his legs obscenely in a manner illegal on NYC subways, before gesticulating like a jungle creature.  (No, I'm really not exaggerating.)
Pozdorovkin, in a genius stroke, takes Our New President one step further and depicts the effect of mendacious media on the beliefs of ordinary citizens, interspersing his film with Russian home video.  As such, we see a kid jumping triumphantly in his living room over news of Trump's electoral victory, with TRUMP stenciled on his skinny arm.  A craftsman markets Trump beds, complete with a comforter designed to resemble his unique hairdo.
The director gave one of the most articulate Q&A sessions I've been privileged to attend.  There, he related that his frenetic editing pace was intended to mirror the disorienting effect of contemporary propaganda.  He also shared that 87% of Russians use the news programs he deployed as their primary news sources.  Meanwhile, an English language station (Russia Today, or RT) is routinely re-sourced by Breitbart and now plays host to Larry King to give it a veneer of respectability.
Some of the footage also gave rise to "chicken or egg" questions, as familiar fibs of paid protesters (complete with health benefits!) and of millions of fraudulent American votes pop up on Russian media.  Just as uncanny is watching Trump apologist Roger Stone show up as an interview subject on RT, while Michael Flynn is seen mingling with Vladimir Putin at an RT anniversary gala.  (4.5 out of 5 stars)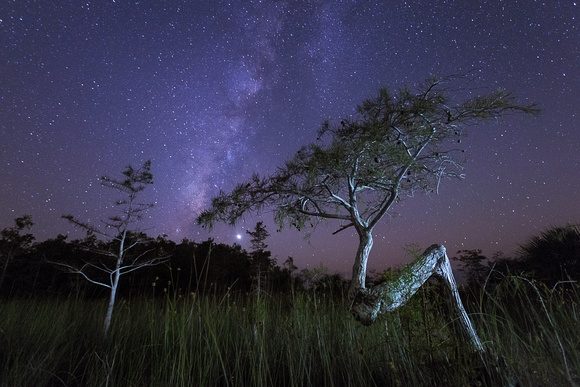 Lastly, today's viewing has begun with a more meditative piece, Cielo.  The second feature by Canadian director Alison McAlpine, this work takes us to Chile's Atacama Desert.
One of the world's driest places, it is home to countless telescopes, and as Cielo's photography makes clear, gives some of the best viewings of the night sky to the naked eye as well.  McAlpine's film mixes interviews with astrophysicists, goat herders, and algae collectors.  We thereby hear about the hunt for exoplanets, as well as traditional mythologies claiming the Magellanic Clouds as guanaco mudholes.
The musings in Cielo lack the profundity of those in Patricio Guzman's documentary set in the same locale, Nostalgia for the Light.  Nonetheless, the imagery of the sky, desert, and massive petroglyphs is gorgeously captured through time-lapse and drone photography, making this a worthwhile film to track down.  (3.5 out of 5 stars)