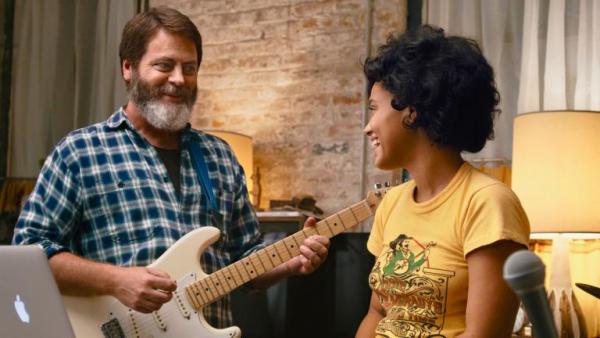 With all the darkness of national events lately, it was cleansing this past week to see two charming films about good people.  The better of the two by far was Mr. Rogers' biographical documentary, Won't You Be My Neighbor?  So if you can only one film, please check it out (and read Sid's affection-filled review here).  But if you can get to two movies, then by all means see Hearts Beat Loud, too.
Adeptly using the picturesque Brooklyn neighborhood of Red Hook as its setting, Hearts Beat Loud centers on the father-daughter relationship of Frank and Sam Fisher.  Frank (Nick Offerman) has been raising Sam (Kiersey Clemons) solo, since the death of his wife several years ago.  Frank and his wife had been in a band before opening a record store together.
Now, Frank is facing two major changes.  His daughter just finished high school and has been accepted into UCLA's pre-med program.  Meanwhile, his store is sinking financially, so he's planning to shutter it as he looks for employment elsewhere.
Sam has her own struggles.  A new relationship with a local artist (Rose, played by American Honey's Sasha Lane) has quickly become serious.  And a song that Sam and her dad recorded on a whim one night is receiving substantial airplay, so Frank is ratcheting up the pressure for her to stay local and improve her considerable musical talents.
All of this is handled with a pleasingly light touch and peppered with gentle humor.  The banter between Frank and Sam has a convincing, lived-in feel to it.  ("How did you get to be such a music snob?" "I wonder.")  Frank half-boasts, half-laments that Sam has outgrown him, as he has to cajole her from her studies to join him for a "jam sesh."
The music they play together has a cheery, poppy jaunt to it, and their performative scenes are enlivened by director Brett Haley's fast cuts and close-ups.  The natural incorporation of song creation into the storyline of Hearts Beat Loud is reminiscent of John Carney's lovely trilogy of musician movies (especially Begin Again).
Both Offerman and Clemons are terrific here.  Offerman may always be best known as Parks & Rec's iconic Ron Swanson, but this character gives him a chance to successfully play someone with far more nuance, depth, and a surprisingly melodic singing voice.  Clemons is a new face to me, but on the strengths of her vocal talent and believable warmth in this film, I hope we'll be seeing more of her.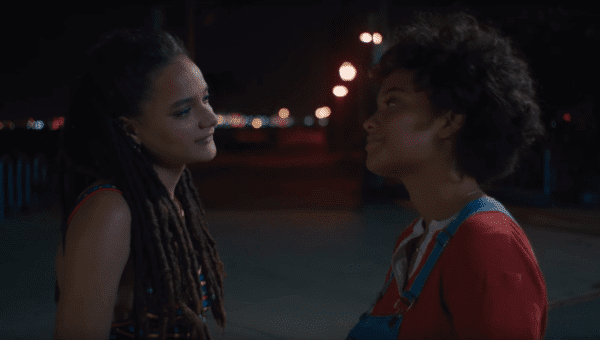 Hearts Beat Loud
is aided by an equally splendid supporting cast.  Besides the aforementioned Sasha Lane, Ted Danson and Toni Collette – both of whom enhance anything they star in – are a pair of Frank's pals.  Blythe Danner is Frank's mother, living nearby and seemingly unaware of her early dementia symptoms.
The script is co-written by the director and his usual collaborator Marc Basch, who worked together in last year's similarly low-key The Hero.  This film featured Sam Elliott as a washed-up Western actor confronting mortality and new romance.  Each of these movies showcase Haley and Basch's ability to consider life's inevitable transitions in a manner that is illuminating while avoiding heavy-handedness.
If a scene in Hearts Beat Loud risks getting message-y, the would-be wisdom is conveyed with playful self-deprecation.  Haley, to his credit, is far subtler when it really matters.  In particular, I loved a sequence that simultaneously communicates Frank's stuck-ness and Sam's maturation:  as Sam stares down a lifelong phobia with the help of her girlfriend, these shots are intercut with Frank strumming a repetitive guitar loop.
I also appreciate how this film is unshowy about its progressive worldview.  Sam's mom was black, her dad is white, and neither fact is fussed over.  Likewise, Frank accepts his daughter's bisexuality as a simple matter of course.
With the plot building blocks of Hearts Beat Loud – dad struggling with impending empty nest, fantasies of a father-daughter band, a song gone viral – Haley and Basch could've been lazy and facile with their film's final acts.  Instead, they close their story in ways that are both more plausible and insightful.
Returning to my opening comparison, Won't You Be My Neighbor? has the added heft of being about a real person.  Its director, Morgan Neville, edits her film so skillfully around Fred Rogers' kindness and his profound understanding of what drives kids and adults alike, that in leaving the cinema, I felt much as if I'd just finished a clarifying, edifying therapy session.  Hearts Beat Loud lacks that same profundity, but it still felt great to spend time in the company of authentic, good people facing change with courage and integrity.  And that's a welcome sensation these days.
3.5 out of 5 stars