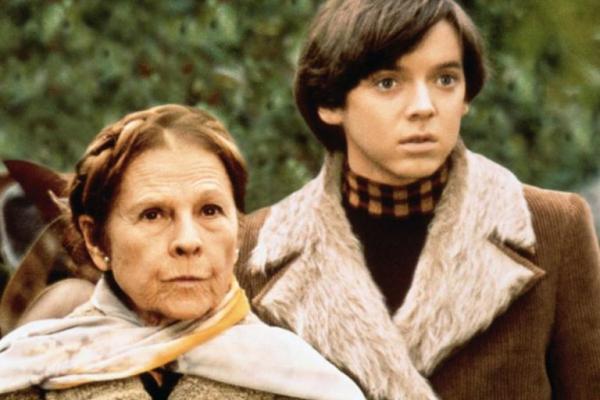 Were Hal Ashby (1929-1988) alive in the age of Trump, he'd be having a field day, in between bouts of horrified déjà vu.  In films like 1971's Harold and Maude and 1975's Shampoo, Richard Nixon's face appears now and again, his bulbous nose almost jutting out in 3D from campaign posters or wall portraits.  Tricky Dick symbolizes all that is grotesque and obscene in the culture of militarism, white supremacy, and exclusionary wealth of 1970s America.  Imagine what Ashby could've done with the villainy and ripe-for-caricature visages of Trump, Huckasanders, Miller, McConnell, and Gowdy.
After seeing a semi-satisfying biographical documentary of Ashby in April – a solid overview of his life and career, not so great at reflecting on his legacy – I felt motivated to conduct a personal mini-retrospective of his best films.  At least four of the thirteen works he directed – Harold and Maude (1971), Shampoo (1975), Coming Home (1978), Being There (1979) – hold up as some of the finest movies of the decade.  Even more, the first and fourth films of that list qualify as outright classics, infused with timeless brilliance and insight.
Watching these four again, I'm struck by their art.  Ashby and his writers knew how to create characters and situations that stay imprinted in your brain for years.  Can anyone forget the title figures of Harold and Maude, the young man of privilege living in existential emptiness, and the rambunctious, norm-challenging septuagenarian who pushes him to flourish?  Though I can't fully relate to Warren Beatty's satyric hairdresser in Shampoo, who doesn't at times feel stuck in frantic busyness with an incapacity to say no?
Coming Home, though not the best film of this quartet, breathes life into its three central characters.  Set in 1968 and featuring real-life handicapped Vietnam vets in supporting roles, the main contrast is between Luke Martin (Jon Voight), a paraplegic Marine still living at the San Diego VA; and Bob Hyde (Bruce Dern), an increasingly disillusioned and troubled officer facing deployment to Vietnam.  Caught between them is Sally (Jane Fonda), whose awakening to the bigger world beyond docile housewife status and the officers' club is effected by volunteering at the VA hospital.
And then there's the slow-burn satire of Being There, with a comedic genius and relevance that rivals Charlie Chaplin's The Great Dictator.  One of British comic Peter Sellers' final roles, he gave his all to the innocent idiot Chance the gardener, who finds himself unwittingly thrust into national prominence.
The screenplays for these films have a wit and novelistic readability to them.  Furthermore, Ashby meshed image and sound with a skill that ranks him with fellow masters of cinema.  His framing of the scene in Shampoo, where Warren Beatty watches his true love drive off with another suitor, should be shown in film studies classes as an example of the dividends of diligent location scouting and camera placement.
Ashby's initiation into movie-making as an editor shines through in Harold and Maude, when a psychoanalyst, military officer, and priest sequentially attempt to dissuade Harold from his romantic attachment to Maude.  The similar set-up of their offices – with portraits of Freud, Nixon, and the Pope behind their desks as they scold Harold – heightens the absurd hilarity.
Likewise, the cross-cutting between Voight's and Dern's characters that open and close
Coming Home
offers a poignant and ultimately tragic contrast between their predicaments.  Ashby's use of Tim Buckley's keening lament "Once I Was" painfully intensifies the emotion of the final scene.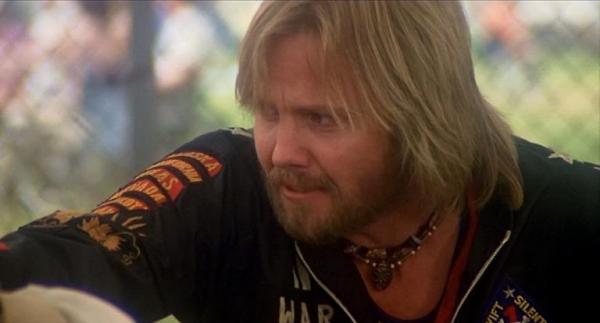 This is far from the only instance of Ashby's knack for choosing the right music.  Throughout Coming Home, we get a selection of the best music of the '60s, whether the Stones' "Sympathy for the Devil" or Jefferson Airplane's "White Rabbit."  Deodato's funky adaptation of Richard Strauss' Also Sprach Zarathustra perfectly underscores Chance's emergence from his safe cocoon near the beginning of Being There.  And Cat Stevens' soundtrack for Harold and Maude is inseparable from the film itself.
The mix of thematic timeliness and timelessness keeps Ashby's films relevant.  While hilariously exaggerated, the adolescent morbidity and uncertainty of Harold remind me of my own quest for meaning at this age.  If only I'd heeded the wisdom encapsulated in the aforementioned sequence – that purpose doesn't come from religion or patriotism – I could've saved myself years lost in the ideological wilderness.
Maude's joyous scorn for authority and ownership still cries out for wider adaptation.  Her exuberant disrespect for the police she outwits deserves emulation, even more so today, when cellphones and bodycams make it clear that their murderous bully culture remains above the law they allegedly enforce.
(On a personal note, her words to the motorcycle cop – "Don't be officious.  You're not yourself when you're officious.  That's the curse of a government job." – were the sig line for my emails as a federal employee for a time.  In hindsight, this was one of many signs heralding the end of my ability to stomach the mean-spirited VA idiocracy.)
In a similar vein, Coming Home is a wilting critique of wartime patriotism, the zeal to sacrifice children in the name of flag and empire.  Without preaching – Ashby seldom did so – we see the physical and psychic scars of killing for your country.  Coming Home's bursting catheter bags, neglected suicidal veterans, and the wheelchair shortage at the San Diego VA condemn our present society for whom "support our troops" runs no deeper than a free meal at Shoney's once a year.
Lastly, Being There's satire cuts sharper than ever before.  Chance the gardener, a dimwit born to privilege who loves television, bears more than a passing resemblance to our current president.  When Chance's vacuous utterances on national TV are viewed as oracular, it's left to the black housekeeper who raised him to speak the truth:  "It's for sure a white man's world in America…he never learned to read and write…Had no brains at all…Yes, sir, all you've gotta be is white in America, to get whatever you want."
True in 1979, true today.