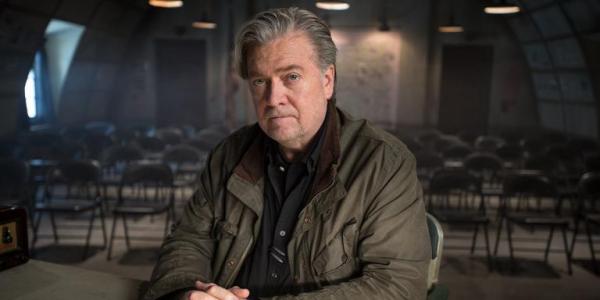 Errol Morris has crafted some of the most important and influential documentaries of our time. With The Fog of War, he put Robert McNamara under the microscope and dissected his policies in World War Two and Vietnam. With The Thin Blue Line, he recreated a murder investigation and freed a falsely accused prisoner in the process. Now, with American Dharma, his feature-length interview of former Breitbart leader and Trump policy architect Stephen Bannon, Morris has directed one of the most important documentaries of 2018.
It's also scary as hell. Introducing the film today at its North American premiere (it gets a wider release later this month), Morris described it as a horror movie. But, he elaborated, if he's given the options of being an ostrich and denying the existence of evil, versus scrutinizing and comprehending it, he's going for the second option.
Morris has had 40 years of practice in structuring documentaries, and he's done another terrific job here. Knowing of Bannon's love of cinema, Morris asked for a list of his favorite films ahead of time, and intersperses his interview with clips from these films. (Be prepared for lots of manly white guys: John Wayne, Henry Fonda, and Gregory Peck.)
At times, Bannon and Morris watch these excerpts together, so Bannon can discuss his identification with cinematic figures such as Alec Guinness' colonel in Bridge on the River Kwai, Orson Welles' Falstaff in Chimes of Midnight, and Gregory Peck's general in 12 O'Clock High. In a move that surely stoked Bannon's ego, Morris even interviews Bannon in a recreated set of the military briefing room from the latter movie: all the better to lower his guard, no doubt.
Near the beginning of American Dharma, we get the requisite thumbnail sketch of Bannon's early life, but Morris quickly cuts to the chase, with Bannon's ascendance at Breitbart, his involvement in the Trump campaign and presidency, and his current efforts to foster European nativism and racism. (I didn't know much about the latter, nor about his cozying up to Vatican officials to fan anti-Islamic fears.)
Morris effectively illustrates his story with plenty of news clips and Twitter screenshots. And Bannon, a highly articulate man who evidently loves nothing more than hearing himself talk and basking in self-congratulation, is manifestly pleased to play along. (The "dharma" in the film's title refers to Bannon's fixation with this concept, his grandiose sense of personal "duty, fate, and destiny.")
Bannon proudly takes credit for "weaponizing" Breitbart after the death of its odious founder (we see video of Andrew Breitbart screaming at Occupy demonstrators, repeatedly calling them "filthy freaks" and "animals.") He also feels certain that Trump would've lost to Hillary if he hadn't righted the ship of his campaign. Bannon boasts of how he handled the aftermath of the "grab 'em by the pussy" audio release and spearheaded the appearance of Bill Clinton's accusers at the final presidential debate.
Bannon does give Stephen Miller credit for the travel ban executive order, while making it known that Miller had his support. He also approved of the Trump White House strategy of saturating each day with outrageousness, so as to wear down the opposition. However, he does claim that Trump went against his advice in firing Comey.
Errol Morris today spoke of his fascination of humanity's capacity for self-deception, seen most clearly in The Fog of War and his feature-length interview with Donald Rumsfeld, The Unknown Known. With Bannon, however, it's unclear where the self-deception ends, and the conscious deception of others begins.
In American Dharma, perhaps due to the historical immediacy of his subject, Morris is far more pugilistic with Bannon than either McNamara or Rumsfeld. Morris scoffs at Bannon's contention that Trump is corruption-free. He derisively points out the contradiction in Bannon's self-conception as a populist, considering that the policies of the president he reveres messianically have only favored the elite.
Besides the horror of Bannon and Breitbart's racism, misogyny, and nativism, their barely veiled wishes for blood in the streets are terrifying. In speaking of the need to disrupt the "permanent political class," Bannon states outright that "we need some killers." When Morris bluntly asks if Bannon simply wants to destroy everything around him, his subject becomes chillingly evasive.
4.5 out of 5 stars