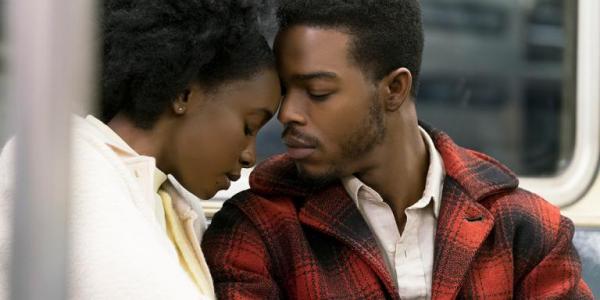 When I learned earlier this year that Barry Jenkins would be directing an adaptation of James Baldwin's 1974 novel If Beale Street Could Talk, I tried to temper my hopes.  True, I raved about Moonlight, Jenkins' 2017 Best Picture Oscar winner.  And I consider Baldwin the great American writer of the 20th Century.  But maybe Jenkins' third film wouldn't attain the heights of his second; maybe Jenkins and Baldwin would not be a good fit.
I need not have worried: If Beale Street Could Talk is every bit as masterful as Moonlight.
Introducing his film in Toronto, where it had its world premiere last night, Jenkins shared that he started the screenplays for both of those films in 2013, seeing them as companion pieces about "black love, life, and family."  He added that Moonlight is more autobiographical, whereas Beale Street is about the family he wishes he'd had.
Like Baldwin's 1974 novel, Jenkins' film is set in that era in Harlem.  Centering upon a pair of young lovers, Tish Rivers and Fonny Hunt, the narrative addresses two crises they're facing simultaneously.  First, Fonny is in jail for a felony he didn't commit; and second, Tish is pregnant.
The ideal family that Jenkins referred to in his remarks is clearly not Fonny's parents and sisters.  His mother (just like Baldwin's actual father) may be full of the Holy Ghost, but is devoid of kindness.  Fonny's sisters emulate their Holy Roller mother; only his father is empathic and disposed towards helping Tish and Fonny.
By contrast, Tish's family are chronically cash-strapped but embodies pure love.  Once her mother learns of Tish's pregnancy, she knows to bring out the good liquor to soften the news for her husband (like nearly all of the film, this is true to the novel).  And her sister Ernestine exhorts Tish to "unbow your head," that there's no shame in her pregnancy.
Jenkins neatly moves his story back and forth in time, so we see Tish and Fonny as best friends in childhood, before they awaken to their mutual romantic attraction.  In another temporal shift, one of the film's very first scenes shows Tish and Fonny conversing through phones with prison glass between them; only later do we get the full chronology of their love story.
The director doesn't hesitate to pull out all sorts of cinematic techniques from his bag of tricks, but they serve the story in ways that feel artful and sincere, as opposed to showoffy.  A voiceover by Tish during a pair of freeze frames of the lovers informs us of their ages (19 and 22).  Shots of Tish and Fonny staring head-on into the camera deepen our feel for their intense affection.  A slow horizontal pan between Fonny and his friend Danny, as they converse about the perils of young black manhood in a white hegemony, enlarges the pathos of the scene.
And, oh, the beautiful colors!  Whereas
Moonlight
immersed us in Miami blues and yellows,
Beale Street
's palette is gold, warm red, and green, intended as an homage to the Harlem documentary photographers of the film's era.
Just as cinematographer James Laxton worked with Jenkins on Moonlight and Beale Street, composer Nicholas Britell is back for another round.  His score here is one of the loveliest I've heard all year, the cello melody as Tish and Fonny first make love turning it into a sacramental act.  Britell's music is supplemented with mood-fitting selections from Miles Davis, John Coltrane, and Nina Simone, at a volume that never overpowers.
Jenkins also has an unerring eye for acting talent, evidenced by three screen novices who played the leads in Moonlight, on display again here.  Astonishingly, this is KiKi Layne's feature debut; as Tish, she perfectly captures this character's mix of residual childlikeness with a fledgling adult assertiveness.  Stephan James (Jesse Owens in Race, John Lewis in Selma) is equally exceptional as Fonny, a complex figure who is emotionally vulnerable yet more worldly-wise than Tish.
Unsurprisingly for a James Baldwin adaptation, the script is both vividly lyrical and profoundly concerned with social justice.  Near the start of the film, Tish's voiceover about Harlem is accompanied by startling black-and-white photographs of addicted and destitute residents there: "Though people died early in many different ways, the death itself was very simple and the cause was simple, too:  as simple as the plague:  the kids had been told that they weren't worth shit and everything they saw around them proved it."
Curiously, one thematic area where the book and film diverge is in their attitudes towards religion, and Christianity in particular.  Jenkins' film is merciless towards Mrs. Hunt's fake piety, yet seems to signal the positive potential for a more moderate religion within families.
This is in contrast to Baldwin's own anti-Christian stance, and that of the book itself, where Tish memorably comments:  "Of course, I must say that I don't think America is God's gift to anybody – if it is, God's days have got to be numbered.  That God these people say they serve – and do serve, in ways that they don't even know – has got a very nasty sense of humor.  Like you'd beat the shit out of Him, if He was a man.  Or:  if you were."
Otherwise, Jenkins' film is faithful in spirit to the source material, and I grasp why the James Baldwin estate gave their blessing to this adaptation.  The film, like the novel, packs a greater wallop for showing more than it preaches.  In 1970s Harlem, we bear witness to unequal housing practices, a racist police force, and a grotesque legal system.  Not much has changed in 2018 America, has it?
4.5 out of 5 stars
(If Beale Street Could Talk opens in the US on November 30th.)