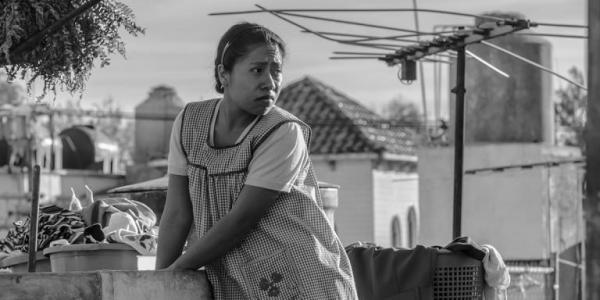 After winning Best Picture and Best Director Oscars for Gravity, not to mention directing the third Harry Potter movie, Alfonso Cuarón felt ready to return home. It's been 17 years since the director made a film set in Mexico – the exceptional Y Tu Mamá También – but his newest film Roma is another treasure, worth the wait.
With Roma, Cuarón has made what he's called his first film. Claiming it's 90% autobiographical, Cuarón was so invested in making this film that he not only wrote and directed it, but when his usual cinematographer was unavailable, he stepped into that role, too.
Shot in a textured black and white, Roma shows us ten months in the life of an upper middle class Mexico City family, largely through the eyes of their Mixtec maid Cleo. On parallel tracks, we see the travails of its two leading women. Cleo discovers she has been impregnated by a reluctant father. At the same time, Sofia is striving to protect her daughter and three sons from the knowledge that her husband/their father is leaving them for another woman.
All of this unfolds across the seasons and ordinary events of life, in tableaux that are stuffed with detail. Sofia takes Cleo to her obstetrician appointment at a busy hospital; they go to movies at a gigantic, classically-designed cinema; they celebrate Christmas with extended family at a hunting lodge overfilled with taxidermy.
Cuarón tells his story with masterful camerawork, often involving complex long takes. His camera revolves around Cleo as she turns out the lights in the household, signifying that her work only finishes after everyone else is in bed. As Cleo hangs laundry to dry on the rooftop, the camera pulls back to show the servant labor that props up Mexico's middle class, as multiple maids elsewhere are engaged in the same task.
Roma is also a film of contrasts, sometimes in the same frame. The sadness of marital dissolution sinks in as a wedding occurs in the background. Birth is juxtaposed with death. A wealthy kid receives an astronaut costume for Christmas, while a kid in the slums has repurposed a bucket for his space helmet.
Like 2001's Y Tu Mamá También, Roma shows us the broader class struggles of Mexico. In some of the best crowd scenes in recent memory, while Sofia's mother takes Cleo shopping for a crib, the 1971 riots pitting students and poor farmers against the police erupt around them. We see this struggle in subtler ways, too: during the scenes at the lodge, we hear murmurings about government land grabs that are hurting local farmers.
This commentary, though, is muted by comparison to the lacerating Y Tu Mamà Tambièn, with Roma lacking the propulsive momentum of this earlier allegorical road movie. With his newest film, Cuarón is far more interested in creating a nuanced character study of Cleo, in which he's helped immensely by Yalitza Aparacio, incredibly in her first film role.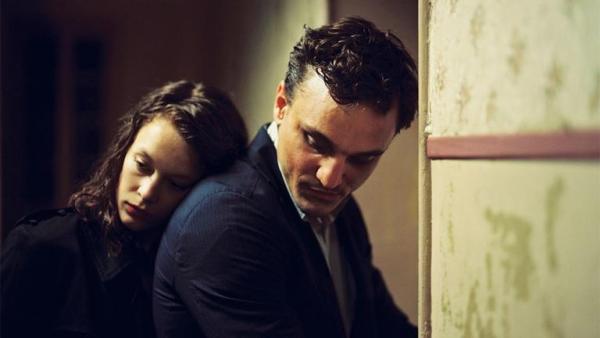 Where Roma is a work of hyper-detailed realism, Christian Petzold's latest film Transit is one of heightened unreality. Set in an altered present-day France, the German writer/director immerses viewers in the jarring headspace of a refugee.
Transit is an adaptation of a 1942 novel by Anna Seghers, a German Jew forced to migrate to Mexico to escape Nazism. In contemporizing Seghers' semi-autobiographical story, Petzold has made some bold, controversial changes. Instead of Jews escaping Nazism, Petzold's main characters are Germans escaping an imagined fascist France for a freer Mexico. (I'll admit I was ready to take offense at these changes, until I realized that in today's political landscape, Germany has become one of the most enlightened nations in its acceptance of refugees, while Israel is doing a bang-up job of creating them.)
Transit's main figure is Georg, a young man living in Paris who is charged with smuggling the last writings of a fellow German out of the country. Narrowly escaping capture at multiple turns, he makes his way to Marseille, where he attempts to gather the necessary papers to board a ship to Mexico.
In his travels, Georg encounters other off-kilter Germans: a deaf mother with a soccer-obsessed son, a conductor specializing in Max Reger, and a man with a gangrenous leg. In multiple scenes, he also crosses paths with a mysterious young woman who is always in a hurry.
Christian Petzold convinced me of his mastery of film language in Phoenix. This 2014 work memorably combined music, image, and character development to tell the story of a concentration camp survivor striving to rebuild her life from literal ashes.
Petzold's talents are just as strongly on display here, albeit to utterly different ends. Using multiple means, Petzold shows us that a refugee's life in limbo is one of terrified disorientation alternating with dysphoric boredom.
With no exposition, Petzold drops us into Georg's life. A restless musical score – first of piano, then strings – accompanies Georg's peregrinations. A voiceover by a man whose identity is only revealed near the film's end is sometimes superfluous, at other times contradicting what we see: twice, the narrator tells us a character is crying when their eyes are manifestly dry.
The actor playing Georg, Franz Rogowski, is a near dead-ringer for Joaquin Phoenix. Of late, Rogowski has been ubiquitous in European cinema, his lisp and the scar on his upper lip rendering him simultaneously handsome and an everyman. Here, his predominant emotion is stoic bewilderment, a successful straight man for Transit's frequent dark humor.
Petzold's dialogue expresses the crazy-making contradiction of xenophobic government policy. In Transit, an immigrant can stay in France only if they can prove that they really don't want to stay in France.
Multiple scenes take us to consulates, stuffed with loitering Germans seeking the requisite travel papers. Many backgrounds contain ships or sailors, signifying that every main character in Transit is desperate to move onto the next phase of their life. A children's song twice sung by Georg informs us that every creature's instinct drives them homeward. But in the meantime, hell is a waiting room.
Both films: 4 out of 5 stars