Each visit to the Toronto International Film Festival (TIFF) gives me hope for the state of world cinema.  And this year's trip up north – my fifth – was no exception.
Even with the dominance of the Disney/Fox behemoth at local movie houses across America, the cinematic choices for those who are willing to look beyond the latest Star Wars or Marvel confection remain wide-ranging and satisfying.  Case in point:  in the weeks leading up to TIFF, I sift through the hundreds of films that will be screening in the city beside Lake Ontario, and prioritize the ones I'd most like to see.  This year, it bummed me out that I missed Michael Moore's Fahrenheit 11/9, the Haruki Murakami adaptation Burning, and Boy Erased, to name only three among the dozens left unwatched on my spreadsheet.
This year, I watched 17 films in Toronto.  I continued my trend of missing out on the People's Choice Winner (who knew that Peter Farrelly, half of the Dumb and Dumber directing team, had a movie with gravitas gestating in his brain?).  But, for once, I did catch the second– and third-biggest vote earners.
Out of those 17 films, only three were disappointments, leaving 14 that I can recommend without reservation.  Two in the latter category were the final festival movies that I viewed last Saturday.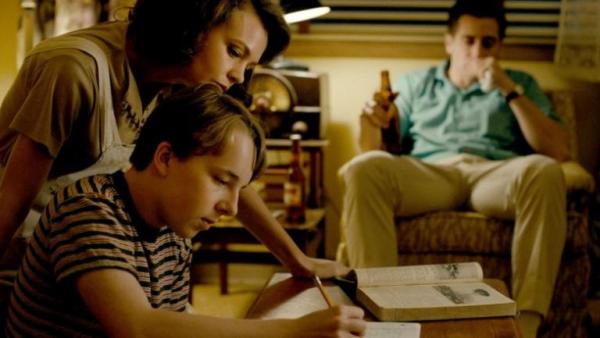 The first, Wildlife, is Paul Dano's directing and screenwriting debut.  Already well-regarded for his solid acting chops – on display in numerous films including There Will Be Blood, Love & Mercy, Little Miss Sunshine, and Youth – his adaptation of Richard Ford's novel shows that he has great talents in these other arenas, too.
The screenplay was written with Zoe Kazan, also better known for her acting skills, as in last year's comedic hit The Big Sick.  Their joint effort, a story of a crumbling marriage seen through the eyes of the couple's only child, is believable, affecting, and highly literate.
Set in 1960, in the allusively named Montana town of Great Falls, Wildlife takes place entirely from the point of view of 14 year old Joe Brinson (Ed Oxenbould).  In a refreshing divergence from so many movie teens, Joe is unprecocious, with multiple close-ups revealing his open, innocent face.
At first, the Brinson family is poor but happy, having recently moved to this small town beautifully situated in a fertile mountain valley.  Alas, their contentment is short-lived, as the father Jerry (Jake Gyllenhaal) is fired from his country club golf pro job, for being too chummy with the patrons.
Jerry falls into a depression, haphazardly seeking employment until he accepts a job he deems adequately manly.  However, this work – fighting fires in neighboring forestland – will take him away from Jeanette and Joe for weeks.
With their marriage already teetering, perceived through Joe's eyes in the tousled bedsheets on the sofa each morning, Jerry's choice triggers Jeanette to lose her tenuous emotional balance.  She starts confiding age-inappropriate information in her son, even flirting with a local car salesman in plain sight of him.
Diego Rivera's cinematography and the lead actors' excellent performances result in a film that is intensely emotional, as we can't help but feel Joe's mounting unease.  Claustrophobic scene framing imparts Jerry's psychic confinement over his limited job options, explaining if not excusing his willingness to abandon his family.  Shots where Joe's face fill the screen magnify the tension he doesn't yet have words for.  And Carey Mulligan succeeds utterly in making believable Jeanette's devolution from emotional bedrock to labile unreliability.
Wildlife is also rich in unforced metaphors.  The danger of forest fires represents the threats to family stability:  as Joe's only friend tells him, rangers may try to educate you, but by the time a conflagration reaches you, it's too late to get to safety.
Symbolically resonant, too, is Joe's place of after school employment, a photography shop where families come to capture smiling moments.  I was brought to tears as I realized that Joe was desperate to do the same thing, to set in amber the memory and illusion of happy domesticity.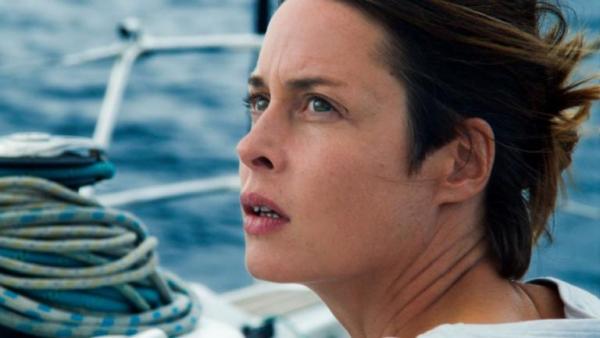 Styx is German director Wolfgang Fischer's second feature, but like Paul Dano, his mastery of the medium is that of a veteran.  Unlike Wildlife, however, Styx's dialogue plays a distant second to its visuals.
Its opening moments furnish a vivid sense of its Gibraltar setting, a series of leisurely cuts of its macaque monkeys, busy waters, and, yes, a glimpse of its famous rock.  Soon after, we witness a nighttime car wreck, where the perpetrator flees the scene (a metaphor for later events, perhaps) before the arrival of a rescue crew.  Heading this team is Rieke, an emergency physician who emanates calm competence in a crisis.
After this prologue, we next see Rieke preparing her small sailing yacht for a solo journey, applying the same rigor to voyage preparation as she does to her medical care.  And in a wordless scene of her scanning her charts, we note that her destination is faraway Ascension Island in the south Atlantic.
As someone who loves dramas set at sea – whether Robert Redford in All Is Lost or Russell Crowe in Master and Commander – the sequences of Rieke on her solo voyage are delightfully engrossing.  Through high overhead and parallel views of the horizon, we absorb her aloneness on the ocean.  By way of close-ups and following shots, we again admire her solitary proficiency, no matter the weather.
This idyll is interrupted off the coast of Mauritania, when dawn reveals a swamped trawler nearby, stuffed with refugees pleading for help.  When calls to the coast guard indicate that official aid will quite possibly arrive too late, Rieke must wrestle with her conscience and her limited resources in choosing how to respond.
Seasoned German actor Susanne Wolffe is fully convincing as Rieke, an intelligent humane woman caught in a horrible dilemma, in which the lives of dozens of refugees hang in the balance.  To their credit, director Wolfgang Fischer and his co-writer Ika Künzel refuse to offer glib, conscience-easing solutions.
Wildlife:  4 out of 5 stars
Styx:  3.5 out of 5 stars