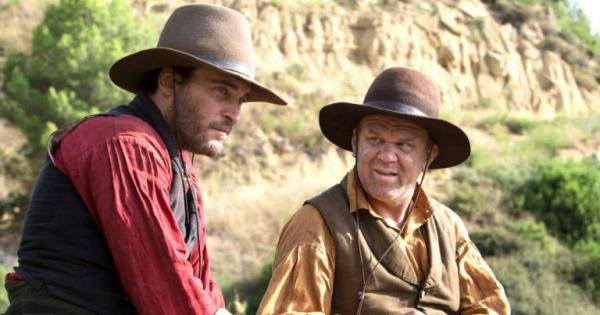 With a title like The Sisters Brothers, and with John C. Reilly as one of the two leading names atop its movie poster, you could be forgiven for anticipating a western with a comedic twist.  I'll admit, that was my expectation.  So, when an ugly spider crawled into Reilly's mouth as he slept on the trail, I thought hilarious hijinks might ensue the following morning.  They didn't.
I guess I should've known better, considering that Jacques Audiard is here directing his first English feature.  The Paris-born auteur is not renowned for his humor.  Rust and Bone, Dheepan, and A Prophet – all excellent – have centered around people in straitened circumstances, whether a life-altering injury, prison, or genocide-driven emigration.
So, while there are a few laughs, this is largely a grim affair.  Eli and Charlie Sisters (played respectively by Reilly and Joaquin Phoenix) are a pair of hired guns for an Oregon-based businessman known only as the Commodore.  Hardened by their career choice, they aren't even sure how many men they kill in the movie's opening shootout ("I don't know…maybe seven or eight?").
When ordered to meet up with a detective tracking a man accused of stealing from the Commodore, then torture the thief for information, the brothers don't even blink.  But here's where it gets tricky:  the alleged thief, Hermann Warm (Riz Ahmed) is actually a chemist whose formula for the rapid extraction of gold is coveted by the Commodore.  And the detective, John Morris (Jake Gyllenhaal), has come under the spell of Warm's idealistic plan to form a commune with his earnings from the California Gold Rush; so the two of them are now off the grid.
Unfortunately, The Sisters Brothers takes a long time to gain its momentum, with the development of Eli and Charlie's characters glacially paced.  Once Audiard's film finally starts moving, though, its back half is captivating.
All four leads do fine work here.  Joaquin Phoenix's Charlie is the brother who appears to enjoy the killing, when he isn't soused or hung over in his saddle.  Reilly's Eli has deluded himself into thinking he's a tender, sentimental guy, only along to protect his little brother.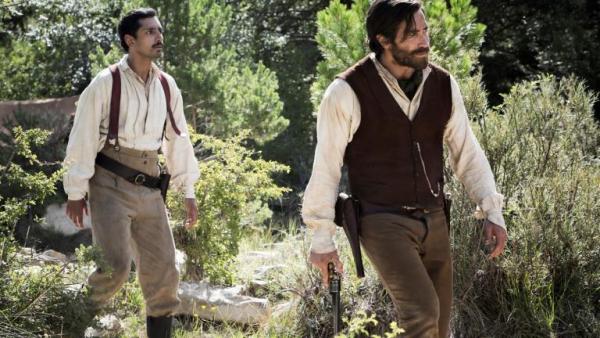 Riz Ahmed, layered and complex in the twisty HBO series
The Night Of,
is a simpler fellow here, morally speaking.  But his optimism and charisma are believably infectious, so it's easy to see how Gyllenhaal's Morris has put his trust in him.
Using some of Sergio Leone's old sets in Spain, as well as shooting outdoors in Canada and the Pacific Northwest, Audiard succeeds in superb 19th Century world creation.  As the brothers seek out Warm and Morris, they make their way through Gold Rush towns in the process of construction and onwards to a booming San Francisco, places that feel authentic.
Accompanied by the prolific movie composer Alexandre Desplat's jazzy, jangly score (lately he's done the music for The Shape of Water, Valerian, and the last three Wes Anderson films), the brothers' journey becomes an odyssey through hell.  A saloon they visit has a sluggish conga line lit in red, and San Francisco is described as "Babylon…we can kill anyone we want here!"  And then there's that terrifying spider…
The Sisters Brothers gets especially interesting as these four men's intersecting quests morph into a universalized search for community, for an idealized home they (and we) have never had.  There are even oedipal undercurrents:  the Sisters' papa was an insane alcoholic whose influence they long to escape, and Morris admits his career path was determined by his hatred for his father.  And the three of them are, at least initially, keen to please the remote Commodore.
With such heady material, I understand why a trio of cerebral giants of European cinema – Cristian Mungiu and the Dardennes Brothers – came on board as producers of this film.  Audiard has far more than shocking grotesquerie in mind with The Sisters Brothers.  Though it starts out unsatisfyingly, this is a film that grows on you.  And with a convention-defying ending, you'll leave the theater with ample food for thought.
3 out of 5 stars (2 stars for the first half, 4 stars for the home stretch)