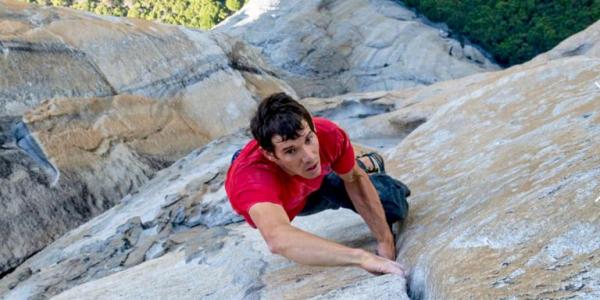 If you're like me, the consumption of daily news and political analysis is taking you, not even on something as benign as an emotional rollercoaster, but on a Hall of Horrors ride crafted by a psychopath. Sometimes, we need to lift the bar on the ride and will ourselves away from it for a while.
A welcome break for me was Free Solo, the newest film by the co-directors of Meru. In that 2015 documentary, Jimmy Chin and Elizabeth Chai Vasarhelyi showed us the first successful climb of a 20,000 foot high Himalayan peak. I loved Meru, with its combination of spectacular camera work and suspense. (Chin was both a subject and creator of the film: as a professional photographer and mountain climber, he was one of the three climbers to reach the top of Mount Meru, filming as he ascended.)
With their newest film, Chin and Vasarhelyi have outdone their previous work, as Free Solo offers deeper characterization and psychological insight into its subject, climber Alex Honnold. Honnold, now 33, is perhaps his generation's leading free solo climber, meaning he scales rock faces alone and without ropes.
We don't get a definitive answer as to why Honnold – clearly a very intelligent chap – chose rock climbing over, say, ballet dancing or dentistry. However, his deceased father was a travel junkie, and his mother admits on camera that they were skimpy on praise and affection in raising their son, which now seems to propel him to never settle for anything short of exceptional.
His mother also relates that his dad was probably on the Asperger's spectrum, and we get hints that Honnold's brain is different than most as well. We actually see Honnold supine in a functional MRI scan and undergoing psychological testing. As a shrink, I would've loved to hear more of this side of things, but we do learn that Honnold's amygdala (put simply, the noggin's fear and aggression headquarters) is underactive.
We also observe that Honnold struggles to articulate emotion and make strong connections. On a simultaneous track with his preparations to be the first to free solo Yosemite's El Capitan, we watch the maturation of his first serious romantic relationship.
As we get to know Honnold, it's impossible not to root for him on both counts. His single-minded devotion to climbing and unconcern for creature comforts have prompted him to live in a van for the past 9 years, eating his meals directly out of the frying pan with a spatula and using showers wherever he can find them. So when his girlfriend Sanni McCandless arrives on the scene, he endearingly, pragmatically discloses that her diminutive frame (all the better to squeeze into the van) increased the chances of success for their relationship.
And Honnold comes across as not only winsome, but virtuous, too. His travels around the world have opened his eyes to poverty and environmental degradation, so he donates 1/3 of his earnings to charities that address both issues.
Of course, we wouldn't be watching this documentary if Honnold weren't attempting the never-been-done feat of free soloing the 3000 foot granite face of El Capitan, and this is depicted with beauty, clarity, and intensity. I remember saying after my Yosemite visit that this national park (our nation's first) contained the highest concentration of magnificent vistas per square mile that I'd seen in my lifetime. Free Solo conveys this wonder, with its high-altitude shots of El Capitan and Half Dome, and its views of Bridalveil Fall and Yosemite's meadows.
Jimmy Chin is occasionally on camera, and he uses his own climbing expertise to explicate the perils of free soloing in general, and on El Capitan in particular. We're given a montage of famous soloists who died doing the dangerous thing they love (though, of course, no snuff film imagery). And with animated graphics, we're made to comprehend the trickiest segments of Honnold's climb.
Chin and Vasarhelyi's film crew is also comprised of professional climbers, so from their rock perches, we get close-ups of the teensy thumb- and footholds that Honnold depends upon for his ascent. When the big event actually unfolds, it's tempting to look away from several wince-inducing moments.
Adding to the near-impossible physical demands of El Capitan are Chin's worries that a film crew, even well away from Honnold's route, could distract him. Some of Honnold's climbing associates and mentors fret aloud, too, that having a girlfriend might be taking him out of his single-minded headspace, heightening his risk.
All of these elements cohere into a humanistic saga of individual achievement, communal support, and personal growth that exhilarates and invigorates. (The only downer is a closing credits song by Tim McGraw that is so vapid, it'll have you hastening for the exit.) So, give yourself a break from the world's problems and see this film, preferably on a big screen. Trust me, the woes will still be there for you when you come back to them.
4 out of 5 stars