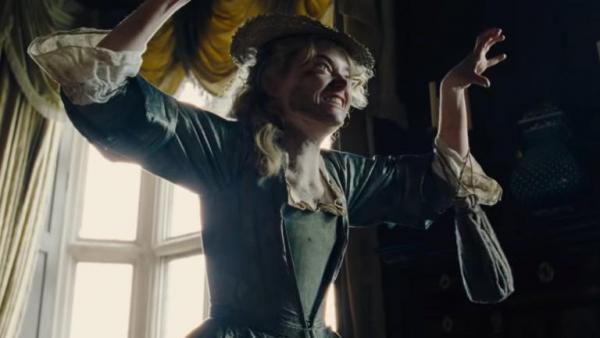 Lovers of British royal or aristocratic sagas will no doubt be curious about The Favourite, abetted by a trailer featuring the actress of the moment, Emma Stone. But if they're expecting another Downton Abbey or The Crown, they'd best look elsewhere. The ostentatious wealth – seen in the properties, décor, and costumes – is surely here, but the spirit of the show is altogether different.
Meanwhile, those who accuse the Coen Brothers of lacking empathy for their characters (a stance I disagree with) may want to consider the work of Yorgos Lanthimos for comparison. With his last three films – The Lobster, The Killing of a Sacred Deer, and now The Favourite – Lanthimos' cold gaze upon human social tendencies leaves scant room for sympathy.
Unlike those first two films, which were allegories in contemporary settings, The Favourite draws upon early 17th Century English court history for its tale. (These two articles will give you a good sense of the film's fidelity to the historical record, though I wouldn't read them until after viewing, to avoid spoilers.)
Set during the reign of Queen Anne, it places on parallel tracks dueling political factions and a pair of ladies vying for the queen's affection. Sarah Churchill (yes, an ancestor to that Churchill), is securely in place as Anne's favorite, I mean, favourite. Brusque but sincere, she often speaks for the politically unsavvy queen, siding with the pro-war, tax-the-landowners Tories.
The film opens with Sarah's cousin, Abigail Hill, arriving on the scene. Impoverished and homeless thanks to her father's insanity and profligate gambling, she is desperate for a position, any position, in the queen's orbit.
Starting as lowly kitchen help, she quickly rises, courtesy of some timely medical aid to the chronically ailing queen. Once Abigail has the queen's ear, Robert Harley – the leader of the Whigs – works on bullying her to his side. And thus the fight to be Anne's favourite is underway.
Lanthimos' technique throughout the film leaves us viewers constantly off-balance. Harpsichord-heavy pieces by Handel and Bach alternate with repetitive, unmelodic string music. Fisheye lens shots and speedy near-180˚ pans frequently disorient and distort.
Events onscreen offer plenty of surprises, too. There are a hilariously anachronistic dance sequence and an indoor duck race, the latter done in slow motion to accentuate the grotesquely shouting lords in their Louis XIV wigs.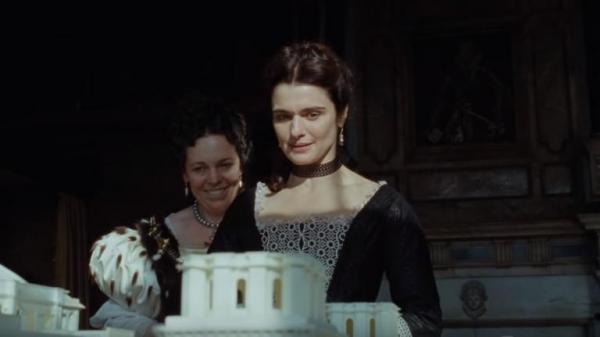 Our three leads have deservedly received Golden Globe nominations for their caution-to-the-wind performances. Olivia Colman – so warm and crisply intelligent as a detective in Broadchurch, soon to get more notice in the upcoming season of The Crown and in the BBC adaptation of Les Misérables – lends Anne a marvelous complexity. Mercurial, petulant, insecure, and so unhappy with advancing age, Anne has the sole moment of sympathy in the film, when we learn that her 17 pet rabbits represent her 17 children lost to illness or miscarriage.
Rachel Weisz is superb as always, this time as the confident, assertive, but increasingly jealous Sarah Churchill. Emma Stone's Abigail is more of a cipher. Initially, Sarah tells her she's too kind for her own good, but as she ascends, we wonder if her tenderness was only ever a mask for ruthless status hunger. Stone plays this Janus-like quality perfectly.
The Favourite is Lanthimos' first feature where he's entrusted the writing to others. But he's certainly found kindred spirits in Deborah Davis (her first screenplay) and Tony McNamara (writer/director of the unfairly neglected comedy The Rage in Placid Lake). Their script is far funnier than anything Lanthimos has done before, but just as dark.
Often, too, the laughs are as much from shock as cleverness; to wit, this brisk nocturnal exchange between Abigail and a lordly intruder into her chamber: "Are you here to seduce me or to rape me?" – "Lady, I'm a gentleman!" – "So it's rape, then."
Though The Favourite has a nebulous, uncomfortable ending, Lanthimos and his writers address a handful of themes with their story and style. Among other things, their film is a "be careful what you wish for" cautionary tale about the transitory nature of favor from those in power. It sure as heck is a visually graphic depiction of jealousy's poison. And perhaps most of all, it shows that given the choice between flattering affection and honest love, vain humanity will opt for the first one nearly every time.
4 out of 5 stars