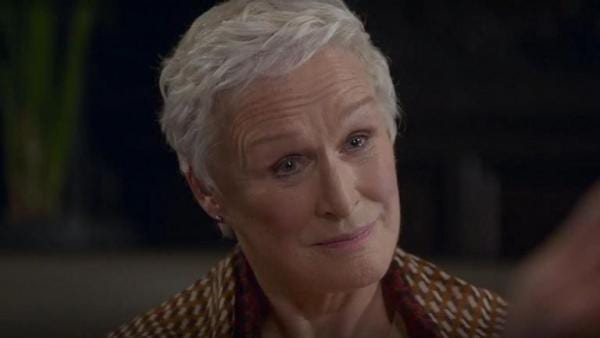 In one of life's little coincidences, my main viewing this past week involved two wintry domestic dramas set on the "gold coast" of Connecticut, the wealthy communities next to the Long Island Sound.  While The Wife has garnered all of the attention (and snagged a Golden Globe for Glenn Close), The Land of Steady Habits is the superior film, with far more substance and far stronger acting by its ensemble.
The Wife opens with famed novelist Joe Castleman (Jonathan Pryce) pacing the floors of his seaside manse, awakening his dutiful wife Joan (Glenn Close) with his jitters.  Soon enough, the hoped-for phone call comes:  Joe has been awarded the Nobel Prize for Literature.
As expected, the rest of the film concerns itself with the trip to Stockholm, where Joe and Joan are accompanied by their son David (Max Irons), himself an aspiring fiction writer.  Occasional flashbacks are doled out, wherein we learn of Joe's infidelities and even greater sins.
Unfortunately, the plot turns are predictable, the climactic melodrama rings false.  A pesky would-be biographer played by Christian Slater conveniently materializes at all the right/wrong times to advance the story.
Just as disappointingly, Björn Runge's direction lacks flair or verve.  And barring an establishing shot or two, Stockholm in winter could be any snowy European city.
The only bright spot in The Wife is Glenn Close.  (Jonathan Pryce is decent enough, while Max Irons gives a dull two-note performance:  here a sulk, there a glower.)  Close begins as a docile helpmeet, holding her husband's coat as he's introduced to the VIPs in Sweden.  She gradually summons some fire, as she's confronted with the truth of their decades together.
But was Close's performance award-worthy?  In a year where actresses have arguably had meatier roles than usual, I would contend that Olivia Colman (The Favourite), Yalitza Aparicio (Roma), Toni Collette (Hereditary), KiKi Layne (If Beale Street Could Talk), and Nicole Kidman (Destroyer) were an order of magnitude more deserving.  Their performances showed greater psychological complexity, and they were in vastly stronger films.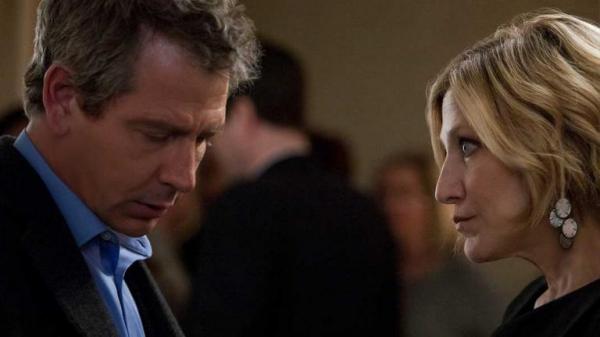 For a satisfying, more thought-provoking domestic drama, see The Land of Steady Habits instead.  After a premiere in Toronto, it was dropped without ceremony onto streaming services, but it merits your attention, even if it lacks the star wattage of The Wife.
Ben Mendelsohn typically gets supporting roles as heavies in flicks like Rogue One, Ready Player One, and The Dark Knight Rises.  But here he's Anders Harris, a man in the throes of a wicked mid-life crisis.  He's just quit his high finance job and divorced his wife Helene (Edie Falco).  He drifts through days bagging interchangeable women and buying insipid knickknacks for his new condo, while trying to maintain a good relationship with his similarly aimless son Preston (Thomas Mann).
An accidental invite to a Christmas party leads to awkwardness with his ex and the former friends who've taken her side.  To escape, he wanders into the backyard of his erstwhile friends' home, where he crosses paths with a young man his son's age, Charlie (Charlie Tahan).  Though Preston has stayed clean since leaving rehab, Charlie still likes to party.  Anders alternately enables and chides Charlie through much of the film.
But The Land of Steady Habits is less plot-driven – even if life-altering events do occur – and more a challenging psychological study.  Its landscape is peopled by characters striving to be true to their authentic selves, yet they seem damned unhappy about it.  Self-actualization unconnected to lasting relationships comes across as disappointingly hollow.
And the landscape of the film is largely one of "non-places," anonymous locales devoid of history and significance.  Anders' new condo has hotel room décor, while his town growingly resembles Anytown, U.S.A., its historic bank razed to make room for a Gap megastore.
Writer/director Nicole Holofcener was familiar to me through her 2013 dramedy Enough Said.  Though that work is now best known for containing one of James Gandolfini's last starring roles, it was also a heartfelt tale of a post-divorce duo's struggles to find romance as they cope with empty nests.
Like that earlier film, Holofcener elicits strong performances in this go-round.  Mendelsohn lacks leading man charisma but is convincing nonetheless; Edie Falco, most esteemed for her groundbreaking TV roles as Carmela Soprano and Nurse Jackie, shows she's just as capable on the big screen.
The young adult actors are at least as good.  Thomas Mann was winsome, affecting, and hilarious in Me and Earl and the Dying Girl; he's believably lost here as Anders' and Helene's flailing son Preston.  Charlie Tahan is similarly building a solid résumé with his efforts in this film, plus TV's Ozark and the touching 2014 romance Love Is Strange.
The Land of Steady Habits' dialogue is sharper than anything in The Wife.  At times, it mordantly takes aim at the American dream, as when Preston belittles an old acquaintance for buying a McMansion on his earnings from a vacuous yet highly profitable career in LEDs.  It also underscores the perils of living vicariously through younger generations.
The caliber of uncomfortable, realistic domestic drama seen in The Land of Steady Habits is more often the domain of European directors, in films like What's in a Name? and Little White Lies.  I, for one, would welcome more of it on this side of the Atlantic.
The Wife:  2 out of 5 stars
The Land of Steady Habits:  3.5 out of 5 stars