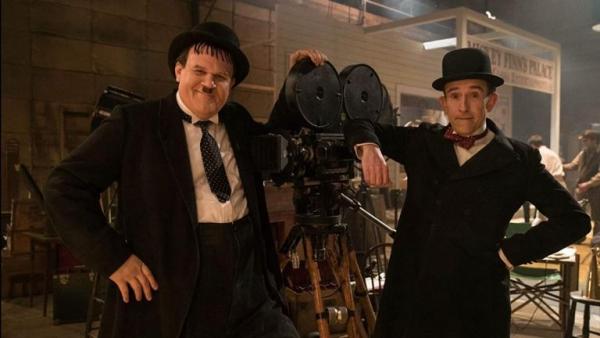 Stan Laurel and Oliver Hardy's comedy may lack the physical audacity of Buster Keaton or the pathos of Charlie Chaplin, but 80 years later, they're still fun to watch.  (Check out the Oscar-winning short, The Music Box, if you need a reminder.)  As for influence, revisit the reaction shots from Parks and Recreation or Ricky Gervais' The Office, and tell me if you don't see echoes of Ollie's exasperated huffs and Stan's eyebrows raised in helplessness.
To judge by the new comedic drama Stan & Ollie, they also make for more enjoyable and sympathetic biographical subjects.  By most accounts, Charlie Chaplin was a singularly unpleasant man, with a creepy attraction to teen beauties, and Keaton's descent into alcoholism is hardly the stuff of laughter.  In contrast, Laurel seems largely sinless, while Hardy's most grievous offenses involve a weakness for betting on horses, and once making a film without Stan.
With the exception of a fun opening sequence following our pair through the Culver City lots of Hal Roach Studios, à la Goodfellas, the pacing of the first half feels sluggish.  After a 1930s prologue showing Laurel and Hardy at the peak of their fame, the bulk of the story takes place in the 1950s, with the pair semi-desperately touring British music halls.  Not only seeking to bolster their savings, they're wanting to rekindle their fame to gain approval for a new movie.
As their audiences grow, the tempo improves.  Nonetheless, the plot stays formulaic, with contrived crises that allow Stan and Ollie to reaffirm their devotion to each other, and to assert that "the show must go on" (yes, one of them actually says this).  I even predicted the timing of the final fade to black and "what happened next" titles before the end credits.
Despite these major flaws,
Stan & Ollie
has enough things going for it to make for a regret-free afternoon at the movies.  For starters, John C. Reilly and Steve Coogan give performances that are nearly career-best for both of them.  With the aid of prosthetics, makeup, and a fat suit (for Reilly), they're dead ringers for the long-gone comics.
More importantly, their performances recreate Laurel and Hardy's physical humor and underlying gentle affection.  Unlike so many so-called comedies whose gross-out vulgarity leaves the viewer feeling sullied afterwards – including Reilly's and Will Ferrell's recent, dreadful Holmes & Watson – the laughs here are pure and genuine.
Additionally, their interactions make one realize the rarity of heartfelt films about male friendship.  (Their wives – #4 for Stan, #3 for Ollie – are underdeveloped and clichéd here.)  Sans sexual insinuation, Stan habitually calls Ollie "Babe" and holds his hand as he recovers from a medical crisis.
Reilly and Coogan also elicit sympathy for their characters, who growingly acknowledge they're past their prime.  The continual "I thought you'd retired" comments wear on them, as television keeps would-be audiences at home.  Though I knew I was being manipulated by Jon S. Baird's direction and Jeff Pope's screenplay, I didn't mind shedding a tear for Stan and Ollie's plight.  Even if our stage isn't so big, our notoriety so great, theirs is the fate of all flesh, after all.
3 out of 5 stars