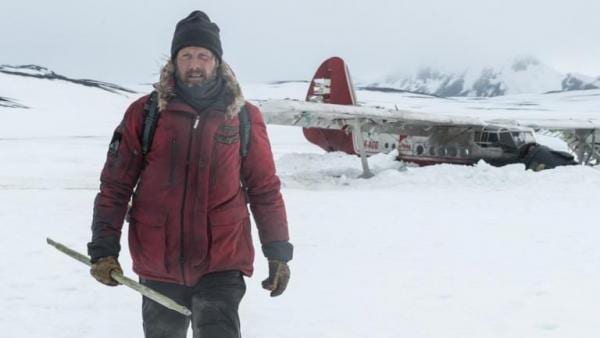 I had high hopes for the Icelandic survival film Arctic.  Its trailer looked nifty.  It has an 88% "fresh" rating at Rotten Tomatoes.  It had its premiere at the Cannes Film Festival.
More importantly, the versatile Danish actor Mads Mikkelsen – who's been everything from an arthouse star (The Hunt, After the Wedding), to a Bond villain, to Hannibal Lecter – is in the lead role.  And Arctic's setting, a remote snowy locale where Mikkelsen's only companion is a polar bear on a plain far below, is an enticing one.
As crafted by first-time feature director Joe Penna and his co-writer Ryan Morrison, the film's set-up is a good one, too.  With no exposition or backstory, we see Mikkelsen's character going about his daily routine.  He clears recent snowfall from the giant SOS etched near his small plane's crash site.  He checks his multiple ice fishing holes.  He hand-cranks juice into his distress beacon.  He tenderly brushes ice from the rock pile marking the grave of his unnamed flying companion.
We only learn the name of Mikkelsen's character, H. Overgård, from a chance glimpse at an ID badge later in the film.  But from the grungy, weathered appearance of his jacket, it's clear that he's been at these tasks for a while.
These choices by Penna and Morrison effectively keep us solely in the moment, as does the forward-only, flashback-free narrative.  Arctic is all about making it to the next hour, the next day.
Overgård's routine changes when an attempt to save him goes horribly wrong.  His rescuer (never named, played by the Icelandic actress Maria Thelma Smáradóttir) is badly injured and needs rescuing instead.  This prompts Overgård to abandon the shelter of his plane's fuselage and risk a multi-day trek for medical aid.
All of this sounds pretty intriguing, right?  And I'm usually game for a survival yarn in which a resourceful protagonist has to defy strong odds against him, in this case, fickle weather, frostbite, his companion's declining health, craggy hills, the temptation to despair, and that distant polar bear that might be stalking him.
So I'm not sure why the sum of these parts didn't cohere for me.  Maybe the pacing was too sluggish.  Maybe it's a trailer that gives away over half of the peak dramatic moments.  Maybe it's the musical score that too often sounded like generic TV crime drama mood music.  Maybe the nearly non-verbal co-star and too few close-ups prevented sufficient emotional engagement.  I suspect it's all of the above.
These shortcomings had me thinking of a better survival tale, All Is Lost.  In many ways similar to Arctic – minimal exposition, nearly dialogue-free, centered on a wily man fighting mounting obstacles – this 2013 film had Robert Redford sailing solo in his slowly failing, sinking boat on the Indian Ocean.  Although only the director's second feature, J.C. Chandor came across as far more confident, eliciting a stronger performance from Redford, with a brisker pace and a sharper sense of peril.
The single superior aspect of Arctic is its more stirring communication of how we need each other to survive in this world.  Sure, Overgård is the one saving the unnamed woman, but it becomes increasingly clear that the unnamed woman's presence is the sole thing that prevents Overgård from tipping into hopelessness.  He repeatedly tells her, "You're not alone" – but that reassurance is as much for him as it is for her.
3 out of 5 stars