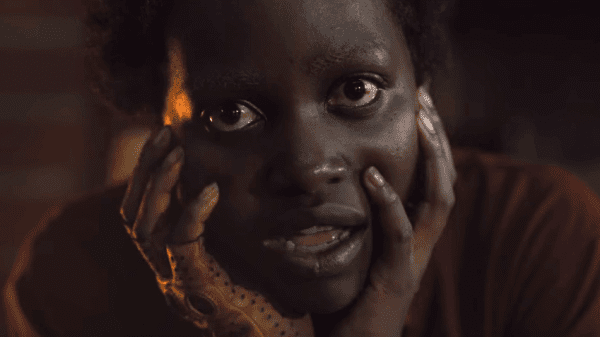 I'm no fortune teller, but I'm going to make a prediction anyway.  Writer/director Jordan Peele's Us, despite being a better film than his breakout horror hit Get Out, will not be as popular or profitable.
Call it the "Green Book Phenomenon," where the voting and ticket-buying public prefers their social commentary to be more comforting than confrontational.  Don't get me wrong, Get Out was way more challenging than the coddling "white people only need a little push to be woke" implication of Green Book.  But even Get Out's brash parable of white appropriation and exploitation of black culture allows its viewers to say, "That isn't me."  Us, as its title indicates, permits no such out for its watcher.
Like Get Out, Us opens with an uncanny prologue, before seguing into a tamer interlude that introduces its characters.  It begins in 1986, with a young girl named Adelaide celebrating her birthday with her parents on the Santa Cruz Boardwalk.  While her father is distracted by a game of Whack-a-Mole, she wanders into a funhouse (with the telling teaser "Find Yourself") and suffers an unexplicated trauma.
Jumping to the present day, Adelaide Wilson (Lupita Nyong'o) is heading back to the Santa Cruz environs for a vacation with her husband Gabe (Winston Duke) and their two kids Zora and Jason.  Close-ups on Nyong'o's face, a muting of the ambient soundtrack, and brief flashbacks signify that Adelaide is dissociating to those lost 15 minutes of her childhood.
Gabe's character offers gentle comic relief to offset Adelaide's unease, making his kids wince with his dad jokes and his wife groan with his impulse purchase of a spluttering secondhand motorboat.  Zora and Jason are typical kids, the former buried in her phone, the latter obsessed with magic tricks and scaring his big sister.
Adelaide struggles to keep her fear in check when the family spends a day near the boardwalk, hanging out with their even more conspicuous consumer friends Kitty (Elizabeth Moss) and Josh (Tim Heidecker).  A few disturbing moments foreshadow the horror to come, when the power abruptly goes out at their vacation home that night.  Still worse, a silent foursome clad in red and bearing scissors appears at the head of their driveway, distorted doubles of each member of the Wilson family.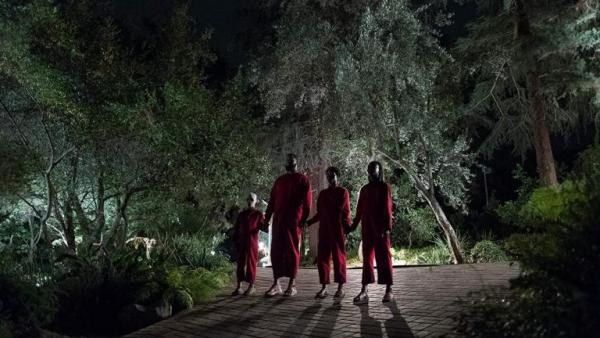 I won't go further in plot specifics, because much of the scary pleasure of Us is in the suspense and truly shocking twists that follow.  More than Get Out, which was already impressive on this count, most every detail here carries significance, from the scissors to young Adelaide's Thriller t-shirt.  Even a scene that I initially dismissed as "person behaving stupidly in a horror movie" ends up having its own logic.
The cinematography by Mike Gioulakis terrifically complements the script by writer/director Peele.  The bright sun of a coastal California afternoon morphs chillingly into the shadowy night where most of
Us'
action takes place.  In a movie rife with reflected and distorted images, a "God's eye view" of Adelaide's family traversing textured sand and casting long shadows is especially memorable and symbolic.
Peele turns once again to composer Michael Abels for Us' film score, which suggests that Peele may be aiming to become not only this generation's Rod Serling, but perhaps its Alfred Hitchcock, too.  The shrieking strings hearken back to Bernard Herrmann's timeless music for Psycho and Vertigo, but are augmented by an eerie children's chorus and pulse-quickening percussion, before culminating in a perfectly disquieting pas de deux.
And much as I loved Daniel Kaluuya as the lead in Get Out, for which he deservedly scored an Oscar nomination, Lupita Nyong'o exceeds that performance in complexity and emotional depth.  (Though lately seen as a citizen of Wakanda and part of the Star Wars ensemble, you may recall that she won an Oscar for her harrowing performance in 12 Years a Slave.)  In Us, Nyong'o has the double challenge of playing traumatized mom Adelaide and her raspy-voiced, red-clad double; and wow, does she knock it out of the park.
To make my own reviews as original as possible, I do my best to avoid director and cast interviews, as well as other reviews, until I've written my own piece.  But what I've heard so far suggests that the social commentary of Us is evading many viewers' comprehension.  While it sneaks up on you in a similarly crafty fashion to that of Get Out, I think it's actually quite clear from the dialogue and imagery.
I suspect the lack of comprehension has more to do with subconscious avoidance than any opacity on Peele's part.  To my mind, the red-clad doubles indisputably represent the 50% of Americans who are typically labelled as members of the working class or poorer socioeconomic strata.  The rebukes from Adelaide's double reinforce my certainty, when she exclaims at different points "we're exactly like you!" or "you could've brought me with you!"
Such dialogue is judiciously scattered through the film to keep it from preachiness, yet it was forceful enough to leave me with a palpable discomfort.  After all, if you can afford a first-run movie ticket, like me, you're implicated by this movie.
4 out of 5 stars