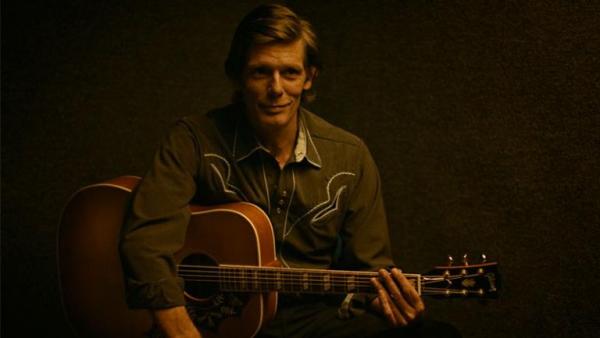 Each song is a little death, if written aright. Art requires its creator to blow everything off, whether family, social conventions, or sanity.
Statements – arguably clichés – like this are nearly inevitable in an artist biopic. How they're handled will elevate or break the film. In Bohemian Rhapsody, say, they felt phony and reduced the story of Freddie Mercury to slightly better than passable entertainment. In Blaze, as uttered by Townes Van Zandt (played by Charlie Sexton), they feel sincere.
I'm sure it helps that Sexton is a professional musician himself. In telling the life and death of country singer-songwriter Blaze Foley, it surely helped, too, that the script was co-written by his ex-wife Sybil Rosen.
The other writer is director Ethan Hawke, better known for being on camera, rather than behind it. But in Blaze, the fourth feature he's directed, he displays proficiency in every aspect of film creation.
For one thing, thankfully, Hawke's film defies biopic convention. It doesn't build to a triumphant crescendo like Bohemian Rhapsody, nor does it possess the trauma-fall-redemption arc of Walk the Line.
Told in a series of flashbacks, Blaze is hung on a two-piece framework. The first part of that skeleton is Blaze's final concert at a dive in Austin, Texas. The second part is a radio interview with two of Blaze's closest friends. One of them, Van Zandt, states near the start of the interview that Blaze was killed trying to break up a domestic dispute shortly after that last concert. Knowing the end right at the beginning helps us focus on the characters, rather than spending our energy wondering at Blaze's fate.
If you hadn't heard of Blaze prior to this film, join the club. His rise from obscurity is modest at best, sabotaged by his near-constant drunkenness. He's more renowned for the company he kept, as well as having his songs covered by the likes of Willie Nelson, Merle Haggard, Lyle Lovett, and John Prine.
To judge by the works sung through the course of this smoothly-edited film, Blaze was a master of low-key, melancholy ballads. Steve Cosens' beautiful cinematography stays true to this spirit, lensing most every scene in gentle sepia; the sole exceptions are a gray detour in Chicago and the red lighting of the Austin bar where Blaze performed his last.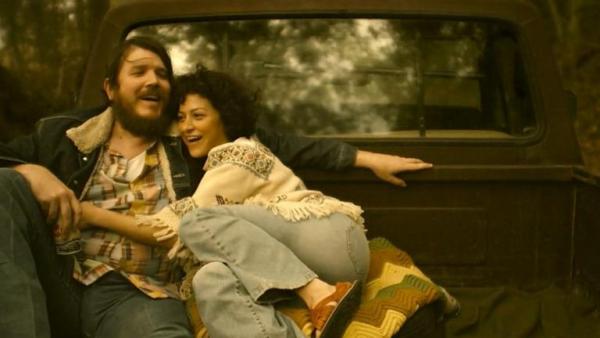 Besides showing his slight rise and fall in notoriety, Blaze focuses on the romance between the title character and his truelove Sybil. She subordinates her own writing and acting ambitions to her infatuation and support of Blaze. Together, they abide in wooded simplicity and poverty in a cabin owned by friend who lets them live there rent-free. Symbolically, their cabin is Walden meets Eden.
Ben Dickey and Alia Shawkat depict this pair with understated realism. It's astonishing that this is merely Dickey's second film role, so assured is he (and he has a fine singing voice to boot). Shawkat is perhaps best known for playing Michael Cera's crush Maeby in Arrested Development, showing here an impressive capacity for a demanding dramatic role.
Only gradually does Blaze reveal his childhood to Sybil, as part of a singing family that performed at revival meetings. His father would spend their earnings on booze and was ultimately institutionalized.
When Blaze first meets Sybil's parents, observant Jews concerned about the religion their grandchildren will be raised in, he informs them that "Christianity didn't do much more than kick my ass." But to judge by the giant red cross covering the back of his favorite jacket, walking away from one's origins is no small task.
In the film's most affecting piece of dialogue – a line that could easily fit in a sad country song – Blaze tells Sybil we're all "born into little dark rooms," comprised of family, country, and religion. Blaze, in its quietly powerful way, shows that some succeed better than others at transcending those rooms.
3.5 out of 5 stars