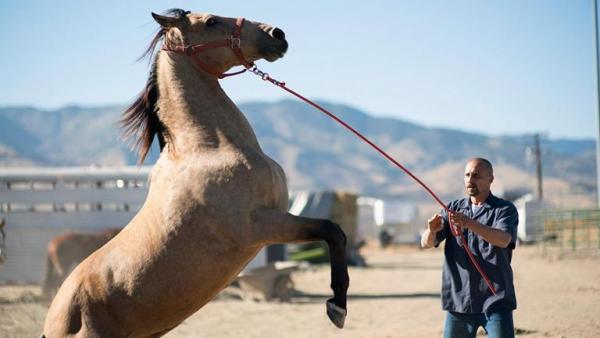 Animals can bring out the best in human nature; you'll get no argument from me on that point.  Whether they bring out the best in a filmmaker, on the other hand, is entirely open to debate.
On the "yea" side of this debate is last year's The Rider, Chloé Zhao's near-perfect, intimate look at the life of Native American cowboy Brady Jandreau.  (The scene of Brady taming a wild horse from sunup to sundown alone is worth the ticket price.)
On the "maybe" side is The Mustang, the debut feature from French actor-turned-director Laure de Clermont-Tonnerre.  She had earlier directed a short – Rabbit – about a prisoner's efforts at reform aided by a small animal therapy program.  In The Mustang, de Clermont-Tonnerre aims bigger, both in film duration and in making a film about horses and prisoners.
Centered on a violent offender, The Mustang opens with Roman Coleman (Matthias Schoenaerts) just released from another stint in isolation.  The prison psychologist (Friday Night Lights' Connie Britton) offers an entrée into the jail's equine program, as a chance to work and draw him out his sullen misery.  In the program, prisoners work with captured mustangs, with five weeks to tame them before they're sold at auction.
The Mustang is splendid in its visuals, helped in large measure by de Clermont-Tonnerre's choice of cinematographer.  Ruben Impens has previously enlivened films like Beautiful Boy, Raw, and one of my favorite films from the 2010s, Broken Circle Breakdown.
Here, Impens beautifully lenses the scrubland and mountains of Nevada surrounding the prison.  Close-ups of the mustang are juxtaposed against those of Roman, paralleling their wildness and frightened solitude.  A perilous thunderstorm is skillfully presented to our senses impressionistically, with rapid cuts of ominous sky, convicts taking horses to safety, and power outages inside the jail.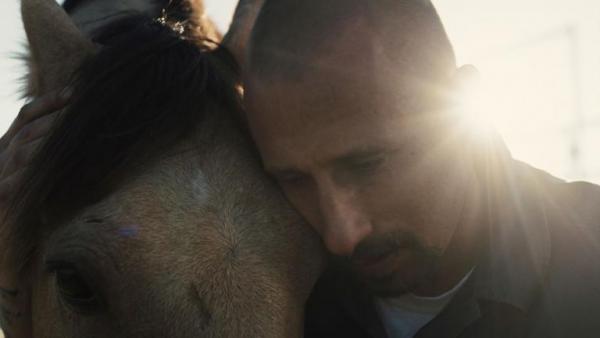 Across
The Mustang
's duration, we witness Roman's transformation, symbolized by his change out of an orange D.O.C. jumpsuit into a horse wrangler's denim duds.  He's brave enough to enter a class on anger management and restorative justice.  Hostility towards his pregnant daughter, clearly meant to fend off intimacy, slowly erodes.  The self-control demanded of a horse tamer carries over into other relationships, and the racial animosities of the prison yard dissipate in the trainers' camaraderie in the animal pens.
De Clermont-Tonnerre's story, which she co-wrote, unfortunately crosses the line dividing simple and simplistic.  There's insufficient dot-connecting between The Mustang's temporal jumps, such that neither Roman's nor the horse's taming are fully convincing.  The parallels between the two are overly on-the-nose, with Roman's frustrated huffs too much like those of the mustang.
Schoenaerts is in almost every scene, though a crusty Bruce Dern is in a handful as the program supervisor.  Dern's gruff chiding and yelling, leavened with occasional words of praise, functions well to prod and encourage the inmates.
Roman's taciturnity reminds me of Schoenaerts' character Alain, in 2012's Rust and Bone.  Whether these two men with barely-contained rage, yet capable of deep caring, speak to typecasting or Schoenaerts' range as an actor, I couldn't say.  However, the far greater complexity of characterization in Rust and Bone, directed by de Clermont-Tonnerre's countryman Jacques Audiard, only underscores The Mustang's shortcoming in this department.
Nonetheless, this is a film worth seeing.  If nothing else, it made me aware of the existence of these programs in prisons across six states in the U.S.  Until watching The Mustang, I didn't know that such programs help save the lives of wild horses who might otherwise be euthanized for population control (we can't have them encroaching on precious ranch property!).
At one point in The Mustang, Roman's daughter skeptically, angrily asks him, "Do you think riding horses can change anything?"  We get a partial answer in a scene showing the liberated, exultant expressions on the prisoners' faces, riding their horses to auction.  Another part of the answer came in learning that recidivism rates are lower for equine therapy graduates, and that three of the actors in The Mustang are graduates themselves.
3 out of 5 stars