Did you catch it? One of the greatest TV series in the medium's history came to an end on HBO last month.
No, I'm not talking about the one with dragons and a pointy-edged throne; I'm referring to Deadwood.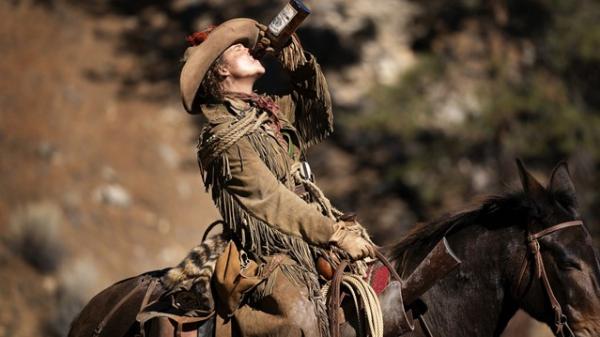 David Milch's semi-revisionist Western sits securely atop Mount Olympus as one of the four greatest HBO series ever to grace that network, along with The Wire, The Sopranos, and Six Feet Under. (Much as I enjoyed Game of Thrones, I relegate it to demi-god status, mainly due to the drop in quality in its final two seasons.)
Unlike the other three classics, which ended right when they should have, Deadwood's demise was premature. Milch has said there were a couple of good seasons still bumping around in his head, but he and the HBO execs couldn't play well together, so we unhappy viewers (and an equally surprised cast and crew) were left in the lurch.
Until now, lovers of the show had to rest content with the three seasons bestowed upon us, bathing in Milch's gloriously profane Shakespearean language, the complex characters marvelously portrayed by actors in top form, and the show's microcosmic portrayal of America's (and societal) birth in the stolen land of South Dakota in the 1870s.
When the show left off in 2006, the town's two patriarchs – Marshal Seth Bullock (Timothy Olyphant) and saloon owner Al Swearengen (Ian McShane) had allied against the incursion of murderous mining titan George Hearst (Gerald McRaney). A tense and implicitly temporary détente was in place.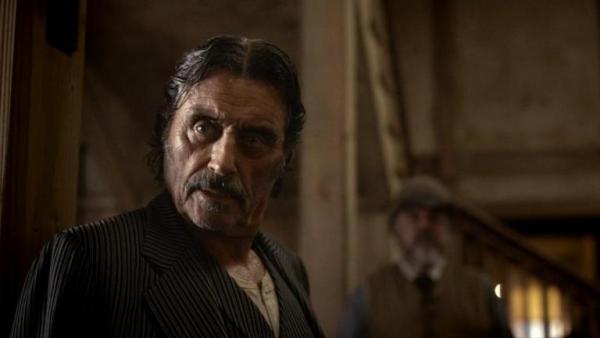 For Deadwood: The Movie, David Milch (credited as sole scriptwriter) has moved the show 12 years forward in time. Veteran TV director Daniel Minahan, masterful throughout, lets us know immediately that the times, they are a-changin', as he opens with a locomotive roaring forward into town. However, we're not too far removed from the old days, as the camera next pulls back to show a figure on horseback, Calamity Jane Cannary (Robin Weigert) surveying the town from above.
It's 1889, and Deadwood is celebrating South Dakota's transition from territory to statehood. Hearst is now a California U.S. senator, back in town to give the day's keynote speech. He's also here for business, attempting to procure the final parcel of land that will allow him to string telephone lines into town and his mining camp.
Hearst is frustrated in both missions, however. During the parade following his speech, ex-whore Trixie (Paula Malcomson) harangues him from a balcony, vulgarly shaming him for his thuggish history. And Charlie Utter (Dayton Callie) likewise refuses to sell his land. All of this briskly sets in motion the bloody events to follow.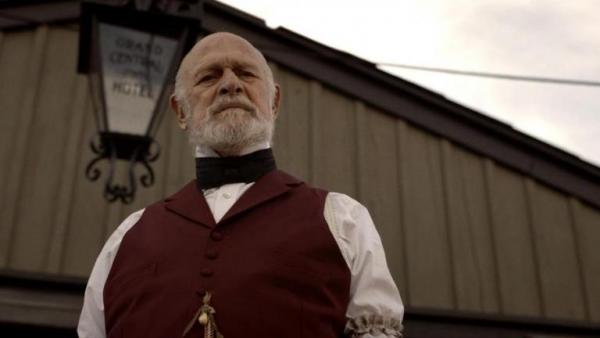 Deadwood: The Movie thrills me on multiple levels. Almost all of the actors are back to play their oh-so-memorable roles, major and minor. The sole exceptions are Brian Cox as theater manager Jack Langrishe, busy in another HBO series at present; as well as two actors who have sadly crossed the bar (Powers Boothe as the vile Cy Tolliver, and Ralph Richeson as E.B. Farnum's comically oddball assistant Richardson).
It is a joy to return to these fascinating characters after a dozen years, to see the age etched on their faces and to perceive how they've changed (or not). Bullock and his wife Martha (Anna Gunn) have found domestic contentment with a brood of three young'uns. Swearengen has softened, whilst leaning against the frame of death's door, a lifetime diet of whiskey finally catching up with him. Mr. Wu (Keone Young), the leader of Deadwood's Chinese community, has learned a few more English words than "c**ksucker," with a grandson who does most of his translating.
Just as importantly, Milch has lost none of his linguistic legerdemain. Though Swearengen's erectile dysfunction prevents him from delivering his trademark fellatio monologues, oily hotel owner E.B. Farnum (William Sanderson) still grumbles out his self- and other-loathing asides.
As before, there are laugh out loud lines, often around bodily functions, as when a drunken Jane exclaims, "Give me a wide berth, I've just passed wind!" More often, though, the intention is serious, such as Charlie Utter describing melancholic madam Joanie Stubbs (Kim Dickens) as "collecting her portion of gloom and dismay like the rest of us."
Milch and director Daniel Minahan give us a vivid sense of place, again filming at California's Melody Ranch, itself steeped in Western film lore: Gene Autry once owned the place, The Magnificent Seven was shot here, and early silent Western actor Tom Mix starred in many films made nearby. (It helps, too, that Milch knows his history and bases his characters on actual figures who lived in 19th Century Deadwood.) Milch and Minahan achieve a superb balance in depicting an increasingly coherent community, now overhung with dread upon Hearst's return.
My sole criticism of the movie pertains to a couple of predictable major plot events. This is in glaring contrast to the TV series, which consistently upended expectations: its most famous figure was dispatched ingloriously in Season 1, Episode 4; and when the Earp brothers make a brief appearance in Season 3, they're grifters posing as heroes.
At first, I was also dismayed by the brighter outlook of the film. The TV series spread mud, blood, and dung across typical onscreen narratives of how the West was won. Might gruesomely made right; the innocent suffered; women and minorities were dehumanized.
By contrast, in Deadwood: The Movie, your neighbors have your back, women are empowered, a minority character can reach for a hidden object and not get shot by the law, and a pair of gay women can walk hand in hand down the street without harassment. This was initially off-putting, until I realized that, unlike the series, the movie is striving to show us what community can be, not what community is.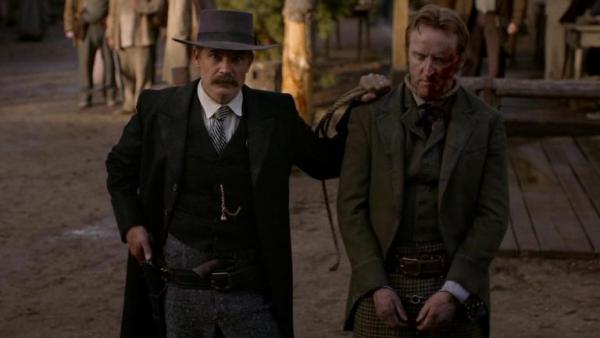 Unlike the show, the movie employs frequent flashbacks. Besides serving to bring newbies up to speed on events from the series, this signals a more settled populace that can do more than eke out an existence in the dangerous now. They can also reflect on their past. It additionally reveals characters haunted by prior trauma and misdeeds. At one point, Swearengen – burdened with more of a conscience in his dotage – counsels Trixie, "Make friends with your ghosts, they ain't f**king going anywhere."
Concluding a stellar series, and concerning itself with the inevitable march of time, Deadwood: The Movie fittingly opens and closes by contemplating mortality. Some characters face death with piety, some blasphemously. Either way, as Doc Cochran (an irascible Brad Dourif) pronounces, "All bleeding stops eventually."
4.5 out of 5 stars
Addendum: Several hours after first publishing this review, I was stunned to learn that David Milch has been diagnosed with Alzheimer's Dementia. Realizing that this script from Milch – also the co-creator of "NYPD Blue" and a writer on "Hill Street Blues" – could be his final work to hit the screen, gives it an added poignancy. Milch's reflections on community and mortality in this movie gain urgency from this realization, too. I wish him good health and many more years of happiness and lucidity.