Considering how four movies bearing that title have been made across 80 years, it's safe to presume there's a timeless appeal to "a star is born" fantasies.  In Wild Rose, director Tom Harper puts a new spin on this cinematic archetype.  Instead of Lady Gaga's naïve ingénue of 2018's A Star Is Born (a film I loved), the title character of Wild Rose is already world-weary in her 20s and not always sympathetic.
Harper's film opens with Rose-Lynn Harlan (Jessie Buckley) on her day of release from a one-year prison sentence in Glasgow.  After a quick shag with her boyfriend, she braces herself for the trip to her mother's house to pick up her two children, bookish 8 year old Wynonna and garrulous 5 year old Lyle.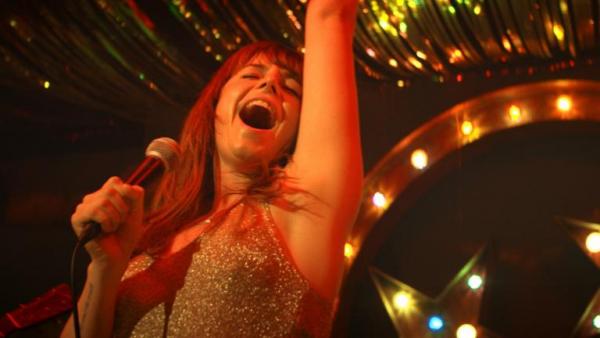 The sequence of those opening minutes speaks volumes to Rose-Lynn's priorities and immaturity.  With dreams of becoming a country music legend in Nashville, she's a neglectful mother to her kids, bailing on promises made to them, keeping their apartment dingy and grimy.  Landing a job as a cleaning woman at a posh manor, she's half-hearted there, too, spending more time belting out country standards and sneaking drinks from the liquor cabinet.
Despite her glaring flaws, Rose-Lynn has irresistible charm, soon wrapping her employer Susannah around her pinkie finger with her dreams of fame.  In a clever reversal of the god-awful white savior cliché, Susannah (Sophie Okonedo, Oscar nominee for Hotel Rwanda) offers to use her connections to get Rose-Lynn a hearing at BBC Radio.  No surprise, Rose-Lynn wavers between resentment and gratitude as doors open that would otherwise be closed to a working class ex-con.
Wild Rose's aesthetic grounds us vividly in its locales and socioeconomic strata.  The most notable diversions from the almost ubiquitously dreary color schemes occur when Rose-Lynn is angelically backlit while singing.  The map of Nashville tacked to her wall, plus her matching white cowboy boots and fringed jacket, strongly convey her escapist desires.
Screenwriter Nicole Taylor deserves praise for the pleasing twists on what could've been a plot-by-numbers story.  Just as laudable, there's complexity to the two characters at the heart of this narrative, Rose-Lynn and her mother Marion (Julie Walters).  Only in drips and drabs do we learn the real reason for Rose-Lynn's stint in jail, apropos for a person so adept at deceiving herself and others.  While we don't empathize with Rose-Lynn's maternal neglect, we certainly do feel for her entrapment and the dysphoria written across her face.
The mother-daughter dynamic in
Wild Rose
is psychologically rich and plausible.  Marion possesses the stoic toughness of a woman who has faced setbacks and limitations, scraping together enough for a modest existence above the poverty line.  Admirably, she walks the tightrope between cheering on her daughter's aspirations and chastising her shoddy decision-making, memorably telling her in one scene that she wants her to take responsibility, not take away her hope.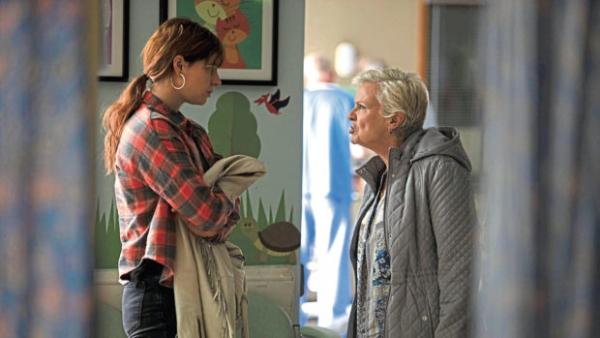 The actresses playing these roles look effortless in communicating the tensions and affections between them.  Julie Walters has been around for decades, most recognizable to audiences as Molly Weasley from the Harry Potter franchise, more recently in the Mamma Mia! and Paddington films.  In prior years, she earned Oscar nods for Educating Rita and Billy Elliot, and it wouldn't break my heart to see her nominated for her work here.
Jessie Buckley is a new face to me in 2019, but this could be her breakout year, with this film and her part in the gripping miniseries Chernobyl.  And what a voice: so forceful, melodic, and emotive!
Along with the characterizations and acting, music is the third strength of Wild Rose.  Besides a few originals written specially for this film, Buckley covers classics by Emmylou Harris, Wynonna Judd, Patty Griffin, and John Prine.  Selections like "Outlaw State of Mind" and "Angel from Montgomery" deftly illuminate Rose-Lynn's mindset, while the words from "Peace in This House" could serve as Wild Rose's theme:  "Every good thing that ever happens, happens from the inside out."
(Image credit for star rating: Yasir72.multan CC BY-SA 3.0 )