With his ninth movie, Quentin Tarantino hasn't made it easy on critics. The director and writer of Once Upon a Time … in Hollywood has beseeched us to go easy on plot reveals … with good reason. Going into this film, it's best to be clueless about the final act.
So, for Tarantino's and moviegoers' sakes, I will be vague. So, let me vaguely state that Once Upon a Time lacks the finely honed dramatic resolution of his preceding eight films. His dips into the ugliest parts of human history – the Nazism of Inglourious Basterds and the enslavement of black bodies in Django Unchained – offered vicarious pleasure in his rewriting of historical evils. This foray into more recent history, late 1960s Hollywood haunted by the specter of Charles Manson, does not resolve satisfyingly.
Nor does Once Upon a Time reveal an evolution of Tarantino's capacity to develop characters of psychological depth. Django Unchained was a promising leap forward in this direction, The Hateful Eight a regression, and there Tarantino has remained.
On the plus side, though minus the temporal jumps and flashbacks that electrified Pulp Fiction and the Kill Bill movies, Tarantino still knows how to tell an engrossing story, and I was entertained across his latest's 2.5+ hour run time.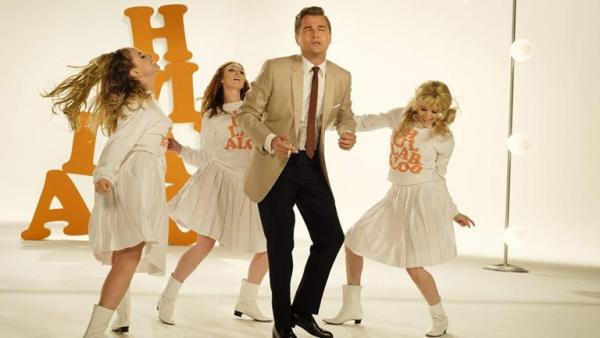 Once Upon a Time … in Hollywood revolves around the relationship between actor Rick Dalton (Leonardo DiCaprio) and his stunt double/best friend Cliff Booth (Brad Pitt). Dalton, never a bright star in the Hollywood firmament, is seeing his luminosity dim further, as his Western TV show has ended ignominiously. Demoted to TV guest spots as the heavy on shows like FBI, he's insulted at the offer to revivify his career by making Westerns in Italy.
Booth, persona non grata on many Hollywood lots for a shady event from his past, now mainly serves as Dalton's unflappable chauffeur and handyman. Still an adrenaline junkie, as he zooms flawlessly through the streets of L.A., he seldom complains of his diminishment.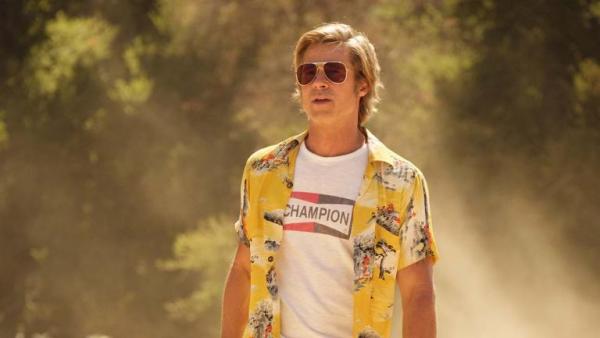 Coincidentally, Dalton is Roman Polanski's next door neighbor. As such, Tarantino crosscuts between the doings of Dalton/Booth, and Polanski and his new bride, rising actress Sharon Tate (Margot Robbie). We see little of Polanski (fleetingly, unmemorably played by Rafal Zawierucha), but we follow Tate through a day in her life, happily and innocently bathing in the newness of her fame.
Once Upon a Time opens six months before Manson Family members butchered Tate and four others at Polanski's home, and the Manson Family increasingly intrudes on the film's other storylines. This begins harmlessly, with a couple of chance encounters, but leads to the creepiest and most suspenseful sequence of the film, as we're given a closer look at Family life on Spahn Ranch outside of L.A.
As usual, Tarantino and his crew are tiptop in creating lived-in detail. The attire, sideburns, city streets, and billboards all have a convincing late '60s vibe. The ever-present radios and televisions blare Robert Goulet, Paul Revere & the Raiders, and "Snoopy vs. the Red Baron." The TV and film sets feel ready for the directors and actors of the era to step onto.
And Tarantino tells his story with his typical flare. Enhancing his narrative are clips of shows starring the fictional Rick Dalton. (Per Tarantino, Dalton's character is an amalgam of multiple fading actors of this period. Conversely, Booth is patterned after legendary stuntman Hal Needham, best friend to Burt Reynolds and director of popular frivolous fare like Smokey and the Bandit and Cannonball Run.) In another imaginative scene, after Dalton is reminded that he was passed over for The Great Escape, Tarantino goes inside the actor's head for a "what if" moment, inserting Dalton into Steve McQueen's place in short excerpts from that film.
Once Upon a Time, like most Tarantino films, balances action and drama with comedy. In hindsight, the majority of this humor is at his characters' expense, as they generally don't seem terribly bright. Still, I'll admit I laughed heartily at the interactions between Booth and Bruce Lee (excellently portrayed by Michael Moh), in one of the movie's two funniest sequences.
Each performance here is excellent, from top-of-the-marquee DiCaprio, Pitt, and Robbie, to the smaller roles reserved for Kurt Russell, Al Pacino, and Bruce Dern. (Dern stepped in for Burt Reynolds, after the latter's sudden death from a heart attack, between casting and the start of filming.) As expected from the unfailingly superb DiCaprio and Pitt, their duo has believable chemistry, in a bond described as "a little more than a brother, a little less than a wife."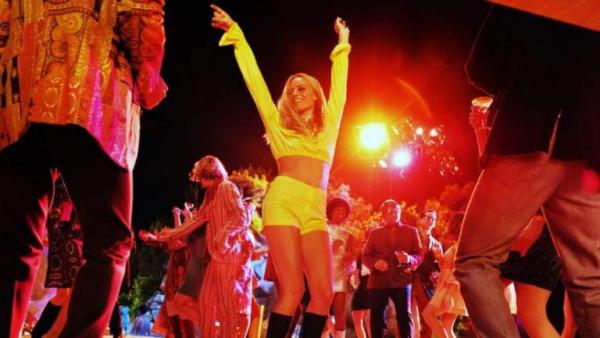 Alas, Tarantino stays in the psychological shallows, as DiCaprio and Pitt's characters come across as codependent enablers, without getting into the why's of their motivation. For a film of this length, that's unsatisfying. Uncharitably, one could see Once Upon a Time … in Hollywood as an unwitting showcase for American toxic masculinity, from the skeletons in Booth's closet to the misogynistic psychopathy of Charles Manson. The staging of the final sequence, and the choice of where to end this story, do nothing to diminish this interpretation.
Even worse, Sharon Tate for much of the film seems scarcely more than a SoCal Barbie doll, dancing at the Playboy mansion, accumulating designer shopping bags in her travels across L.A. Through no fault of Margot Robbie, who proved her acting chops in I, Tonya, Tarantino's Sharon Tate has no more substance than a ghoulishly beautiful mausoleum statue.
(Image credit for star rating: Yasir72.multan CC BY-SA 3.0 )